Working remotely can be more convenient, but staying ahead of your schedule in the comfort of your home may be a challenge.
With so many opportunities to procrastinate or take up home errands instead of working, our performance at work can suffer. What can remote employees do to be better at daily planning and get on top of their productive efficiency?
And this is when an hourly planner comes in handy.
Tip: For better daily planning, you can try Chanty – a team collaboration platform that offers much more than just a simple chat. You can create tasks from messages, set due dates, priorities, and assign tasks to team members.
What is an hourly planner template?
An hourly planner template is an empty planner sheet that is divided by hours so that you can set a proper schedule for yourself. The templates are usually empty tables with just hours, days, or other information filled in. You can then fill out the templates according to your plans for the day or week.
Planner templates come both in print and digital form, and digital templates are easily customizable. These can come in different formats—as text documents, PDF files, or images. As for the types of hourly planners, these can be hourly planners, schedules by chunks of the day, activity-based planners with custom hours, etc.
The goal of the planner is to help you stay on top of your schedule, be productive and manage your time effectively. So personalizing your planner is always a good thing. In terms of design, you can make your hourly planner as simple or colorful as you want. You can also try out various types of templates to find out which ones work best for you.
Benefits of using an hourly planner
When it comes to managing our productivity and time at work, email marketing software and project trackers are just not enough. But schedule planners help us stay ahead of our daily and weekly to-do tasks, bringing a lot of benefits to our work and personal lives.
Here are the particular benefits of having a daily schedule:
greater productivity — we only spend half of the time at work on work-related tasks, and with proper planning, we get more done in less time
improved time management—after some time using an hourly schedule template, we figure out how much time our work tasks take us and become better planners.
better performance at work — planning adds structure to your life, increases learning ability and improves problem-solving and memory, making you more gathered together and capable
higher goal achievement — you get a 42% higher chance of achieving your goals if you have them written down
lower stress — planning is a helpful coping mechanism and leaves room for unexpected events, hence turning them into expected and taking away the anxiety
healthier work-life balance — because we figure out our most productive time as we use the schedule, we plan our work time accordingly, leaving room for personal life
increased quality of life — a clear schedule means less mental clutter, which increases satisfaction with life
As you can see, there are numerous opportunities for growth that a daily or weekly hourly planner can help with. And since daily planning takes just a few minutes a day, it's a true gem for both professional and personal development.
8 hourly schedule template ideas
There are different ways to run your hourly calendar and boost time management—by days or by weeks. And even further, you can plan your days and weeks by every half hour, in time chunks, shifts, or particular activities.
To find the best approach to time management, you just have to try some of them and see what works best for you. Here are some day planner and weekly planner template ideas for you.
Daily planner templates
Daily planners are perfect if you have a lot of work tasks and errands every day and want to make sure you don't forget anything. You can also check off your completed tasks as you go throughout the day to make yourself proud of being productive.
There are different ways you can go about daily planning, but we are going to consider 3 templates for everyday hourly planning: by the hour, in a timeline, and by activities.
1. Day by hour
Planning your day by the hour is perfect if you have a lot of smaller tasks to juggle or many meetings throughout the day. You can use this template to plan your work only or incorporate your other errands to see how your day looks altogether.
Description: thorough & extremely detailed
Best for: busy days & workers with a lot of smaller tasks
Helps with: improving productivity, self-discipline and time management
So an example of the first half of the day in a daily hourly schedule would be the following:
8
00
30
wake up
9
00
breakfast
30
log in to work & check emails
10
00
meeting with Anna
30
work on the final draft
11
00
30
coffee break
12
00
final draft check & send it for a review
30
lunch
2. Daily timeline
A daily timeline is another way to plan your daily activities, both work-related and personal. The visualization can be very helpful in grasping your daily plans as well as setting up multitasking. For example, you can plan your dinner to be cooking while you're working on a project.
Besides, the visual representation allows you to easily see whether you have any free spots to add a meeting or an urgent task, notice that you may be taking more time doing tasks that should take less time, and see how much time you have left on the current task.
Compared to the previous template, this one allows for even more thorough planning because you're not limited to 30-minute time chunks. Instead, you can dedicate 5, 25, 45, or any other amount of time to a task.
Description: detailed & illustrated
Best for: busy visuals lovers & multitaskers
Helps with: improving productivity, self-discipline, and time management
3. Daily activities
A daily planner that focuses on activities rather than hours is a great way to find what kind of planning works best for you. The main goal of planning by tasks is to create a kind of to-do list of everything you have to do today and only then assign hours to tasks that are time-sensitive.
Overall, this kind of schedule is very flexible and doesn't put strict time frames on your tasks. But to create some structure for your day, you can list down your to-do tasks chronologically or add time frames (i.e., 8 AM–10 PM—personal time). This will help you mentally separate your work time from other activities, which can be a struggle when working from home.
With this being said, freelancers and people in positions that require creativity will find this type of planning the most suitable. Over time, you can track when you're most productive or inspired to work and plan your day accordingly, without sacrificing your hobbies or errands.
Description: task-focused & flexible
Best for: freelancers, people with creative jobs & flexible/changing time schedules
Helps with: finding your own peak productivity time & managing a work-life balance
Here's an example of planning your day by activities using this template:
| | | | |
| --- | --- | --- | --- |
| ACTIVITIES | TO-DO LIST | PRIORITIES | NOTE |
| meditation | organize desk | finish yesterday's draft | mom may move dinner to 7 PM |
| 9:30-10:30 AM brainstorming session with Richard | grocery shopping | | |
| 11 AM-1 PM work | | | |
| 2-5 PM work | | | |
| 6:30 PM dinner with mom | | | |
| buy groceries | | | |
As you can see, some activities don't have a time stamp. It's because we don't have to be precise about when we do them. You can meditate right after you wake up that day, whether it's at 6 AM or 7:30 AM, organize your desk during lunch break, and go grocery shopping after you're done having dinner with your mom, which can take an hour or 2.
You also have everything you need to do that day listed, but not too thoroughly—you will finish the draft somewhere throughout the working time, whenever you're feeling the most productive and inspired that day.
Weekly planner templates
Just like daily hourly planners, weekly hourly planners are important to keep your life together. Planning weekly activities allows for better workload division—you can see which days are busier than the others and plan unexpected work tasks or events in your personal life with no stress.
Again, people approach time management in different ways: a tight schedule works best for some, while others enjoy more flexible planning. Neither is better as a general rule; you just have to find what keeps you the most productive.
Here are some templates you can try out for your weekly time planning: weekly hourly planner, or by chunks of the day, timeline, shifts, and activities.
4. Week by hour
Hourly planning for a week gives you a clear view of how busy you are and allows you to plan other things that are rare or one-time occurrences. These include some meetings or work tasks, like quarterly reporting, or personal life events, like doctor appointments or your time-out.
This approach to weekly hourly planning is perfect for those who have a lot of small tasks and have to switch between them throughout the day. But if time-consuming tasks make up the biggest part of your work day, then there is no point in using an hourly planner—the majority of cells will be empty.
Description: thorough & extremely detailed
Best for: workers with a lot of responsibilities
Helps with: improving productivity, self-discipline and time management
5. Week in chunks of the day
A schedule by chunks of the day is kind of a middle ground between weekly hourly planner and activity-based planner. This implies that you divide your day into 3-hour chunks (or you can use the number of hours that works best for you) and plan your activities for those parts of the day.
This approach combines flexibility with structure and keeps you productive without adding the pressure of a strict schedule. This one's especially great if your tasks can fluctuate in terms of how much time they take or the number of tasks you have daily.
Description: adds structure without tight time frames
Best for: workers that prefer flexible schedules
Helps with: balancing work and life & finding your productivity peaks
Here's what a week planned by chunks of the day would look like:
Sunday
Monday
Tuesday
Wednesday
Thursday
Friday
Saturday
29
30
01
02
03
04
05
6.00am-9.00am
morning routine
exercise
doctor's apt @ 8 AM
exercise
exercise
9.00am-12.00pm
walk
meetings
meetings
11am call with Jenny
meetings
meetings
new intern's first day
meetings
morning routine
12.00pm-3.00pm
priority tasks
priority tasks
priority tasks
priority tasks
priority tasks
cleaning
3.00pm-6.00pm
remaining tasks
remaining tasks
5pm final draft due
remaining tasks
plan next week
6.00pm-9.00pm
Sarah's b-day dinner
dinner with mom
9.00pm-12.00am
Sarah's b-day dinner
movie night
As you can see, this template helps you divide your work and personal time, as well as highlight some important tasks, events, and deadlines. You can also use this chunk approach to plan work for when you tend to be most productive, i.e., between 12 and 3 PM, and leave the rest of your responsibilities until later in the day.
6. Weekly timeline
A weekly timeline is another great way to plan your work week. By filling in the timeline template, you can see how much time you have left on other activities so that you keep that work-life balance. Or, if you don't have a fixed schedule, you can also track your most suitable time for work to come up with your own perfect schedule.
Of course, you can't get a lot of details using this approach, so this timeline is more of an addition to your planning arsenal. But if you need to plan your tasks more thoroughly, the weekly timeline will work great in combination with other planners, like daily or weekly hourly planners.
Description: general & easy-to-grasp
Best for: workers with flexible/changing schedules & looking at how busy you are
Helps with: finding peak productivity time & preventing overworking and presenteeism
You can also add more lines in different colors to plan other areas of your life, like exercise, relaxation time, reading, going out, etc.
7. Week by shifts
Of course, if you work in shifts, planning your week around your shifts is helpful. This way, you can see your busy hours at a glance and plan other errands around them. You can also see what parts of the day your shifts take up throughout the week and track whether that is a suitable schedule for you.
There are different ways to go about shift planning: by listing all the shifts and highlighting the right ones for each day, or by filling in your working hours in your usual weekly planner. We find the first way easier to grasp at a glance, but you can try both to find out which one works best for you.
Description: simple & straightforward
Best for: remote employees working in shifts
Helps with: hassle-free shift planning
As you can see, you only have to fill in the cells that cross between the day and your shift to easily see how your work week looks.
8. Weekly activities
Just like planning your day based on activities, weekly to-do task planning helps add structure to your life and make sure that you don't forget that deadline coming next Friday. If you have a lot of responsibilities at work, you can make this a solely work-focused schedule.
For example, as a freelancer with a creatively demanding job, you don't know when you'll finish up your project in terms of hours or even days, so you can plan your other tasks and errands approximately instead of assigning exact hours to each task.
This approach to weekly tracking also comes in handy when you don't know how your day will go but want to plan to do several activities anyway.
At the same time, if your job tasks are rather repetitive or time-consuming, you can make it an all-around life planner. So it would include both work-related tasks and timestamps, or just work periods during the day, as well as other things you need to do, from housekeeping to physical and mental well-being.
This way, you'll be able to prevent your job from taking up your whole free time and improve your work-life balance.
Description: task-focused & flexible
Best for: anyone with changing/flexible schedule
Helps with: improving time management and work-life balance with no stress
Below is an example of what a week of activity planning would look like. You can also set up a priority task for the day in the Goals section.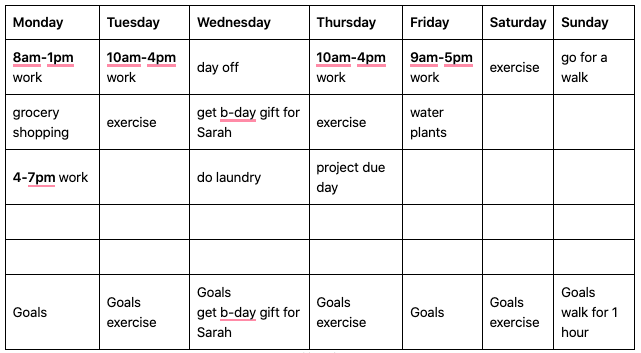 Use of hourly planner
Hourly planners come in a variety of templates, and everyone will find one that will help them become more productive, perform better at work and stress less. Whether it's a daily schedule planner or a weekly set-up you take up, you will notice a positive change in your work-life balance while working from home.