What Is Productivity?
Productivity isn't everything, but in the long run it is almost

everything. A country's ability to improve its standard of living over

time depends almost entirely on its ability to raise its output per

worker.

Paul Krugman, The Age of Diminishing Expectations
There are different definitions when it comes to productivity.
Wikipedia would say that "productivity describes various measures of the efficiency of production".
From an economic point of view, it's measuring the output that comes from the input.
The classic definition describes productivity as a way to measure efficiency.
And I prefer to say that productivity is getting results fast and with less effort.
Basically, we are all trying to have more free time to do whatever we want.
One important notion: Productivity is not busyness.
My favorite basketball player, John Wooden, once said: "Don't mistake activity with achievement."
The man had a point. Labor productivity isn't about trying to do everything at once and drive ourselves crazy among piles of tasks we need to do. The idea is to create everlasting habits that will make us realize that we all have 24 hours a day to make it work. It's important to create healthy, sustainable patterns that ensue we also get enough rest while striving for success and productivity.
But how do we make it work? One word – motivation.
When it comes to labor productive efficiency, it doesn't matter if we have the best technology and coolest offices to work in (well, it would still be nice, wouldn't it?), but if we don't have motivated people around us we have nothing. A motivated employee is a happy one. Mind you, motivation starts from the first day of hiring, and it never stops.
As the saying goes: motivate your employees to work smarter, not harder. The idea is to focus on energy and not time.
All this sounds really nice, but the circumstances we live in right now, are not the best, to say the least. It's hard to stay motivated at work when we are not physically at work or when we work from home with our children running around the house thinking we are here to play. We are a bit stressed, aren't we?
Remote work is here to stay
We need to have a heart-to-heart – this isn't going anywhere for the foreseeable future.
For some, this was already a reality – having remote work, for others it seemed they had the whole thing figured out and did the transition without a hitch, but for the others…well, it took a while to get there.
The pandemic created the world's biggest experiment – how to make working from homework. The worldwide companies had two opposite takes on the pandemic: half saw it as an economic crisis and had a 'now what?' situation, and the other half as an opportunity to create something new and make a profit.
Some of the biggest tech companies, such as Google, completely shifted their work and made their employees work remotely forever and ever. In addition, Zuckerberg announced that remote work will be the new normal for the next five to ten years. Twitter's CEO told his employees that they will continue working from home as long as they want.
Does the whole thing indicate that maybe remote work isn't as unproductive as we used to think? Maybe the economy would survive, or even triumph?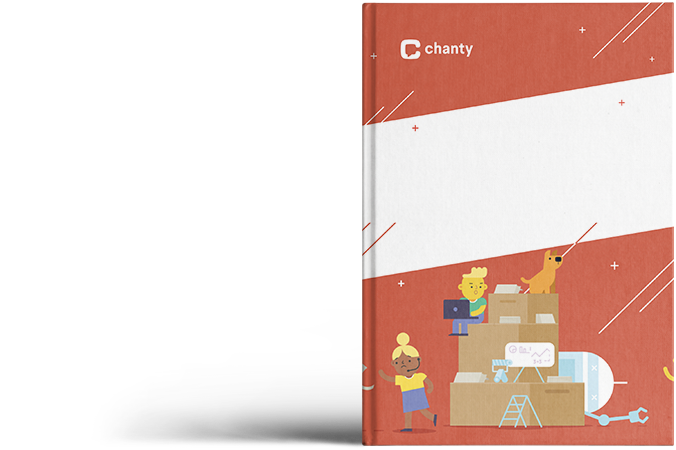 Communication issues at work?
"50 Surefire Ways to Improve Your
Team Communication"
Get eBook
Does remote work affect labor productivity?
However, remote work is not just a different way of work, but a completely different way of life. Many people still believe that working from home is distracting and draining. People think that it's a lot easier to get things done when we are constantly breathing down each other's necks. It's easier to ask questions and keep track of what's happening at work in general. But surprise, surprise! According to the latest studies, it's actually not.
Nicholas Bloom, a professor at Stanford University, had a Ted Talk and hit us with some facts. In a nutshell, he explains that remote work increases employee productivity and satisfaction because they avoid commuting to the office, worrying about being late, and eliminating office distractions.
One study found that remote work one day a week boosted output by 13%.
According to another research, remote employees work 1.4 more days per month than their office-based colleagues, which results in more than three additional weeks of work per year.
Apparently, there are benefits when we work from home. First of all, we can work with the best of the best, without being limited by locations. We can hire anyone from anywhere and it won't make a difference. In addition, we can also cut down the costs for office rent, heating, electricity, etc.
So if the benefits are here and we have all these studies that show us we can do it, why are we so reluctant about going remote? Working with people around the globe has its ups and downs, especially when it comes to cultural differences and most importantly – communication.
Zogby Analytics conducted a study that showed that the largest obstacles when working from home, were the lack of information and the timeliness of the information. So, it can be really challenging to communicate with employees in different time zones and without the necessary body language to set the right tone of the conversation.
However, in today's world, we can rely on technology. That's the only and best way to stay connected (that is until one day we start teleporting (fingers crossed)).
So how do we do it? How do we stay motivated and connected?
By using the right tools of course. And not just that, but focusing on one single app. Having too many communication tools can confuse the team and make it spend too much time wondering where to share files and where to find the task they are working on. Now, I know I might be biased, but Chanty is my go-to app for such reasons. Everything is in one single place. I can have messages, video, and audio chats, use it as a task manager, and integrate other apps if needed.
Anyway, our team has tested out all of the collaboration tools that are available on the market, so feel free to have a look and choose whatever works for you.
How to measure labor productivity?
Now, there are many employee productivity tips and tricks to help us and we've written a lot on the matter, but how do we know if we need to increase productivity in the first place?
From a managerial point of view, we want our team to thrive and succeed in completing their work to the best of their abilities. And not just that, it's good to know the company's productivity so that we can make better investment and operational decisions for the company.
So how do we measure employee productivity? Do we focus on the completed tasks? The hours spent at work? The coffees we've drunk to stay awake and do the job?
One of our customers had the same questions and dilemmas. He was up to his elbows with work but still wanted to try and make his team's job easier and make them reach their true potential. He didn't have the time nor energy to do manual calculations and analysis. So naturally, he turned to us for some help. We realized that most of our customers are in the same boat. They don't have time for all of the research. So, we decided to do something about it. After all, one of our main priorities here at Chanty is to help you stay on top of the game, making productivity our priority.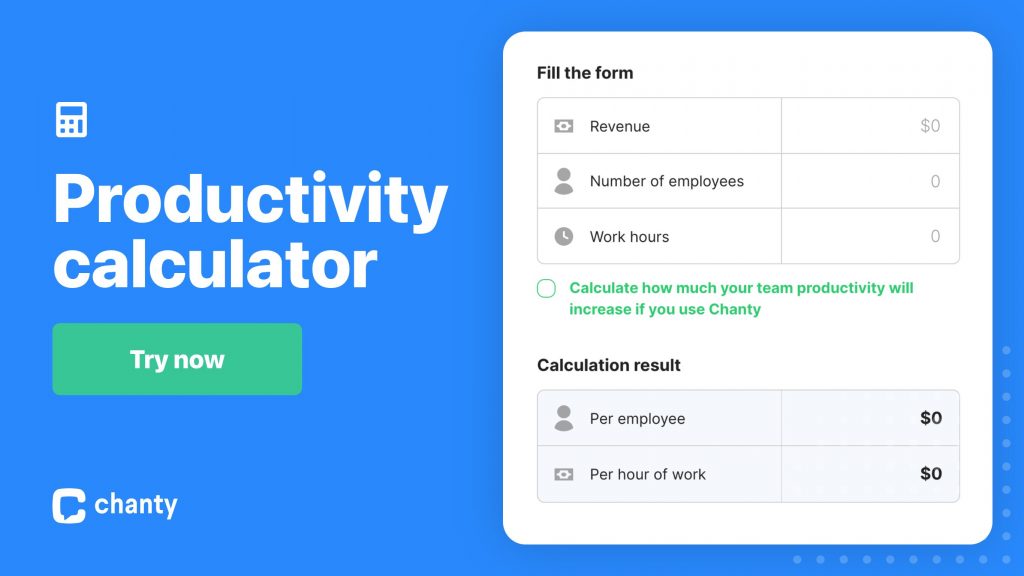 The productivity software is based on some simple metrics and fundamentals. It will help you understand if your team is productive without you having to lift a finger. It uses a simple formula.
Once you enter your data, the results will determine the productivity per employee or hour.
Say, your company makes $200,000 and you have 56 employees who work for you approximately 160 hours per month. If this is the case, your productivity per employee would be $3571,41, or $1250,00 per hour of work. Additionally, you can calculate how much your productivity will increase if you start using Chanty.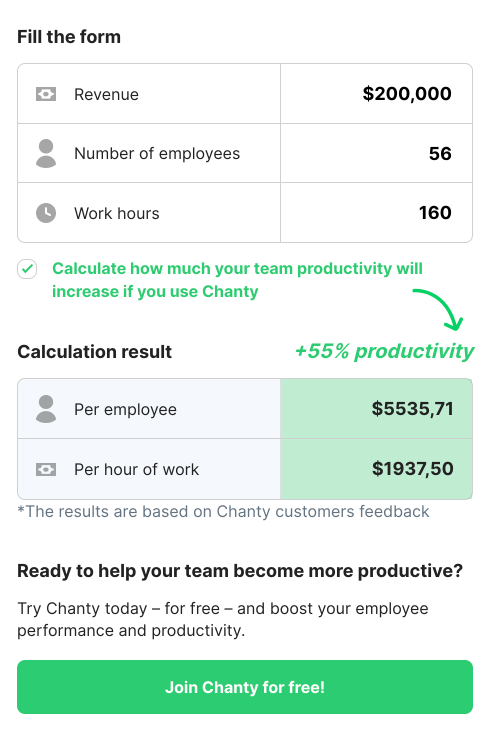 How would Chanty help? If you are serious about improving productivity (as you should be), Chanty is a first-class ticket to a journey that will make your team's work dreamy. Communication is the key to your success and having the right tool for it will make it so much easier, especially in today's circumstances. Oh, and did I mention that the calculator is completely free of charge? As I said, we are here to help our customers to make the best of it.
Recap
The employee productivity is affected by many factors, and sometimes it's tough to put it all in a frame. However, measuring it is crucial for progress. Not only to you but the entire company. It will give a glimpse into the drive of your employees. And not just that, but it will also help everyone improve in areas where they lack certain progress.
So take it to the next level. Try out our new lean, mean machine and tell us what you think. Cannot wait to hear your thoughts on this one.