OK Skype, you've been with us for years.
The number one app we'd start at work along with the first cup of coffee.
But the truth is, nothing lasts forever.
As 2017 wraps up, it looks like the time has finally come to move on to faster, safer and more reliable modern tools.
Thanks to building Chanty – a simple, AI-powered team chat, our team had to perform an in-depth analysis of our competitors. We've considered their pros and cons from a customer's perspective and tried to come up with a better, cleaner and more user-friendly chat alternative. Feel free to join our amazing community of early adopters and share your feedback.
Why search for Skype alternatives?
If you are searching for Skype alternatives, it's most likely you are concerned with one of these:
You are tired of the excessive ads
Its speed doesn't satisfy your needs
You keep receiving spam from hacked accounts
Your account might've as well been hacked
The latest radical redesign got your puzzled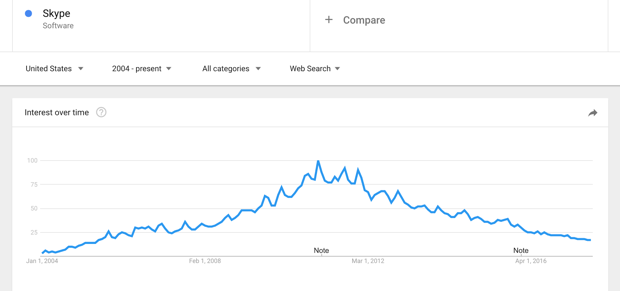 How often people searched for Skype 2004-2017
The Google trend for "Skype" keyword searches goes down mercilessly.
However, this pioneer communication app is far from its sunset.
In fact, Microsoft has a huge bet around it.
Here's the proof – they've completely rebranded Lync, one of their major corporate tools, into Skype for business.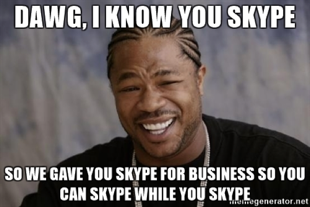 Image source
Our Skype alternatives experiment
Nevertheless, we've seen a handful of new communication and video conferencing apps populating the market lately. There are so many that it's hard to navigate in the ocean of the similar tools promising to connect the entire world.
Our team at Chanty decided to sort things out and see which apps are worth considering. We've actually used five top Skype alternatives with our colleagues and we can't wait to share our experience and feedback.
But first, let's see what Skype lets you do to make sure the apps we'll be testing out are measuring up. Here's an outline of the top features Skype offers:
One to one instant chat
Group instant chat
Audio calls
Video calls
Screen sharing
Call phone numbers (mobile, landline)
Now when we know what to look for, it's time to try out the top Skype alternatives:
Chanty vs Skype
Many companies use Skype to chat at work. If you are one of them, it's time to take a look at team messengers as they are just way more convenient when it comes to work communication.
Chanty is an AI-powered messenger for business. It's also a single notification center. It means that (unlike Skype) you will be able to receive notifications from different apps you are using directly to Chanty.
How about bringing all your notifications into one place?
E.g. your team might be using MailChimp, Xero, Salesforce or Zendesk software during the day. Chanty lets you stay informed of everything that happens there by integrating with those apps and delivering notifications right to the specific conversation in Chanty.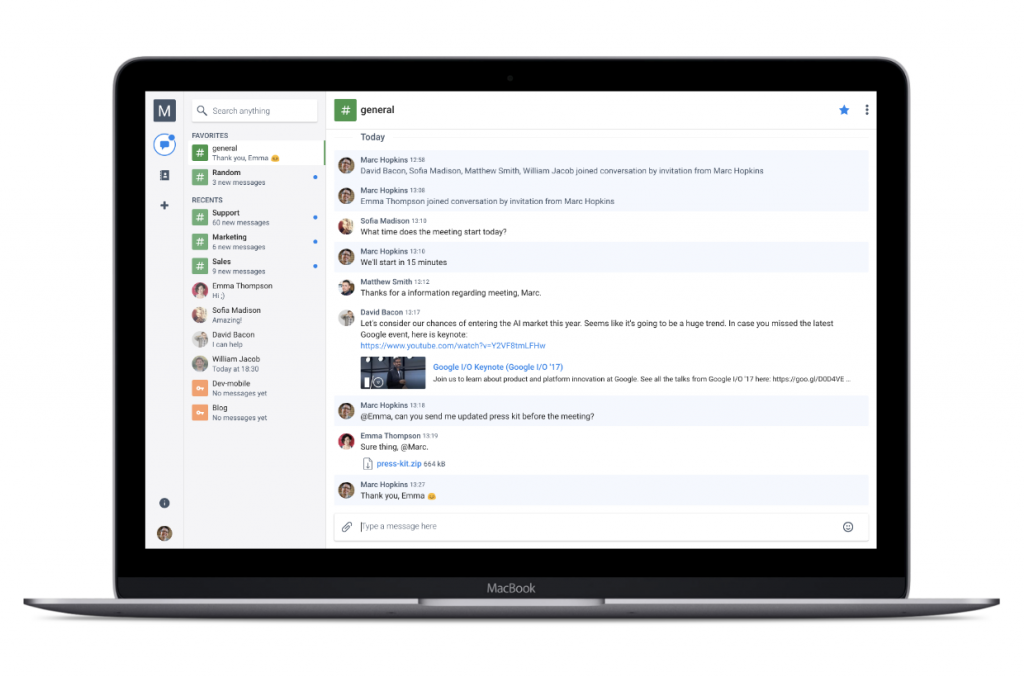 Chanty is designed for team communication
I have to highlight again that Chanty is a communication tool for teams. Unlike Skype where everyone can get in touch with you – your auntie, colleague and your ex, Chanty closed team space environment is designed for you and your colleagues. You won't get distracted by a great grandmother's dog walker best friend's roommate anymore.
Company-wide, private or one to one discussions
You can communicate one on one or team up in groups in Chanty. Group chats are available in a form of public and private conversations. This way you can have open company-wide discussions or share sensitive information in private, invite only chats.
Chanty is at its beta stage now, therefore some of the features are to be added soon. Let's take a look at Chanty vs Skype in this table.
Chanty vs Skype
Chanty vs Skype
Features
Chanty
Skype
Interface and design
Simple and clean
More complicated and less intuitive
Instant chat
Yes
Yes
Audio and video calls with screen sharing
Yes*
Yes
Integrations with third party software
Yes
No
Search
Searchable messages, files and links
Searchable messages
Message history limit
No limit
No limit
One to one
Public Private conversations
Yes
One to ones and group chats
File sharing
– Files you share are stored at Chanty cloud and could be easily forwarded to anyone

– Each file receives a unique link

– You can also view images in the chat feed

All kinds of files that you need to download to get a full screen view
SMS, landline and mobile calls
No
Yes
AI-powered
Chanty AI lets you focus on what's important delivering the key takeaways of every conversation
No
Supported platforms
Android, iOS, web, Windows, macOS
Android, iOS, web, Windows, macOS, Linux
Price
Freemium
It's free until you want to send SMS or call mobile/landline numbers.
In-app ads
No ads
Yes
*Beta
Chanty vs Skype summary
Choose Chanty if your are looking for a team communication tool and Skype if you need an app for personal communication. Here are some takeaways:
You can integrate Chanty with your favorite software and view all notifications directly in your team chat. Skype doesn't let you do this.
Chanty lets you create public (company-wide), private (one or more participants) conversations and one to one chats. Skype lets you chat directly (one on ones) or create group conversations.
Chanty lets you and your colleagues create a closed team space. In Skype you can communicate with anyone who has a Skype account.
Skype is famous for its video and audio calls. Same features are available in Chanty. (currently in beta)
You can't send SMS or make landline calls in Chanty unlike Skype.
Chanty won't disturb you with a single ad. Ever.
And last, but not least – we are working hard and designing Chanty with love and passion so it becomes the communication app of tomorrow. Our goal is to save time, improve communication and foster collaboration in your team. Join our community of early adopters and be the first to give Chanty a try 😉
Google Hangouts vs Skype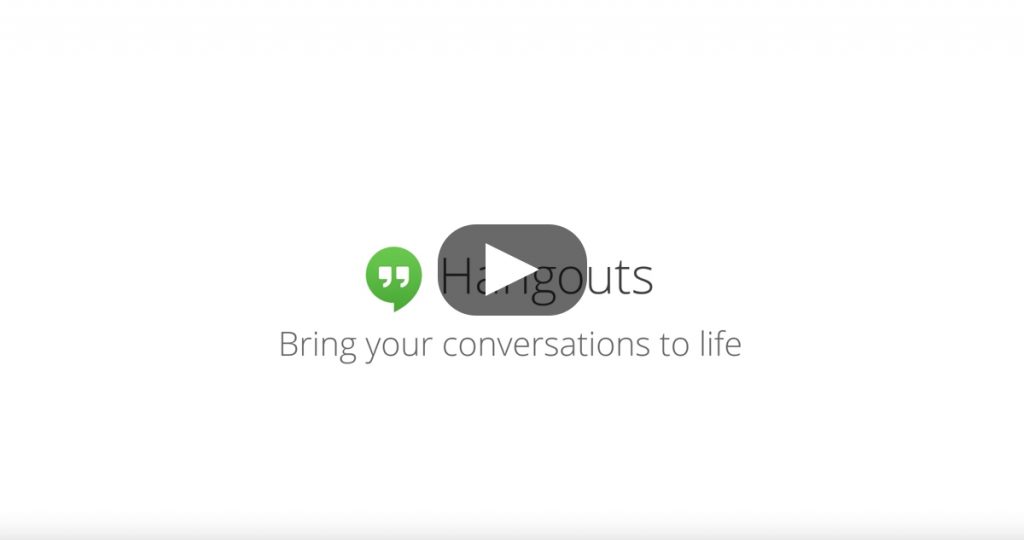 The tools are quite similar when it comes to communication features. Both apps let you chat, make audio and video conferences, call mobile and landline. We have written an in-depth comparison on Hangouts vs Skype in another article so take a look if you need additional details on these two apps. Meanwhile, let's see who's the winner when it comes to features:
Google Hangouts vs Skype
Google Hangouts vs Skype
Features
Google Hangouts
Skype
Instant chat
Up to 100 people
Doesn't specify
Audio and video group calls
Up to 10 people
Up to 25 people
Screen sharing
Yes
Yes
Chat extras
Maps, emojis, stickers, and GIFs
Smileys, mojis;

Send contacts, location, video messages

File sharing
Images only
300 MB (larger files could be sent via OneDrive, their cloud storage). Files are available for 30 days on all devices
Supported platforms
Android, iOS, and the web
Android, iOS, web, Windows, macOS, Linux
SMS
No
Yes, paid option
Landline and mobile calls
Yes, paid option
Yes, paid option
Price
It's free on your gmail account and $5 for G Suite package with Hangouts included into it.
It's free until you want to send SMS or call mobile/landline numbers.
In-app ads
Hell no
Hell to the Yes
Google Hangouts unfamiliar interface vs Skype radical redesign
Hangouts looks different. It's NOT like the chat app you are used to. Every new chat opens up in a new window and when you have more than ten chats on the screen it becomes an issue. Overall, it's hard to agree that Google Hangouts interface is user-friendly.
However, I can't fail to mention the eye pleasing professional photos on the app background. There's only one downside – if you want to change the background image, there's absolutely no way to do it.
Although Skype has kept its interface layout for years, its Snapchat-like radical redesign came as a surprise in 2017. According to a number of comments like "This latest update is the most thrown-together looking thing I've seen in a long time" people don't seem to be thrilled with it.
Looks like Microsoft is making a strategical move putting Skype and Skype for Business apart. From a business-oriented app which Skype initially was, it has turned into a Snapchat-like, millennials-oriented tool to hang out with your pals.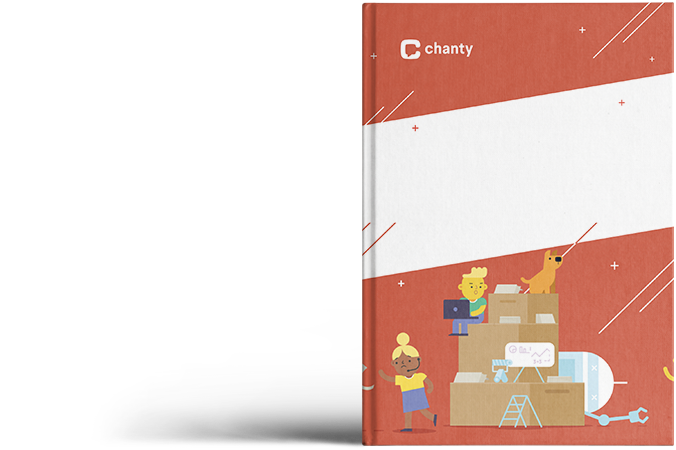 Communication issues at work?
"50 Surefire Ways to Improve Your
Team Communication in 2019"
Get eBook
Oops, you can't turn Hangouts notifications on
There's obviously an issue with notifications in Google Hangouts. Guess what happens when there's an incoming Hangouts call and your computer sound is turned off? You'll miss it unless you don't have Gmail or Hangouts browser tabs opened.
Unlike Skype where video/audio call push notification pops up right in front of you, Hangouts doesn't inform you about the call. But wait, there's a nice email waiting at your Gmail Inbox informing that someone's calling you right now. Don't want to miss a call? Better check your email more often.
Unfortunately, chat notifications don't seem to work in Hangouts either. When you turn on the notifications in settings, nothing happens.
No, you can't attach a .zip file in Hangouts
Images only. At the same time you can send all kinds of files in Skype. The moment I've tried to send a .zip archive, I've realized it's not an option. Google is obviously encouraging the use of Google Drive to exchange links rather than attaching files.
Hm…Is it Hangouts that limits my options or is it files exchange that's outdated? If you are used to sending files back and forth, Hangouts isn't the best choice for you.
Hangouts wasn't designed for text messages. Here's why:
You can't edit/delete/pin/forward messages in Google Hangouts.
You don't receive chat notifications.
Every new chat is a new window, when you talk to more than 5 people it gets confusing.
You can't send any files in Google Hangouts other than images.
You can't search for messages, not speaking of files or links.
Integration with Google – the great thing about Hangouts
It's time to be nice to Google. Integration with other Google services helps you stay connected with your friends or colleagues. There's a Hangouts chat waiting for you at the left-bottom in Gmail which is quite handy. If you hang out at Gmail a lot, you can instantly reach all of your Hangouts contacts as they are right at your fingertips.
Video/audio calls + screen sharing feature work pretty well
The truth is, the #1 reason people use Google Hangouts is the video calling feature. We've decided to give it a check both in Hangouts and Skype and detect a winner. The team video call went fine on both apps. We haven't spotted any issues with the screen sharing either (unless you experience issues with the internet connection). Therefore, when you need to hold a video conference, feel free to trust both Hangouts and Skype.
Google Hangouts vs Skype summary
Video/audio calls and screen sharing are great both in Hangouts and Skype.
Google Hangouts isn't designed for text communication and lacks many useful chat features (editing, deleting, pinning, forwarding messages, messages search, etc).
File sharing is limited in Hangouts as you can only send images.
You can easily miss a call in Hangouts due to their tricky notification system.
When combined with other Google apps (e.g. Gmail), Hangouts gives you more benefits.
There's no desktop app for Hangouts.
Although Skype was redesigned, they've kept the familiar and chat interface.
Skype lets you send all kinds of files, edit, delete, quote your messages, favorite conversations and search message history.
Landline/mobile calls are more affordable in Hangouts.
Appear.in vs Skype
Appear.in is an easy-to-use tool that is free for up to 4 people. You can also have a conference with up to 12 people for an extra charge – $9.99 per month. Premium plan allows to show your screen along with a video of you making comments at the same time. Moreover, you can brand the screen with a custom logo and a background image.
Appear.in vs Skype
Appear.in vs Skype
Features
Appear.in
Skype
Video / audio call quality
Excellent
Excellent
In-video options
Augmented reality, stickers and smileys
Smileys, mojis;

Send contacts, location, video messages

Screen sharing
Yes, requires web extension  installation
Built-in screen sharing option
Text messages options
Simple chat with no additional options
Copy, quote, edit, remove
Landline / mobile calls
No
Yes, paid option
Supported platforms
Android, iOS, web
Android, iOS, web, Windows, macOS, Linux
Starting a video call process
You need to sign up, choose a plan, create a meeting room
You need to sign up and add contacts before starting a video call
Video conference limits
4 people in a free plan,

Up to 12 people in a premium plan for $9.99 per month

Up to 25 people
SMS
No
Yes, paid option
File sharing, search messages
No
Yes
In-app ads
No
Yes
Appear.in won't let you exchange files, search or edit messages
Since people often compare Skype and Appear.in, it should be highlighted that chat functionality is quite limited at Appear.in. Just like with Hangouts, you can't edit, delete, pin or forward messages. All you have is a simple chat.
Moreover, there's no way to exchange any files in Appear.in (if your remember, Hangouts lets you send images only). If you need a powerful chat app to go with your video conferencing tool, you have to look for other tools like our Chanty team chat, as Appear.in wasn't designed for effective text communication.
Have some fun with Appear.in augmented reality
It was cool playing with various video add-ons like stickers and augmented reality in Appear.in.  Although it's not the #1 feature you need at work, it definitely gives your mood a boost.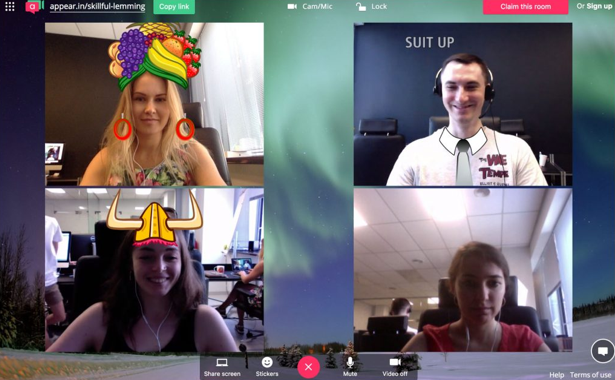 Appear.in vs Skype summary
Video conferences are clean and slick in Appear.in app. Our team liked it a lot – it's free for up to 4 people (used to be up to 8 just a year ago), audio and video quality is great, the augmented reality is fun. It turned out Appear.in is more likely to be a direct competitor to Google Hangouts rather than Skype. Video communication is their main purpose while chat functionality is a less important side feature.
On the other hand there's Skype designed for both video and text conversations with its powerful chat functionality and high quality video calls. Is there a real Skype alternative out there? Let's find out.
FaceTime vs Skype
Introduced in 2010, FaceTime lets you make audio and video calls on your Apple devices – MacBook, iPhone, iPod, iPad, iWatch. It means you won't be able to reach your Android friends or colleagues. There is no way to use FaceTime on Windows either. Another huge disadvantage is you can't make a group call. Only one to one calls are available. Needless to say, FaceTime doesn't support an instant text chat. If you are an Apple fan, you know there's iMessage app for this purpose.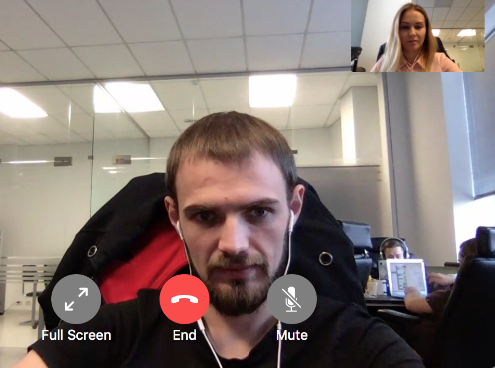 Let's take a closer look at FaceTime and Skype features in this table.
FaceTime vs Skype
FaceTime vs Skype
Features
FaceTime
Skype
Instant chat
No
Powerful chat
Audio and video group calls
No group calls, one on one only
Group calls with up to 25 people
Screen sharing
No
Yes
Chat extras
No
Smileys, mojis;

Send contacts, location, video messages

File sharing
No
300 MB (larger files could be sent via OneDrive, their cloud storage). Files are available for 30 days on all devices
Supported platforms
iOS, macOS
Android, iOS, web, macOS, Windows, Linux
SMS
No
Yes, paid option
Landline and mobile calls
No
Yes, paid option
Price
Free
It's free until you want to send SMS or call mobile/landline numbers.
In-app ads
No
Yes
FaceTime vs Skype summary
It's hard to say FaceTime and Skype are competitors. Video calls is the only feature FaceTime and Skype have in common. Just like every other Apple app, FaceTime requires iOS, macOS or watchOS and it's only good for a direct one on one call. It doesn't associate with a tool you'd use for work. The bottom line is it's good for a personal use to make a quick call to a friend or relative with an Apple device.
Update as of June 2018: Apple has recently introduced the group calls for FaceTime (up to 32 people) as a part of their yearly update (will be available in September 2018). 
Viber vs Skype
Viber gets the closest to Skype in terms of features. However, there are two big differences between the apps.
Big difference #1 Viber video calls are one to one only
Video and audio calls are available for one to one communication only. Which means saying "bye" to group video conferences. This limit instantly makes Viber an app for personal use, not for team communication.
Big difference #2 Viber requires your cell phone number
Viber revolves around your telephone number and, as a result, your smartphone. Initially it was a mobile app and the desktop version was introduced later on. You won't sign up unless you have a working cell phone number. Moreover, you'll need your phone to confirm the login on desktop app as well.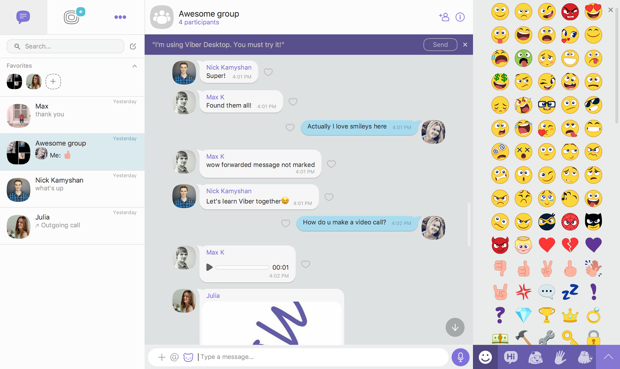 No, You can't view files shared in Viber
As you already know, there's an ability to view all the files you've shared with a particular contact in Skype. Unfortunately, Viber lacks this functionality as it's an app mostly used on smartphones where you don't share files that much. Moreover, when you make a search with a file name in Viber, you won't find it as you can search through messages only.
US mobile/landline calls? Use Viber. UK mobile calls? Use Skype
Both Skype and Viber offer landline and mobile calls at affordable prices. Viber landline calls to US are free while mobile calls are as low as 1.9 cents per minute. At the same time Skype charges you 2.3 cents for all US calls. Landline calls to UK are the same affordable 1.9 cents, however mobile prices are almost 6 cents per minute.
What's cool about Viber though – calls you make with Viber Out use your cell number on the receiver's call display.
Businesses who have your cell number keep sending you spam
Although, you can unsubscribe every time you receive a message from a new business, it takes time and draws your attention away. I've received more than ten business offers from companies this Black Friday. Every year the number of companies using Viber as their communication channel with customers grows.
The rest of functionality is pretty similar to Skype. Let's take a look at this Viber vs Skype comparison.
Viber vs Skype
Viber vs Skype
Features
Viber
Skype
Group chat
250 people
Doesn't specify
Message actions
Copy, forward, delete for myself, delete for everyone.
You can't edit messages
Copy, quote, edit, remove
File sharing
All kinds of files
All kinds of files
Search
Basic search within messages, no files search.
More advanced and convenient search functionality
Audio / video calls
Yes, one-to-one only,
No group calls
Up to 25 people
Screen sharing
Yes
Yes
In-chat extras
Stickers, emoticons, giphy, YouTube, Wikipedia, Guggy, Movies
Smileys, mojis;

Send contacts, location, video messages

Landline / mobile calls
Yes
Yes
Pricing
Free with paid options:
– landline/mobile calls- extra stickers- paid services for businesses
Free with paid options:
– landline/mobile calls- SMS
SMS to a mobile number
No
Yes
In-app ads
Yes
Yes
Viber vs Skype summary
Considering the more powerful search functionality, ability to view files and edit messages in Skype, it's more convenient to use it on a desktop rather than Viber. In its turn, Viber with its ties to your cell number remains an app that you feel more comfortable using on your smartphone. Here are some more takeaways:
Both apps let you chat in groups or one on one.
Message actions are more advanced in Skype.
Notifications settings are way more advanced in Skype.
In our opinion, Viber interface and design look and feel more friendly.
You can call up to 25 people in Skype while it's one on one only in Viber.
There are options to add emoticons and text in Skype video calls. You don't have this in Viber calls.
Viber Out is cheaper for mobile and landline calls to US and landlines calls to UK.
Viber sends you advertisements and special offers from businesses. At the same time Skype distracts you with in-app banner ads.
Skype alternatives summary
We've analyzed 5 Skype alternatives and actually tried them for a while to communicate with our Chanty team. Now we are ready to share our ultimate feedback and recommendations.
Here's our take on when to use different Skype alternatives:
Chanty. In case you are using Skype for communication with your teammates and looking for a smarter alternative. Chanty is great for saving time, organizing your workflow and collaborating with other software your team uses at work.
Google Hangouts. If you are a heavy Gmail user who needs reliable video conferencing software with an ability to make cheap landline and mobile calls. Hangouts isn't the best option for instant messaging though.
Appear.in. Give it a try when you need to quickly jump on the video call. We haven't seen an app that's easier and more user friendly when it comes to video communication. However, instant messaging isn't their focus, just like with Google Hangouts.
FaceTime. If you and your friends are using Apple devices, it might work well for one-to-one video communication. But don't expect anything more – no group calls or text messaging yet available.
Viber. Viber is fun with its stickers, gifs and emoticons. It's great for personal communication and allows one-to-one audio/video calls only. Remember though that you'll be tied to your telephone number and a smartphone.
Skype is still a powerful solution. Its bandwidth limit when it comes to a number of people in the video conference communicating simultaneously is the highest among the alternatives we've analyzed. It's also available on a wide variety of platforms. Apart from high quality video service it's also got an expanded chat functionality which gives Skype a serious competitive advantage.
What is better than Skype?
With its shift to "an app for personal use", we highly recommend to switch from Skype to team communication software. It saves you time, organizes your workflow, boosts collaboration while making communication of your team members easier.
Luckily, you are in a right place. Sign up for Chanty beta test to try our AI-powered team chat and a single notification center.