OK Skype, you've been with us for years.
No matter how old you are, you've probably heard of Skype. For many of us, it was the first app we would open every morning when we got to work. But as you know, no app is used forever.
It seems like it's finally time for Skype to be replaced with something else – something more reliable, robust and easier to use. Or is it?
When we started building Chanty, our easy-to-use and intuitive team chat app, we had to conduct quite a bit of research. We wanted to analyze our competitors and see what we're up against, and one of the apps we tested was Skype. For each app we tested, we considered its pros and cons from the perspective of a customer, because we wanted to build something better. Skype is just one of the many apps we've tried.
Why search for Skype alternatives?
If you're looking for Skype alternatives on the web, you most likely have one of the following problems:
You see too many ads on Skype

The app is too slow for you

Fake and hacked accounts keep spamming you

Your Skype account is hacked

You're confused with the constant design updates
When we look at the "Skype" search trends in Google, things are not looking so great. However, this app is far from extinction. In fact, Microsoft recently breathed new life into it by rebranding it to Skype for Business.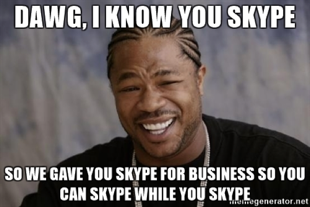 Image source
Our Skype alternatives experiment
Despite Skype being a major player in the video communication market, there are quite a few new video conferencing apps in the market nowadays. In fact, there are so many that it's difficult to find the right one for your business or organization.
At Chanty, we decided to take a look and see which app is worth your time. Here are the top features that Skype offers at the moment:
One-on-one instant chat

Group instant chat

Audio and video calls

Screen sharing

The ability to call phone numbers (mobile and landline)
Since we have a basis for comparison, let's take a look at some Skype alternatives that you can consider:
Chanty vs Skype
Lots of companies use Skype to communicate at work. If you work in a company like that, it's time to consider a team chat app instead of Skype, because they're that much better for communicating in the workplace.
Chanty is an easy-to-use, capable team chat app made for business applications. It's a notification center too, which means you'll be able to get notifications from all other apps you use in one place. This is something that Skype does not have.
How to bring all your notifications into one place?
Your team probably uses more than one app for work. This could be MailChimp, Xero, Salesforce, Zendesk or something else. Chanty lets you stay on top of things because you can get all your app notifications organized together on one platform.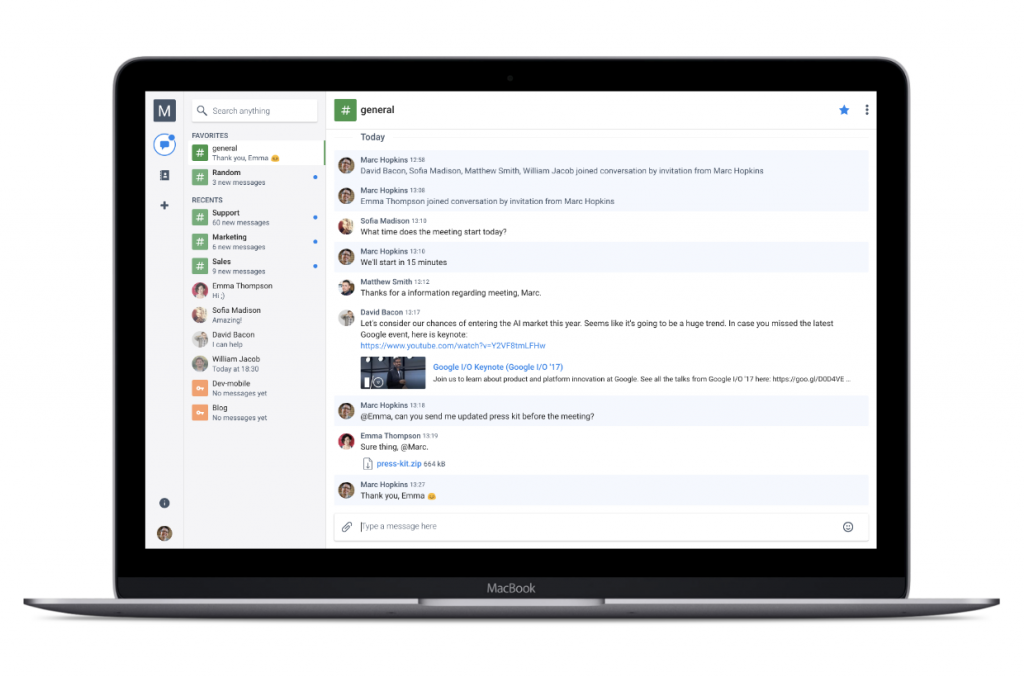 Chanty is designed for team communication
At its core, Chanty is a communication app built for teams. On Skype, everyone can get in touch with you, from your aunt to your childhood friend who added you years ago. On the other hand, Chanty is a closed team chat app that is built for you and your colleagues. You won't get distracted by anyone outside of work who wants to get in touch with you.
Company-wide, private or one-on-one discussions
You can communicate in a variety of ways with Chanty. From one-on-one chats to team messages, you can do it all. That way, you can share things publicly with your entire company, or if necessary, you can go to a private group conversation.
Let's take a look at the current comparison of Chanty vs. Skype in this table.
Chanty vs Skype
Chanty vs Skype
Features
Chanty
Skype
Interface and design
Simple and clean
More complicated and less intuitive
Instant chat
Yes
Yes
Audio and video calls with screen sharing
Yes*
Yes
Integrations with third-party software
Yes
No
Search
Searchable messages, files and links
Searchable messages
Message history limit
No limit
No limit
One on one
Public Private conversations
Yes
Yes
File sharing
– Files you share are stored in the Chanty cloud and can be easily forwarded to anyone

– Each file receives a unique link

– You can also view images in the chat feed

– All kinds of files

on the desktop version 

– Only photos on the mobile version

SMS, landline and mobile calls
No
Yes
Task management
Yes
No
Supported platforms
Android, iOS, web, Windows, macOS, Linux
Android, iOS, web, Windows, macOS, Linux
Price
Freemium
It's free until you want to send SMS or call mobile/landline numbers.
In-app ads
No ads
Yes
Chanty vs Skype summary
If you're looking for a team chat app, choose Chanty. If you need an app for personal communication, choose Skype. The major takeaways from Chanty are:
–   You can integrate it with your favorite apps and get notifications in your team chat window. Skype doesn't allow this.
–   You can use Chanty for the public (company-wide), private (one, two or more participants) conversations as well as one-on-one chats. With Skype, you can chat one-on-one or in group conversations.
–   You can create closed team spaces in Chanty. In Skype, you can get in touch with anyone with an account.
–   Chanty has audio and video calls, just like Skype.
–   You can't send SMS messages or make landline calls in Chanty.
–   Chanty will never serve you a single ad.
Last but not least, Chanty is constantly evolving. Our goal is to make the best team chat app out there, with only the features that individuals and companies will find useful. We are constantly adding new cool features and we're excited for what the future brings for us and our users. If you'd like to give Chanty a try, you can sign up today or book a free demo! 😉
Brosix IM vs. Skype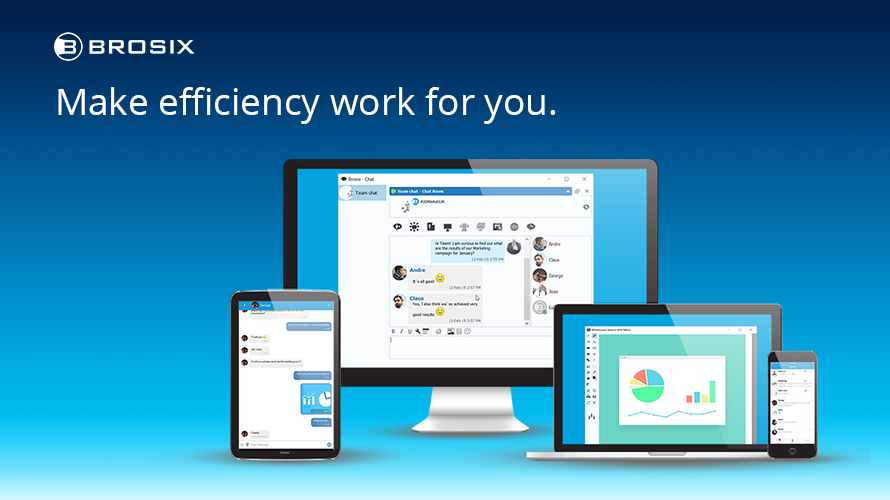 Brosix IM is a team communication app with many of the same IM features as Skype- audio and video calls, chat, screen sharing, etc. What makes Brosix different is the focus on internal team communication through private team networks. Brosix also pays particular attention to security, with fully encrypted security channels and a range of administrative features aimed at keeping team communication safe. 
Private Team Networks for Enterprise Customers
Outside of its IM app, Brosix specializes in private team communication networks. These networks are fully administrable. Brosix allows administrators to control which features are accessible to users, which users can join the network, and who can communicate with whom. 
Skype for Business also provides enterprise IM services, although this is set to be phased out in favor of Microsoft Teams in the coming months. 
Security
Both Brosix and Skype use AES 256-bit encryption, one of the strongest algorithms on the market. Customers using Brosix private network have direct control over which users can access the network. On the other hand, Skype's free public app allows strangers to reach out and contact users. There are privacy settings for this, but the standard setting allows unknown contacts to send messages and call users.
| | | |
| --- | --- | --- |
| Features | Brosix IM | Skype |
| Instant Chat | Yes | Yes |
| Chat Rooms | Yes, persistent chat rooms in private team networks | Available in Skype for business only |
| Screen Sharing | Yes, screen sharing and remote desktop features | Yes |
| File Transfers | Yes, unlimited in size P2P file transfer | Yes, up to 300 MB directly through Skype. Larger files via OneDrive |
| SMS | No | Yes, in paid versions |
| Landline and mobile calls | No | Yes, in paid versions |
| Supported Platforms | Android, iOS, web, mac, Windows, Linux | Android, iOS, web, mac, Windows, Linux |
| Price | Free IM app. Private networks free for teams up to 10. Starting at $3 per user per month after that. | Free IM app. Skype for business starting at $5 per user per month. |
| In-app ads | No | Yes |
Brosix IM vs. Skype summary
Brosix IM and Skype have many features in common, particularly when Brosix is compared with Skype for Business. The uncertain future of Skype's enterprise services leaves an opening for other competitors however. Brosix IM could fill this role with its focus on private team networks that provide a relatively simple-to-use features package, much like Skype. 
Google Hangouts vs Skype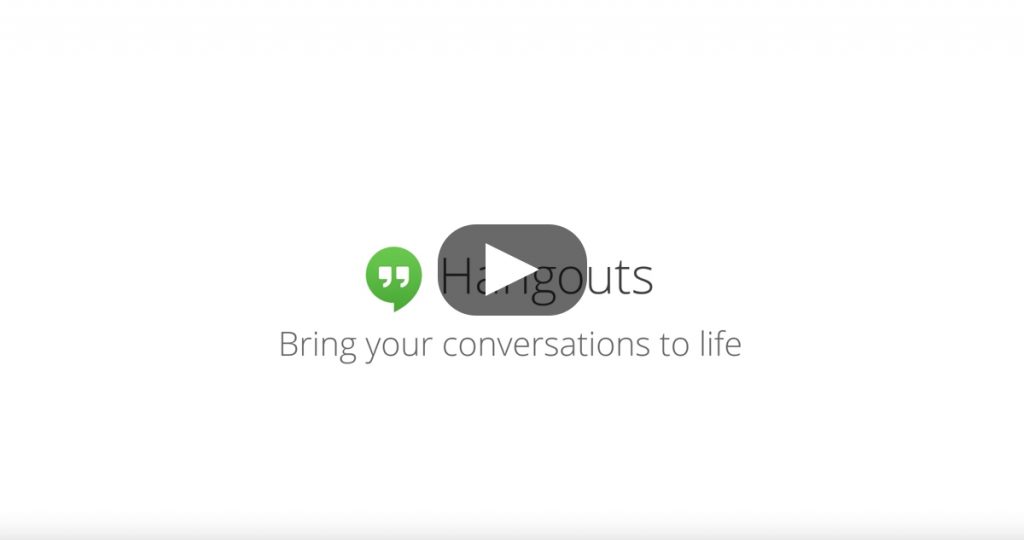 When it comes to their communication features, these two tools are pretty similar. You can use both to chat, make audio and video calls and call mobile and landline numbers. If you're interested, we have a detailed comparison of Hangouts vs. Skype for you to check out how the two fare against each other. When it comes to features, this is what the situation looks like:
Google Hangouts vs Skype
Google Hangouts vs Skype
Features
Google Hangouts
Skype
Instant chat
Up to 150 people
Doesn't specify
Audio and video group calls

Up to 150 people for audio calls; 

Up to 25 for video calls.

Up to 50 people for audio and video calls

Screen sharing
Yes
Yes
Chat extras
Maps, emojis, stickers, and GIFs
Smileys, mojis;

Send contacts, location, video messages

File sharing

Images only 

(or everything but only via Google Drive)

300 MB (larger files could be sent via OneDrive, their cloud storage). Files are available for 30 days on all devices
Supported platforms
Android, iOS, and the web
Android, iOS, web, Windows, macOS, Linux
SMS
No
Yes, paid option
Landline and mobile calls
Yes, paid option
Yes, paid option
Price
It's free on your gmail account and $

9,99

for Google Workplace package with Hangouts included into it.
It's free until you want to send SMS or call mobile/landline numbers.
In-app ads
Hell no
Hell to the Yes
Google Hangouts' unfamiliar interface vs. Skype's redesign
Hangouts looks and feels different – not like a standard chat application. Every chat that you open is a new window, which means that more than 10 open chats at once create mayhem on your screen. Overall, the Hangouts interface leaves much to be desired.
Although, the professional photos in the background of the app are very nice. However, you cannot change them on your own.
Skype has changed many design iterations throughout the years, with the biggest one happening in 2017. While it was initially met with a lot of negativity, its slightly altered version is alive and well today and we have all gotten used to it.
It seems that Microsoft has a good plan when separating Skype and Skype for business. On the one hand, there is a business-oriented app and on the other, there is the standard Skype, built for the Millennial audience and anyone who wants to communicate with their friends.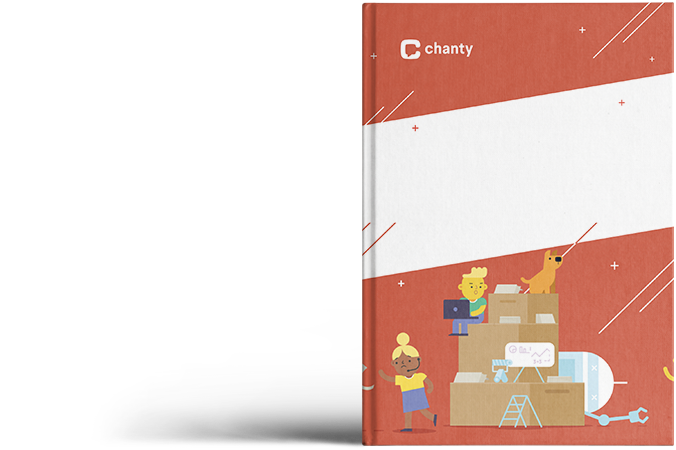 Communication issues at work?
"50 Surefire Ways to Improve Your
Team Communication"
Get eBook
You can't turn notifications on in Hangouts
There seems to be an issue with notifications in Hangouts. When there's an incoming call in Hangouts and your computer sound is turned off, chances are that you're going to miss it. That is, unless your Gmail or Hangouts browser tab is open.
In Skype, video and audio call push notifications pop up right in front of you. On the other hand, Hangouts won't notify you about an incoming call. However, you will receive an email in your Gmail inbox that someone's calling you. Don't want to miss any calls? Well, better check your emails regularly.
As it turns out, chat notifications don't work in hangouts either. When I turned the notifications on in the settings, nothing seemed to happen.
You can't attach a .zip file in Hangouts
The app lets you send images only. On the other hand, Skype lets you send all kinds of files of different formats. I tried to send a .zip file but I realized it's impossible. It's clear that Google is encouraging its users to rely on Google Drive rather than sending attachments through Hangouts. If you're used to sending files back and forth, Hangouts might not be the best tool for you.
Hangouts wasn't designed for text messages. The reasons:
–   You can't take message actions in Hangouts, such as editing, deleting, pinning and forwarding
–   You don't get chat notifications
–   Every new chat = new window. It gets confusing with more than 5 people
–   You can only send image files
–   You can't search messages, files or links
The integration with Google is great
There is one thing that's awesome about Hangouts – it plays well with the rest of Google's products. Hangouts is integrated with everything in Google's arsenal, including Gmail. The moment you open your inbox, a Google chat box will be waiting for you. If you spend a lot of time on Gmail, this is pretty convenient.
Video/audio calls and screen sharing work pretty well
The number one reason why people use Hangouts is the video calling feature. We gave it a go and tested both apps to find the winner. Our team video call was just fine in both apps and there were no issues with screen sharing either. Therefore, if video calls are your primary requirement, you can choose either app, they're equally good.
Google Hangouts vs. Skype – summary
–   Video/ audio calls and screen sharing work equally well in both apps
–   Hangouts isn't designed for communicating by text and it doesn't have most of the useful chat features (editing, deleting, pinning, forwarding messages and more)
–   File sharing on Hangout is limited – you can only send images
–   You can easily miss calls because notifications are not great on Hangout
–   Combine Hangout with other Google apps and it's a great tool
–   There is no desktop app for Hangouts
–   Skype lets you send a larger variety of files
–   Landline and mobile calls are cheaper in Hangouts
FaceTime vs Skype
Launched in 2010, FaceTime is one of the most popular communication apps out there. It is primarily focused on Apple devices: MacBooks, iPhones, iPods, iPads and iWatches. Good news for Apple users but it also means that Android users won't be able to use the app. Also, you cannot use FaceTime on Windows either. As of recently, FaceTime has the ability to have up to 32 people join a video call, which is a huge improvement from one-on-ones as it was before. FaceTime doesn't support instant text chat either – you have to use iMessage for this feature, although this shouldn't be an issue for Apple users.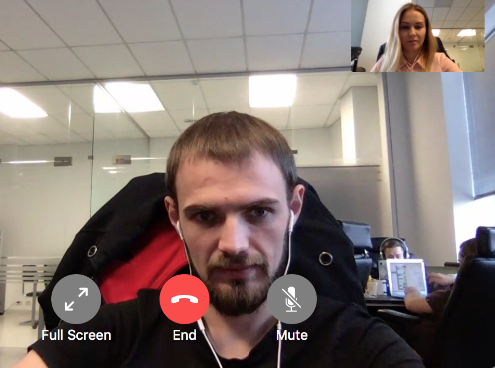 Let's take a closer look at FaceTime and Skype features in this table.
FaceTime vs Skype
FaceTime vs Skype
Features
FaceTime
Skype
Instant chat
No
Powerful chat
Audio and video group calls

Up to 32 people

Up to 50 people

Screen sharing
No
Yes
Chat extras
No

(iMessage)

Smileys, emojis;

Send contacts, location, video messages

File sharing
No

(iMessage)

300 MB (larger files could be sent via OneDrive, their cloud storage). Files are available for 30 days on all devices
Supported platforms
iOS, macOS
Android, iOS, web, macOS, Windows, Linux
SMS
No
Yes, paid option
Landline and mobile calls
No
Yes, paid option
Price
Free
It's free until you want to send SMS or call mobile/landline numbers.
In-app ads
No
Yes
FaceTime vs Skype summary
It would be a stretch to call FaceTime a competitor to Skype. The only feature that they have in common is the video calls. Just like all other Apple apps, FaceTime requires iOS, and it's only sufficiently good paired with iMessage. All of this doesn't make it ideal for work.
Viber vs Skype
In terms of features, Viber is the closest thing to Skype. However, there is a major difference between the two apps.
Difference: Viber needs your phone number
The major condition for using Viber is giving it your phone number and access to your smartphone. You cannot sign up for the app at all if you don't have a working mobile phone number, both for registration and use.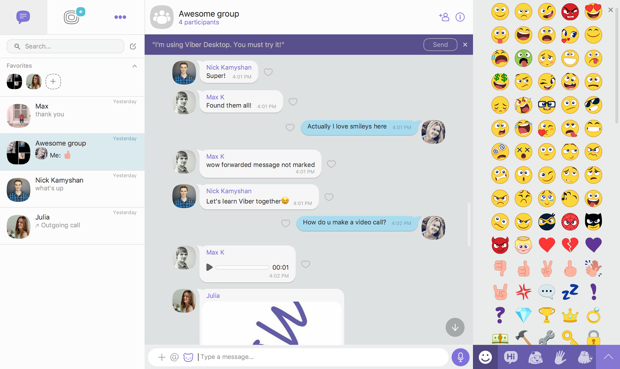 Businesses that have your phone number will keep sending you spam
You can unsubscribe every time you get a message from a new company, but it will draw your attention away. I've received quite a few offers so far and every year, the number of companies using Viber for advertising is growing. The rest of the features are similar to Skype. Let's take a look at the table.
Viber vs Skype
Viber vs Skype
Features
Viber
Skype
Group chat
250 people
Doesn't specify
Message actions
Copy, forward, delete for myself, delete for everyone.
You can't edit messages
Copy, quote, edit, remove
File sharing
All kinds of files
All kinds of files
Search
Basic search within messages, no files search.
More advanced and convenient search functionality
Audio / video calls
Up to 20 people

Up to 50 people

Screen sharing
Yes
Yes
In-chat extras

Stickers, emoticons, giphy, Send contacts, location, video messages

Smileys, emojis;

Send contacts, location, video messages

Landline / mobile calls
Yes
Yes
Pricing
Free with paid options:
– landline/mobile calls- extra stickers- paid services for businesses
Free with paid options:
– landline/mobile calls- SMS
SMS to a mobile number
No
Yes
In-app ads
Yes
Yes
Viber vs Skype summary
Skype is more convenient for desktop use than Viber due to several reasons. The search function is better, while the rest of the features are similar. The biggest downside to Viber is that you need a phone number to create an account. Here are our takeaways with the two apps:
–   Both apps let you chat in groups and one-on-one
–   Message actions are similar in Skype and Viber
–   Notification settings are more advanced in Skype
–   Viber's interface is, in our opinion, more friendly
–   You can call up to 50 people in Skype – up to 20 people in Viber
–   You can add emoticons and text in Skype video calls – not in Viber
–   Viber Out is cheaper for mobile and landline calls in the US and in the UK
–   Viber sends you ads and special offers from businesses; Skype sends you in-app banner ads
Skype alternatives summary
We've taken a look at 5 Skype alternatives and actually tried using them for a while to communicate with our internal team. We are now ready to share our last words on these apps.
Chanty. If you use Skype for communicating with your team and you need a smarter alternative, Chanty is your app of choice. It's a great way save time, organize your workflow and it plays well with other apps that your team may use at work.

Google Hangouts. If you use Gmail a lot and you need a reliable app for video calls, as well as a way to make cheap landline and mobile calls, this is the app for you. However, it's not great for instant messages.

FaceTime. If everyone you know uses Apple devices, this might work well, but you will have to rely on iMessage for chat and file sharing.

Viber. It's a really fun app with stickers, gifs and emoticons. For personal communication and one-on-one audio and video calls, it's excellent. Bear in mind that you are tied to your phone number.
Skype is an excellent app. However, it seems like it's fallen behind some of the apps on this list in terms of features. Despite some of its drawbacks, its ability to set up video conferencing with a large number of people is to be admired. You can use it on a variety of platforms and it has a great chat-functionality on top of audio and video calls.
So, what's better than Skype?
Since it's now more of an app for personal use, we strongly suggest using something other than Skype for work. You're in luck because we have just what you need to take your team's communication one step further – you can use Chanty! Text communication, audio and video calls, screen sharing, task management, sending voice messages – these are just some of the many great features that Chanty has in store for your team. Sign up today and see for yourself!