Black Friday is almost right around the corner, a time when SaaS companies, businesses, corporations, and startups compete to deliver the best Black Friday and Cyber Monday SaaS deals of the year in a highly competitive industry. While customers are excited to invest, it's also the most important sales event that everyone looks forward to.
To enhance the sales journey of potential customers, brands provide irresistible value and quality that converts them into loyal customers.
The date for this year's Black Friday is November 24th, 2023.
Why is Black Friday Important for SaaS Companies?
Love it or hate it, Black Friday is no longer just a retail event anymore; many SaaS companies take huge advantage of it too as trends have shifted. Especially after COVID-19, the shopping trend has mainly changed to online interactions. Here is a quick review of the importance Black Friday holds for SaaS companies.
Lucrative Software Sales Opportunities
Because software companies are less likely to participate in Christmas sales, BF is the best weekend for SaaS suppliers to get a significant number of new customers. According to research done by Paddle, software dealers' sales peak on Cyber Monday around 10 a.m. (UTC). That's an entire weekend of numbers growing.
Businesses that give a discount on Black Friday and over the weekend can expect a 7x increase in orders, resulting in a 6x increase in revenue.
So, to all SaaS businesses, doing something is always preferable to doing nothing.
Customers With a Higher Lifetime Value
When it comes to customer retention, research reveals that businesses that sign up for a Cyber Weekend promotion have a higher lifetime value (CLV). This will improve your MRR, increasing your revenue far beyond the BF sales weekend.
If you provide a decent discount on your product or service on Black Friday, customers will be more likely to stick with you and make the most of their subscription. Furthermore, they would be less likely to churn if they were concerned about losing the same level of discount.
Free Publicity
Consider Black Friday and Cyber Weekend as an annual marketing campaign, with the exception that you don't need to promote the dates because they already have a distinguished reputation. It's a common entry in the annual journal, and many people talk about it.
One weekend, one huge sale for your customers, and one great chance to increase your earnings.
Increase Your Clientele
Who doesn't enjoy a good deal? Discounts have proven to be a good influence on revenue growth from new customers, as seen by the popularity of the volume discount pricing strategy within the SaaS market – Black Friday and Cyber Monday sales being no exception.
Is this something that just happens in the United States? Nope. Black Friday and Cyber Monday take place in most major marketplaces around the world and are a great way to not only make more money in a short period of time but also to extend your consumer base for the long term. Just keep in mind that retention is crucial.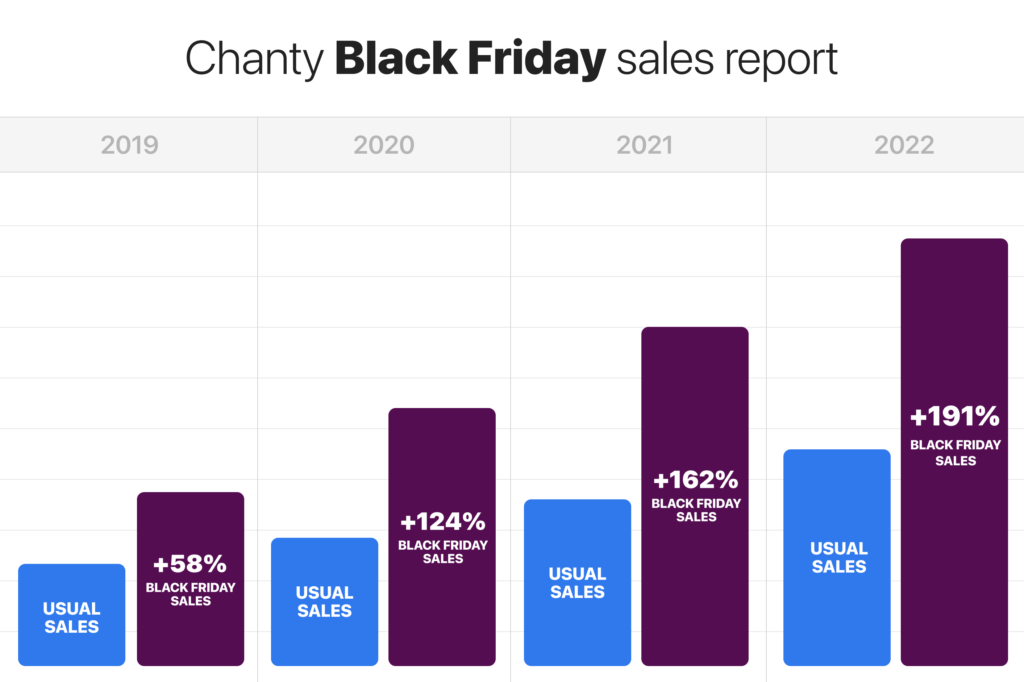 What to expect from Black Friday 2023
As companies compete for more limited wallets against tough online competition, Black Friday 2023 should continue the trend of not only offering discounts but offering discounts on products you'll want to buy.
According to Adobe Analytics, consumers spent $9 billion online during Black Friday 2020. This was the second-largest online spending day in U.S. history, coming in behind Cyber Monday 2020.
Predictions for Black Friday 2023 in the SaaS World
Neil Jose from Acodez firmly believes that this Black Friday/Cyber Monday season will be a good one for SaaS business owners as a considerable amount of customers will prefer shopping online due to the pandemic and this would surely impact SaaS sales positively. Something that we will be implementing this BFCM season is the bundle pricing strategy. This strategy encourages the customers to purchase more than one product so that they can avail the bundle product discount that we offer.
Hasan Abir from Apploye predicts that due to the global pandemic and rise in remote work, spending on software & technology services will likely rise during this Black Friday and year-end promotions.
Gaurav Sharma from Attrock leverages the Black Friday sales rush by offering a limited-time (2-3 days) lucrative deal on your SaaS plans. He suggests that we should start promoting the deal weeks in advance to spike your Black Friday sales. Use a combination of social media marketing, content marketing, and affiliate marketing to promote your Black Friday SaaS deal.
According to Irina Weber from SE Ranking, Black Friday is never going to lose its name and fame in the shopping dimension. Even with open stores, she predicts that online shopping sales are going to be higher than ever. Online shopping can give safety and security and can save time in comparison with traditional in-store shopping.
Mile Zivkovic from Better Proposals thinks that buyers will be more cautious this time around because so many of us bought apps we never used last year – just because they were cheap. Sure, you get a discount, but what's the point if you never use the LTD or discounted app?
Best Black Friday SaaS Deals 2023
Chanty
Chanty is an all-in-one team collaboration tool that offers unlimited searchable messaging, audio and video conferences, and built-in task management system with the Kanban board.
Black Friday deals:
Timeframe: November 6, 2023 – December 3, 2023
Get the deal
Document360
Document360 is an AI-powered knowledge base platform enabling the creation of a robust self-service knowledge base catering to both external customers and internal users. The new AI Concierge, Eddy serves as a sophisticated AI-driven search expert equipped with natural language processing (NLP) capabilities enabling users to find information quickly and accurately.
Black Friday Deal: Save up to 50% on all annual plans.
Timeframe: 6th Nov - 8th Dec 2023
Get the deal
Coupler.io
Coupler.io is a platform for reporting and analytics. It is a no-code solution with broad functionality to automatically collect and organize business data and turn it into live dashboards and reports.
Black Friday deal: 30% OFF all pricing plans for new users
Promo code: BFCM23
Timeframe: 01 – 30 November
Get the deal
Placeit
Placeit is an all-in-one solution for branding design. This versatile platform boasts a staggering 50,000+ templates, constantly expanding with new designs crafted by skilled professionals daily. Whether it's captivating logos, engaging videos, or striking imagery for your social media campaigns, Placeit empowers you to create them in just minutes. Plus, you can harness the power of AI to generate logos and other design assets, including mockups. Moreover, now you can effortlessly maintain a cohesive brand identity with your very own brand kit.
Deal:
50% off to active annual subscribers – Annual subscription renewals. November 20th – 27th
25% off to new users/visitors and monthly subscribers – Annual subscription. November 24th – 27th
Get the deal
SmartReach.io
SmartReach.io is a sales engagement platform that helps you reach prospects across multiple channels, including email, LinkedIn, WhatsApp, SMS, and calls. It also has a shared inbox for team collaboration, AI content recommendations, and integrations with popular CRM and marketing automation platforms.
Deal: 20% Off on All Annual Plans for the First Year
Code: SMARTREACH20BF2023
Timeframe: Till 3rd Dec 2023
Get the deal
LearnWorlds
LearnWorlds is the leading all-in-one online course platform to create, host, and sell online courses, training programs, or memberships.
Deal: Up to 39% off for a year of LearnWorlds' top online course platform and mobile apps
Timeframe: Oct 23rd – Nov 27th
Get the deal
ProofHub
ProofHub is an all-in-one project management and team collaboration tool that serves as your central point of access for planning, delegating, and monitoring project progress. With built-in chat, collaboration features, time tracking, online proofing, and custom reporting you get a whole ton of functionalities at a flat pricing, irrespective of the number of users in your team.
Deal: 40% off on Ultimate Control Plan for six months.
Timeframe: Up to 30th November 2023
Coupon code: HOLIDAY23 (To avail of the discounted offer, contact ProofHub with the coupon code at support@proofhub.com).
Get the deal
Podcastle
Podcastle is an AI-powered software to record, edit, enhance, and now also host your audio and video content all in one place! With exceptional features like Revoice (voice cloning tool,) Magic Dust (automatic background noise remover,) Recording Studio (remote audio and video recording), Hosting Hub, Podcastle for Teams (collaborative features,) and more, Podcastle offers everything you need to elevate your content to the next level.
Deal: Podcastle offers 25% OFF on ALL PREMIUM PLANS, including Storyteller, Pro, and multi-user Teams plans. Use this special offer to enjoy all of their AI-powered features and elevate your content creation game. Use coupon code TDAYPOD01.
Timeframe: The offer is valid from November 21 to 27
Get the deal
Super Monitoring
Monitors uptime and proper functioning of websites and web applications. Detecting outages, missing content, slow-downs, feature malfunctions, Core Web Vitals problems, domain & SSL certificate expirations, presence on blacklists and search engine robot blockades. Provides email and SMS alerts, cyclic and on-demand reports, status pages, integrations (WordPress, Drupal, Joomla, Magento, PrestaShop) and API.
Deal: 50% OFF, one-time, only for new customers
Coupon code: SUPERBLACK23
Timeframe: November 24 to November 30, 2023
Get the link https://www.supermonitoring.com/p/landing6
SocialBee
SocialBee is a platform for streamlining social media management, merging content creation, scheduling, and posting across major platforms.
Benefit from, team collaboration features, comprehensive analytics, and a unified social media inbox, along with helpful integrations like Canva, Unsplash, Zapier, and more.
Deal: 70% on your SocialBee monthly tool plan for 3 months or 30% on an annual subscription!
Timeframe: 24-27 November
Discount code: SOCIALBEEBF23
Get the deal
Brand24
Brand24 is a social media monitoring tool that uses AI to create project reports and insights. Businesses of all sizes use Brand24 to track online conversations about their brands, products, and competitors. It's an affordable tool for managing online reputation, tracking marketing campaigns, and more.

Deal: 50% off any plan for 3 months

Timeframe: November 20 – November 27, 2023
Get the deal
Sitechecker
Sitechecker is an easy-to-use platform that allows you to check and improve your search engine ranking. The toolkit offers the features that website owners, SEO specialists, marketing agency owners, and marketers need.
Deal: 25% off any annual plan
Timeframe: until the end of 2023
Coupon code: blackfriday2023
Get the deal
HelpCrunch
HelpCrunch is an AI-powered platform for building customer relationships. It offers tools for customer service automation such as live chat, chatbots, knowledge base, and shared inbox for all communication channels in one place (chat on the website, chatbots, email, and messengers).
Deal: 30% off your first payment
The deal sums up with annual discounts, so you can save up to 50% in total by signing up for a whole year.
Promo code: BFCM2023
Timeframe: till November 27, 2023
Get the deal
EngageBay
EngageBay is an integrated all-in-one marketing, sales and support platform with a free CRM built for startups and growing companies.
Deal: Get 40% off lifetime on all first-time purchases across all plans
Timeframe: 14 November – 30 November 2023
Get the deal
SmarterQueue
SmarterQueue is a powerful and user-friendly social media scheduling tool. With content discovery, smart scheduling, recycling, and analytics, you can grow your business and brand faster and more easily than ever.
Deal:
30% off your first 6 months (when paid monthly)
40% off your first year (when paid annually)
Limited offer: Lite Plan starting at $3.50/profile
Timeframe: Friday 24th Nov – Monday 27th Nov 2023
Get the deal
NapoleonCat
NapoleonCat is a powerful suite designed to engage and support customers on social media, schedule posts, analyze results, connect your teams, and untangle your workflows.
Deal: 30% off the annual plans
Timeframe: November 24 – November 27, 2023
Coupon code: None
Get the deal
Fomo
Fomo is a notification software for e-commerce stores that enhances credibility, trust, and sales for businesses by displaying real-time customer interactions on their websites​​. It offers a "healthy dose" of social proof through two primary features: live social proof notifications that can be placed anywhere on a site and push notifications that help you re-engage your almost customers again.
Deal:
For our annual offers, enjoy a 33% discount and an extended 30-day trial period, saving you four months on your subscription. You save $1996.
Alternatively, for any of our monthly plans, you can receive a 16.67% discount on your subscription for the entire year. You save $998.
Timeframe: 1st Nov-30th Nov
Get the link
Sender
Sender is an email marketing platform that helps you increase conversions through personalized email campaigns.
Deal: 20% off for all paid plans with Promo code PARTNER20
Timeframe: Valid from NOW – November 27th, 2023
Get the deal
Plerdy
Plerdy is a website analysis tool designed for Conversion Rate Optimization and SEO. It allows tracking, analyzing, and converting visitors into buyers with AI assistance. Features include UX analytics, e-commerce insights, AI-powered reports, and heatmap capabilities.
Deal: 50% off annual plans
Promo code: plerdyBF2023
Timeframe: Validity Nov 24 – Dec 1, 2023
Get the deal
Pixpa
Pixpa is an all-in-one, no-code website builder for creatives and small businesses to create beautiful, professional websites with an in-built online store, a dynamic blog, client galleries, ecommerce galleries, a photo gallery app, and marketing tools. Pixpa's versatile platform has everything you need to showcase your work, share ideas, and sell your work online without any coding knowledge.
Deal: 50% discount on annual plans and a 60% discount on biannual plans

Timeframe: Nov 24 – Dec 31
Coupon code: BLFPIXPA50

Get the deal
Envato Elements
Envato Elements offers you over 16 million creative digital assets, including royalty-free music and sound effects, stock video, video templates, graphics, presentation templates, fonts, and more for one low monthly price.
Deal: 50% off all plans for the first 12 months (excludes Enterprise solutions)
Timeframe: 23 November, 4:00pm – 28 November, 2:00am (CST)
Coupon code: no codes are needed. The discount is applied at checkout.
Get the deal
Envato Market
Featuring best-selling WordPress themes, WooCommerce stores, Shopify plugins, app templates and more, Envato Market is set to have something for all types of web designers, developers and website owners.
Deal: Up to 60% Off WordPress themes, web templates, code and more
Timeframe: 19 November, 11:00pm – 2 December, 6:59am (CST)
Coupon code: discounts will be applied on participating items from ThemeForest and CodeCanyon, no coupon code is required.
Get the deal
SE Ranking
SE Ranking is doubling your savings! Get an extra 20% off on all annual plans and add-ons, on top of your year-round 20% discount. It's the perfect opportunity for agencies and in-house SEO pros. Secure access to all must-have SEO tools at the best possible price!
Start your free trial and click on your link within the platform. Your discount will be applied automatically.
This deal is valid from Nov 20 – Dec 4
Get the deal
Snov.io
Snov.io is a CRM platform for cold outreach, prospecting and lead generation.
Deal: 50% off on annual plan
Coupon Code: BLACKFRIDAY23
Time frame: 20th November – 1st December, 2023
Get the deal
ContentStudio
ContentStudio is a cutting-edge content marketing and social media management platform ideal for businesses and marketers. It offers a full range of tools for discovering, creating, and sharing content that resonates with audiences. Its easy-to-use dashboard enables planning, scheduling, and analysis of content performance on various social media channels. A smart solution for those looking to optimize their content strategy efficiently, ContentStudio provides AI-powered features to enhance productivity and engagement.
Deal: 67% Off Agency Max Plan | 30% Off All Regular Plans
Timeframe: 9 November – 25 November 2023
Get the deal
After Black Friday ends, what should you do?
What happens once the day, weekend, or 14-day campaign is over?
Examine Your Findings
It's time to evaluate your campaign when it's completed. This can help you figure out what worked, what didn't, and how to improve your campaign for next year if you have adequate tracking and reporting in place, as well as an understanding of which SaaS metrics to employ.
The following are some metrics to use to gauge the performance of your Black Friday campaign:
Churn Rate: The percentage of customers who freely or involuntarily leave after the discount period has finished.
Customer Desire to Pay: Determine your customers' willingness to spend in advance of Black Friday next year.
Monthly Recurring Revenue (MRR): The amount of recurring revenue gained and retained because of Black Friday subscriptions.
Customer Acquisition Costs (CAC): Compare the expense of gaining Black Friday shoppers to the value they provide to your company.
Customer Lifetime Value (CLV): The revenue generated from each of your Black Friday subscribers throughout the course of their subscription.
Customer Renewal Rate: The proportion of customers who renew their membership when their current one expires.
Begin Planning Your Next BFCM Campaign
Prepare for the next Black Friday sales using your insights and analytics. This should help you focus your discount and marketing experiments to generate the most money for your company during the busy SaaS sales season.