Black Friday is almost right around the corner, a time when SaaS companies, businesses, corporations, and startups compete to deliver the best Black Friday and Cyber Monday SaaS deals of the year in a highly competitive industry. While customers are excited to invest, it's also the most important sales event that everyone looks forward to.
To enhance the sales journey of potential customers, brands provide irresistible value and quality that converts them into loyal customers.
The date for this year's Black Friday is November 25th, 2022.
Why is Black Friday Important for SaaS Companies?
Love it or hate it, Black Friday is no longer just a retail event anymore; many SaaS companies take huge advantage of it too as trends have shifted. Especially after COVID-19, the shopping trend has mainly changed to online interactions. Here is a quick review of the importance Black Friday holds for SaaS companies.
Lucrative Software Sales Opportunities
Because software companies are less likely to participate in Christmas sales, BF is the best weekend for SaaS suppliers to get a significant number of new customers. According to research done by Paddle, software dealers' sales peak on Cyber Monday around 10 a.m. (UTC). That's an entire weekend of numbers growing.
Businesses that give a discount on Black Friday and over the weekend can expect a 7x increase in orders, resulting in a 6x increase in revenue.
So, to all SaaS businesses, doing something is always preferable to doing nothing.
Customers With a Higher Lifetime Value
When it comes to customer retention, research reveals that businesses that sign up for a Cyber Weekend promotion have a higher lifetime value (CLV). This will improve your MRR, increasing your revenue far beyond the BF sales weekend.
If you provide a decent discount on your product or service on Black Friday, customers will be more likely to stick with you and make the most of their subscription. Furthermore, they would be less likely to churn if they were concerned about losing the same level of discount.
Free Publicity
Consider Black Friday and Cyber Weekend as an annual marketing campaign, with the exception that you don't need to promote the dates because they already have a distinguished reputation. It's a common entry in the annual journal, and many people talk about it.
One weekend, one huge sale for your customers, and one great chance to increase your earnings.
Increase Your Clientele
Who doesn't enjoy a good deal? Discounts have proven to be a good influence on revenue growth from new customers, as seen by the popularity of the volume discount pricing strategy within the SaaS market – Black Friday and Cyber Monday sales being no exception.
Is this something that just happens in the United States? Nope. Black Friday and Cyber Monday take place in most major marketplaces around the world and are a great way to not only make more money in a short period of time but also to extend your consumer base for the long term. Just keep in mind that retention is crucial.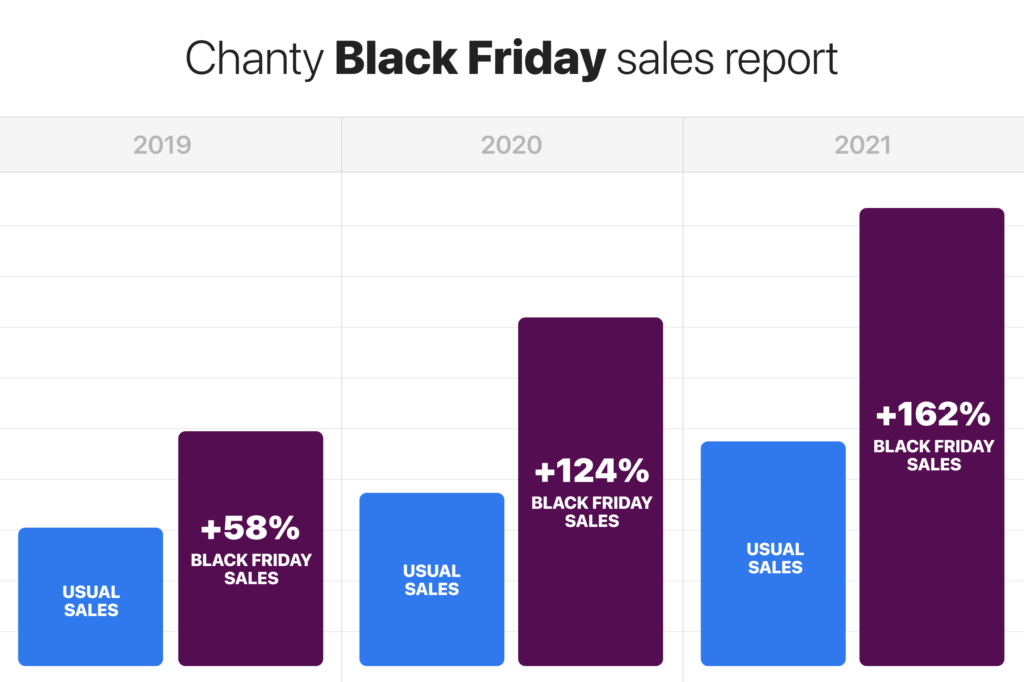 What to expect from Black Friday 2022
As companies compete for more limited wallets against tough online competition, Black Friday 2022 should continue the trend of not only offering discounts but offering discounts on products you'll want to buy.
According to Adobe Analytics, consumers spent $9 billion online during Black Friday 2020. This was the second-largest online spending day in U.S. history, coming in behind Cyber Monday 2020.
Predictions for Black Friday 2022 in the SaaS World
Neil Jose from Acodez firmly believes that this Black Friday/Cyber Monday season will be a good one for SaaS business owners as a considerable amount of customers will prefer shopping online due to the pandemic and this would surely impact SaaS sales positively. Something that we will be implementing this BFCM season is the bundle pricing strategy. This strategy encourages the customers to purchase more than one product so that they can avail the bundle product discount that we offer.
Hasan Abir from Apploye predicts that due to the global pandemic and rise in remote work, spending on software & technology services will likely rise during this Black Friday and year-end promotions.
Gaurav Sharma from Attrock leverages the Black Friday sales rush by offering a limited-time (2-3 days) lucrative deal on your SaaS plans. He suggests that we should start promoting the deal weeks in advance to spike your Black Friday sales. Use a combination of social media marketing, content marketing, and affiliate marketing to promote your Black Friday SaaS deal.
According to Irina Weber from SE Ranking, Black Friday is never going to lose its name and fame in the shopping dimension. Even with open stores, she predicts that online shopping sales are going to be higher than ever. Online shopping can give safety and security and can save time in comparison with traditional in-store shopping.
Mile Zivkovic from Better Proposals thinks that buyers will be more cautious this time around because so many of us bought apps we never used last year – just because they were cheap. Sure, you get a discount, but what's the point if you never use the LTD or discounted app?
Best Black Friday SaaS Deals 2022
Chanty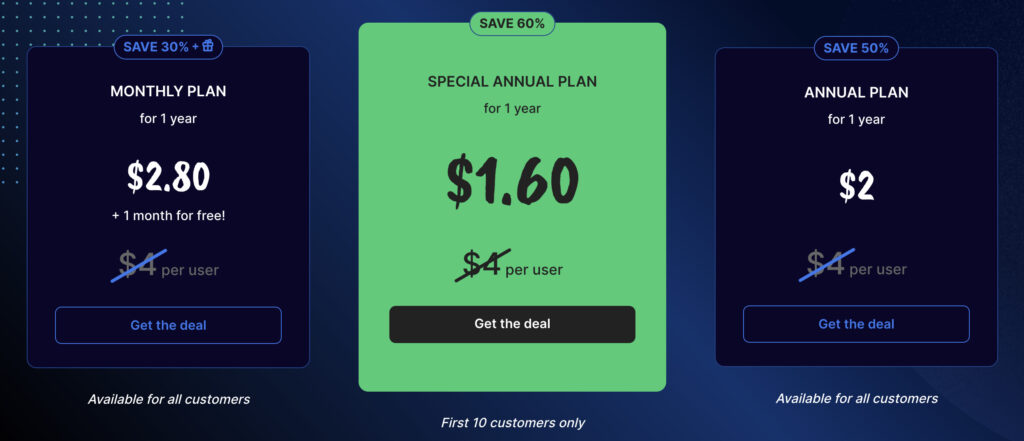 Chanty is an all-in-one team collaboration tool. It offers free unlimited searchable messaging, audio and video conferences, and built-in task management system with the Kanban board.
Black Friday deals:
60% off on the annual plan for the first 10 customers
50% off on the annual plan
1 month free + 30% off on the monthly plan
Timeframe: November 21 – December 6, 2022
Get the deal
Document360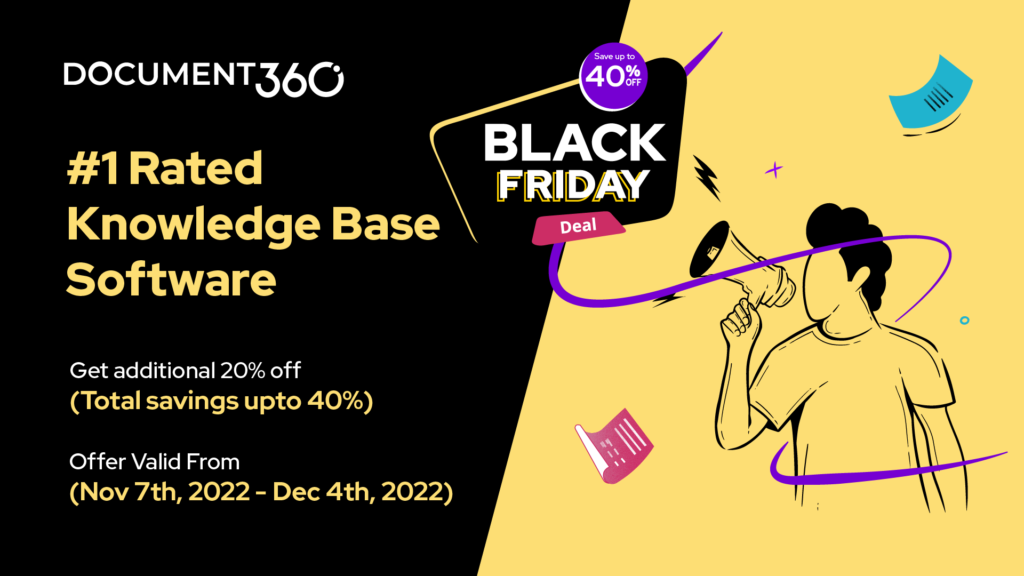 Document360 is SaaS knowledge base software that helps you to
create an internal knowledge base for your employees and a self-service knowledge base for
your customers (available publicly or privately) with powerful AI-based search. It comes with
a Rich Editor (Markdown & WYSIWYG editor), Category Manager, Version control, Private
Hosting, SSO, Back Up & restore, etc.

Black Friday deal: Get an additional 20% off this Black Friday & save up to 40%
Coupon Code: BLACKFRIDAY2022
Timeframe: November 7 – December 4, 2022
Get the deal
Pixpa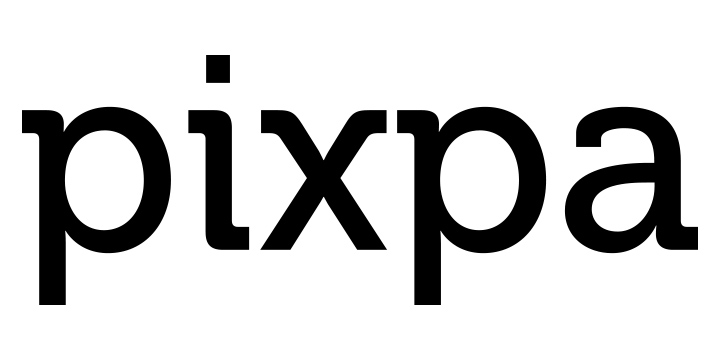 Pixpa is an all-in-one no-code platform for creators and small businesses to create beautiful, professional websites complete with built-in online stores, blogs, and client galleries. Pixpa's versatile platform has everything you need to showcase your work, share ideas and sell your stuff online, without any coding knowledge.
Timeframe: November 24 – December 31, 2022
Black Friday deal: 50% discount on annual plans
Promo code: BLFPIXPA50
Get the deal
Plerdy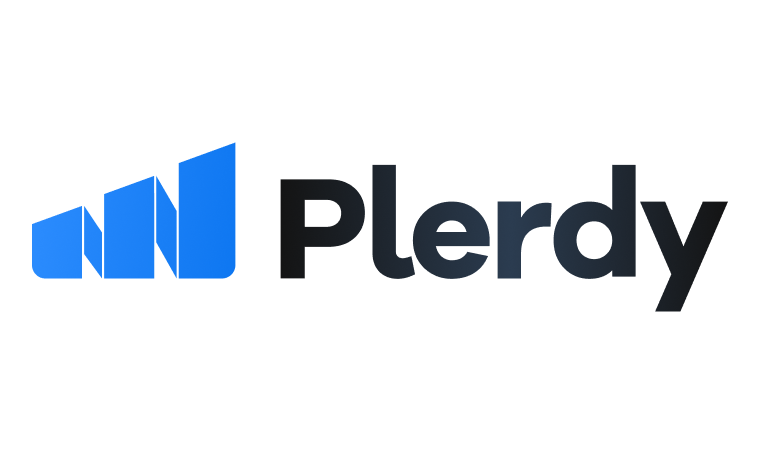 Plerdy is an all-in-one multifunctional CRO, SEO & UX tool that helps to understand the customer experience and convert more site visitors into buying clients. These tools help you identify bottlenecks and improve your conversion.
Black Friday deal: 40% OFF on annual plans
Promo code: plerdyBF2022
Timeframe: Nov 24 – Dec 1, 2022
Get the deal
Internxt
Internxt is a fully encrypted, open-source cloud storage provider designed to put users first and protect clients' data privacy and safety. All files uploaded to Internxt's cloud are end-to-end encrypted and scattered across a distributed network.
Internxt users get access to Internxt Drive, Photos, and Send. All three services work together to empower users to store, share, and back up large files and photos securely. On top of their primary services, Internxt also offers two free privacy tools: a Virus Scanner and a Password Checker.
Black Friday deal: Get 60% off Internxt's biggest 2TB plan for one year!
Deal timeframe: November 21 – December 5, 2022
Get the deal
SmartReach

SmartReach is an all-in-one sales enablement platform specializing in cold email outreach focusing on email deliverability. The easiest and fastest way to grow sales is by helping you find prospects, automate email outreach and follow-ups, and sync to multiple CRMs. It offers ProspectDaddy (Linkedin Email Finder Tool) free with all plans.
Black Friday deal: 20% Off on All Annual Plans for the First Year
Coupon Code: SMARTREACHBF20
Timeframe: December 3, 2022
Get the deal
GetResponse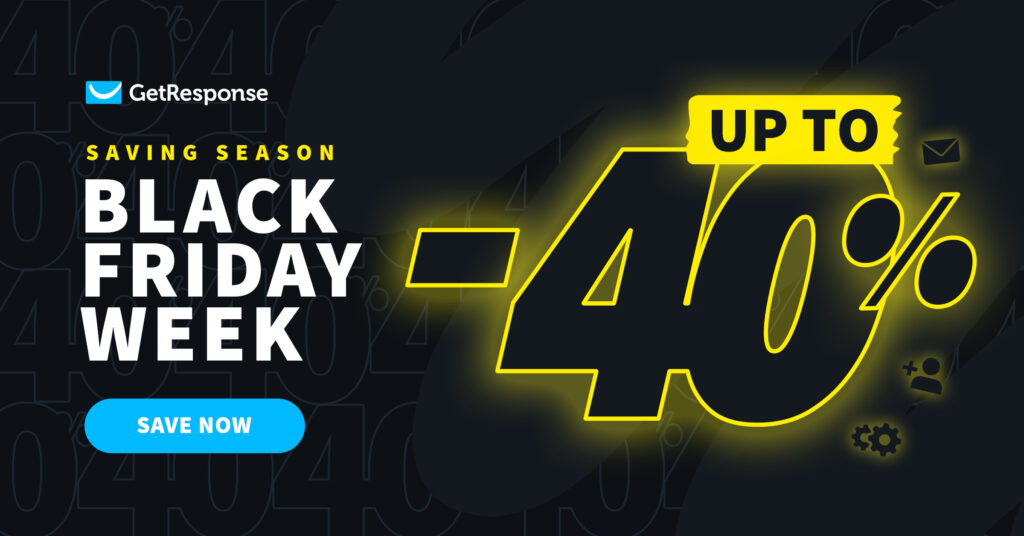 GetResponse is scalable email marketing software at its core. Plus proven online marketing tools and seamless ecommerce integrations designed for growing businesses to communicate better online, all synchronized through marketing automation.
Black Friday deal: Save up to 40% off any plan! Available only to the first 1000 accounts – first come, first served. Applies to both new and existing customers.
Timeframe: November 22 – November 30, 2022
Get the deal
Envato Market

Black Friday deals:
Discount: Up to 60% Off Themes, Code and Video. No discount code needed
Dates: 22nd November, 4pm AEDT – 30th November 11:59pm AEDT
Get the deal
Envato Elements

Create more for less this Cyber Monday with unlimited downloads of 11+ million creative assets: graphics, video, audio, photos, web & more. The discount is applied at checkout, no codes are needed.
Black Friday deal: CYBER MONDAY SALE: 50% off all plans!
Timeframe: November 25, 9:00 AM AEDT – November 29, 12:00 PM AEDT
Get the deal
nTask

nTask is a project management software for running successful projects, including project planning, task management, issue tracking, timesheets, task time tracking, task assignment, team collaboration, risk management, Kanban boards, Gantt charts, custom reporting, custom fields, contact management, document sharing, and a ton more.
Black Friday deal: 40% OFF on all the Premium annual, and Business annual plans
Coupon code: BFCM2022 (Use the code on the checkout)
Timeframe: November 25 – November 28, 2022.
Get the deal
Engagebay

EngageBay is an integrated all-in-one marketing, sales and support platform with a free CRM built for startups and growing companies.
Black Friday deal: Get 40% off on first-time purchase
Timeframe: November 14, 2022
Get the deal
Brand24

Brand24 is a social listening tool that allows you to reach the discussions about your brand, product or the topic you are interested in.
Black Friday deal: 50% off any plan for 3 months
How to avail: The price will be automatically reduced on the pricing page
Timeframe: November 25, 2022
Get the deal
NapoleonCat
If your social media team finds it challenging to manage multiple profiles and untangle their workflows, NapoleonCat will help. It's a complete social media management tool that gathers all social media comments and messages in one inbox. Its other features include content scheduling, social media analysis, reporting, and automation.
Black Friday deal: Register via the dedicated link to get 50% off NapoleonCat's annual subscription.
Timeframe: November 25 – November 28, 2022
Weglot

Weglot is a no-code website translation solution that allows you to translate, display and manage your site in minutes. The quickest way to have a multilingual website up and running, automate the way you handle website translation and say goodbye to manual resource-heavy workflows!
Black Friday deal: Weglot will donate 50% of revenue made on Black Friday and Cyber Monday to several charitable organizations
Timeframe: November 25 – November 28, 2022
Get the deal
Podcastle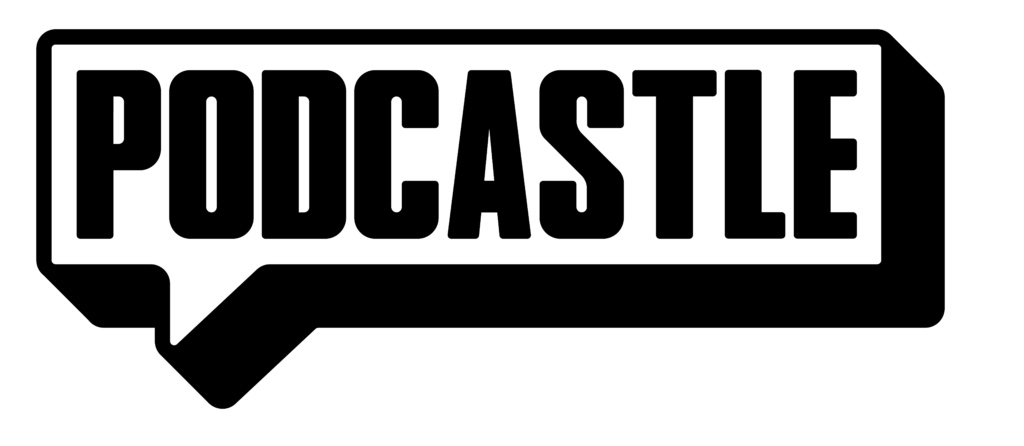 The mission of Podcastle is to democratize access to broadcast storytelling through easy-to-use, yet professional tools. Effortless audio recording and editing are their guiding stars since day one. With Magic Dust, their noise cancellation tool, remote interviewing feature, and a music library with thousands of royalty-free sound effects, Podcastle has grown into a unique all-in-one platform for audio content creation.
Black Friday deal: 50% discount for your first month of Storyteller plan
Coupon Code: PODSGIVING.
Timeframe: November 24 – November 28, 2022
Get the deal
SMSAPI

Black Friday deal: Get your text messaging 15% cheaper with a one-time offer for new customers.
Coupon code: 15BLACK2022
Timeframe: November 1, 2022 – November 30, 2022.
Placeit

If you're looking for a platform where you can create all your branding designs, Placeit
is a great tool! With more than 50K templates and a growing library of designs made by
professionals each day, you can create eye-catching images. Make everything from
logos and videos to your social campaign with branded images in minutes.
You can also promote your own Cyber Monday deals using Placeit's Cyber Monday templates
for Cyber Monday flyers, Cyber Monday images, Cyber Monday banners, Coupons, and much
more!
Black Friday deals:
50% off annual – $44.82/year – $3.74/month on Subscription Renewals.
From Mon 14th – Tue 22nd
33% off annual – Only $5 a month / 10% off monthly subscription $13.45.
From Wed 23rd – Tue 29th
Get the deal
accessiBe
accessiBe provides a variety of AI-Powered solutions for testing and remediating for web accessibility. accessiBe's full suite of web accessibility solutions enable businesses of all sizes, from solopreneur to large corporations, to take part in global inclusion efforts and to make their websites available to all users, including those with disabilities.
Black Friday deals:
30% off all new deals!
New domain activations for new users
New domain activations for existing users
All services
Timeframe: November 23- November 29, 2022
Get the deal
Whatagraph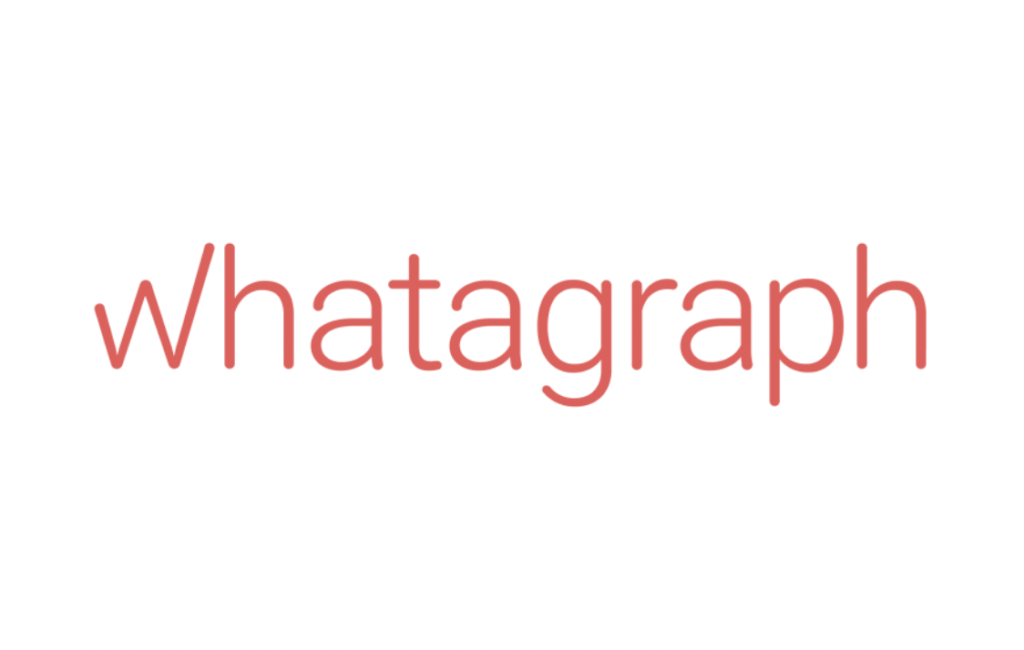 Whatagraph is a powerful visualization and automation software designed for marketing agencies and in-house marketing teams. Whatagraph streamlines reporting and allows users to pull data directly from over 40 sources, including Facebook, Amazon, and Google.
Black Friday deal: 20% discount on all annual plans
Timeframe: November 24 – November 30, 2022
Get the deal
FindThatLead & Scrab.in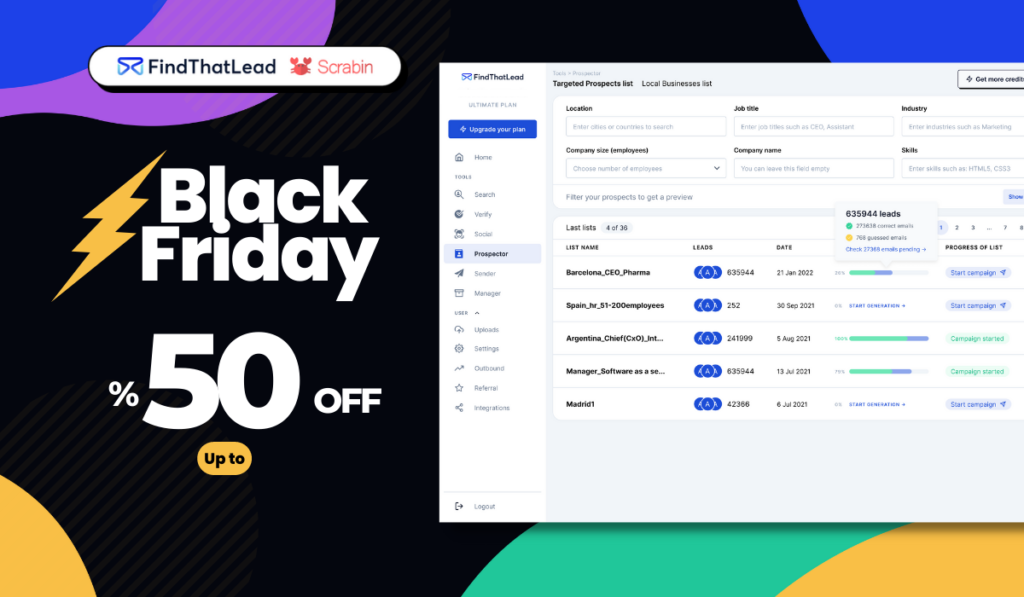 FindThatLead is an all-in-one lead generation tool that allows you to contact people, local businesses and companies in a given industry. The platform provides you with contact information from public sources with its search and prospecting tools and helps you run email campaigns to contact leads – all in one tool.
Scrab.in helps you automate your LinkedIn profile sending invitations and messages in order to generate new clients.
Black Friday deal: Up to 50% off in all of your premium plans!
Timeframe: November 21 – December 5, 2022
Acowebs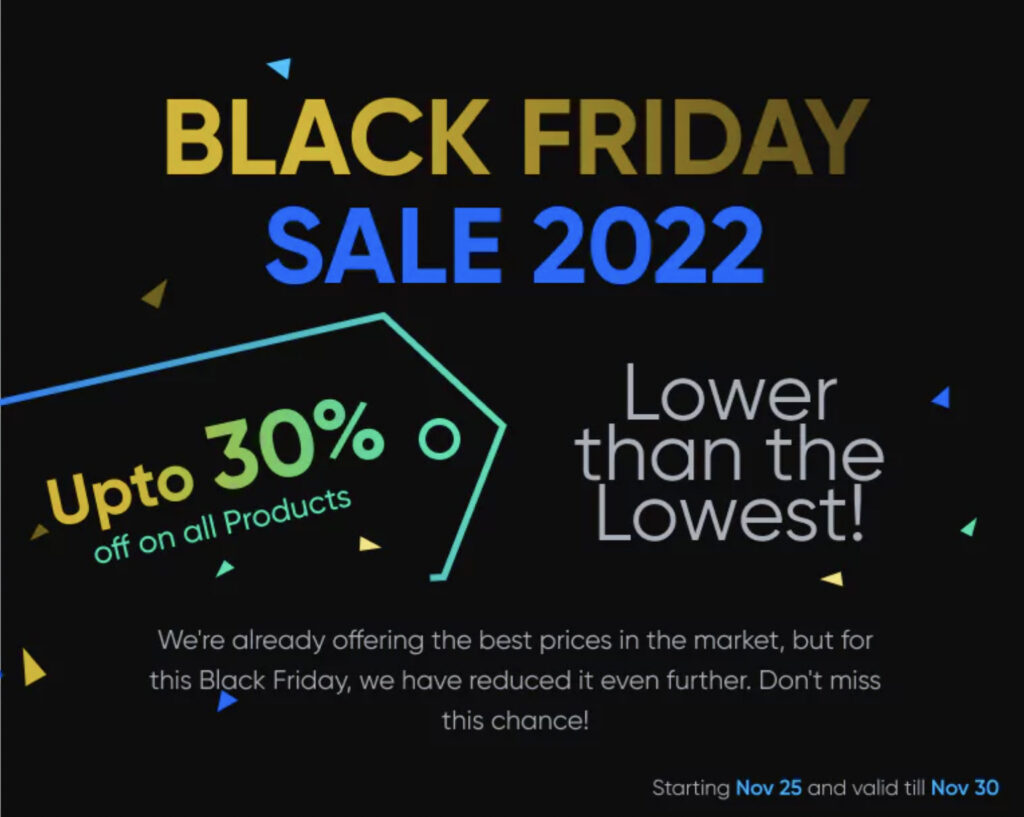 Acowebs, is a WordPress and WooCommerce plugins development company. At Acowebs, we build world-class plugins and themes. We combine our deep domain expertise on WordPress along with our award-winning UX skills to deliver comprehensive WooCommerce plugins, with unmatched features and stunning UX.
Black Friday deals:
Up to 30% on all our WooCommerce plugins
For a single plugin purchased, get a 10% discount
For two products, get a 20% discount
For three or more products, get a 30% discount
Timeframe: November 25 – November 30, 2022
Get the deal
MojoAuth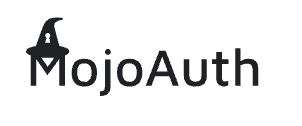 MojoAuth is a secure and modern authentication platform offering various passwordless authentication methods such as email link login, email OTP, SMS OTP, and biometrics login to authenticate users on the web and mobile apps.
Black Friday deal: 50% discount on all annual plans
Timeframe: November 1 – November 30, 2022
HackerEarth
HackerEarth is a global company that helps large enterprises recruit, evaluate, and upskill developers based on specific skills. The company's platform enables recruiters to make the most accurate and informed decisions about candidates, improve hiring efficiencies, facilitate continuous learning and development, and ensure the right developers are matched with the right positions. HackerEarth is also a leading facilitator of online hackathons and coding challenges, where its community of over 7 million developers can upskill and practice for employment interviews
Black Friday deal: 50% off on all annual plan of HackerEarth
Timeframe: November 24 – November 28, 2022.
Users can redeem the offer within 1 month of registration.
Get the deal
SocialBee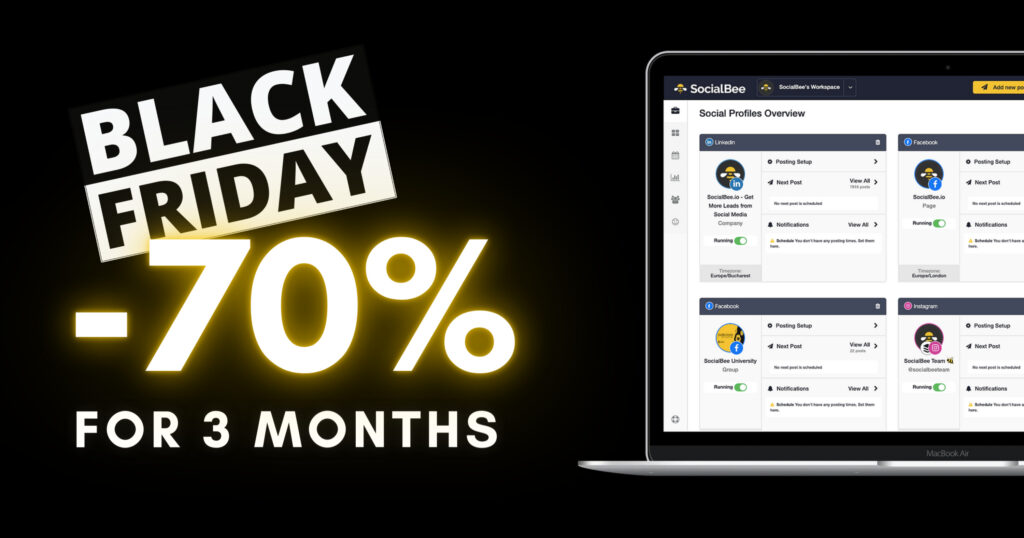 Black Friday deal: Get your SocialBee (social media management tool) plan with a "cant-miss" discount: 70% off for 3 months.
Deal value: 70% off for 3 months
Discount code: SOCIALBEEBF22
Timeframe: November 21- November 28, 2022
Get the deal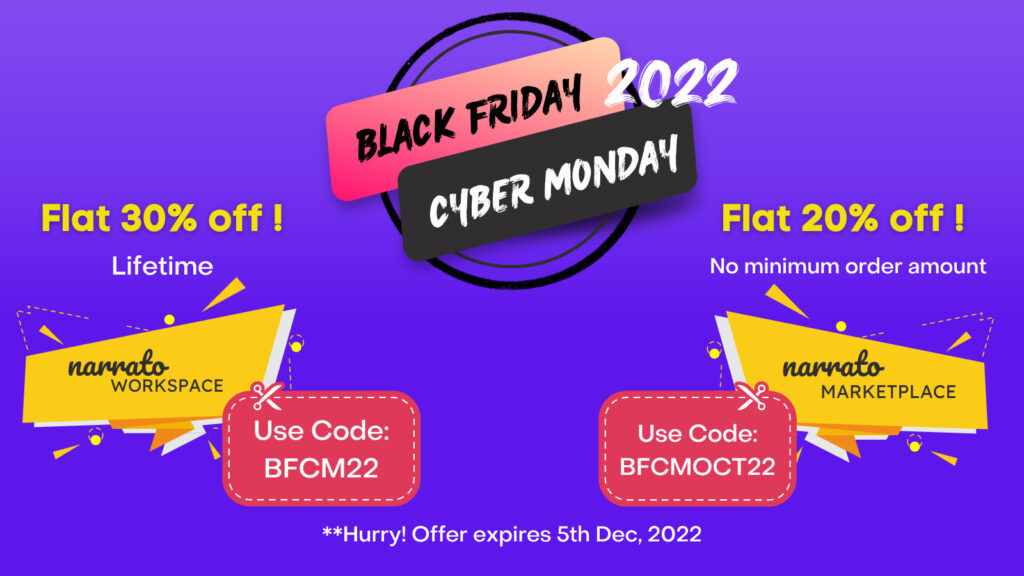 Narrato Workspace is an end-to-end content workflow management platform that helps you manage your entire content process and team in one place. The platform offers content planning tools like an SEO content brief generator, content calendars, and an AI topic generator. It also has an AI-powered content assistant that offers content improvement suggestions, a custom workflow builder with workflow automation, and strong collaboration features like on-task messaging and comments. Narrato helps you create high-quality, search-optimized content with minimum effort.
Narrato also has a Content Marketplace called Narrato Marketplace, that hosts thousands of quality vetted freelance writers. Your content order is automatically matched to the best writer on the platform and turnaround times are very fast.
Black Friday deals:
Narrato Workspace – Get flat 30% off Lifetime on any plan on Narrato Workspace. Create and publish winning content, collaborate with your team, and manage all your content and assets on a single platform. Use Code: BFCM22
Narrato Marketplace – Get flat 20% off on your Narrato Marketplace orders, with no minimum order amount! Get high-quality content written by expert freelance writers for your blogs, articles, website, and more. Use Code: BFCMOCT22
Timeframe: till 5th December 2022
Breadnbeyond

Breadnbeyond is an award-winning explainer video company specializing in producing animated explainer videos. We create engaging animated explainer videos that help you introduce your brand, product, or service to the world – all from scratch, with no template.
Black Friday deal: Get up to 40% OFF for an ultimate explainer video!
Timeframe: November 25 – Dec 5, 2022
Get the deal
Mockplus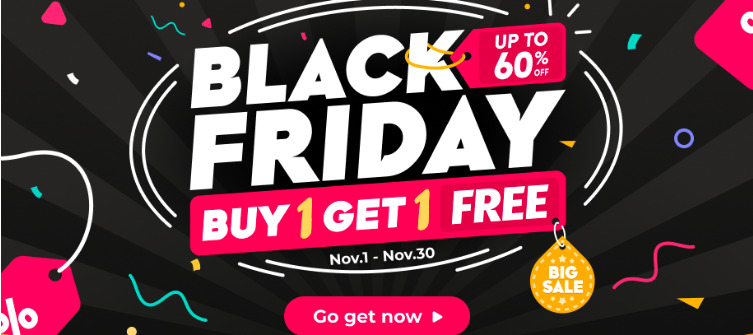 Mockplus is a fast and free online design tool that enables you to create from sketches, diagrams, and wireframes to hi-fi prototypes. What makes Mockplus shine is that its 3000+ pre-built icons and components, and hundreds of web and app templates allow you to prototype everything at lightspeed. Collaboration and communication are also strengths of Mockplus. It allows teams to get their real-time comments or feedback and hand prototypes off to developers with auto-generated snippets, assets and codes.
Black Friday deals: use this promo code MPBLACK2022 to get up to 65% discount on Black Friday and join our lucky draw to win iPhone 14 Pro Max!
Timeframe: November 1 – November 30, 2022
Get the deal
Venngage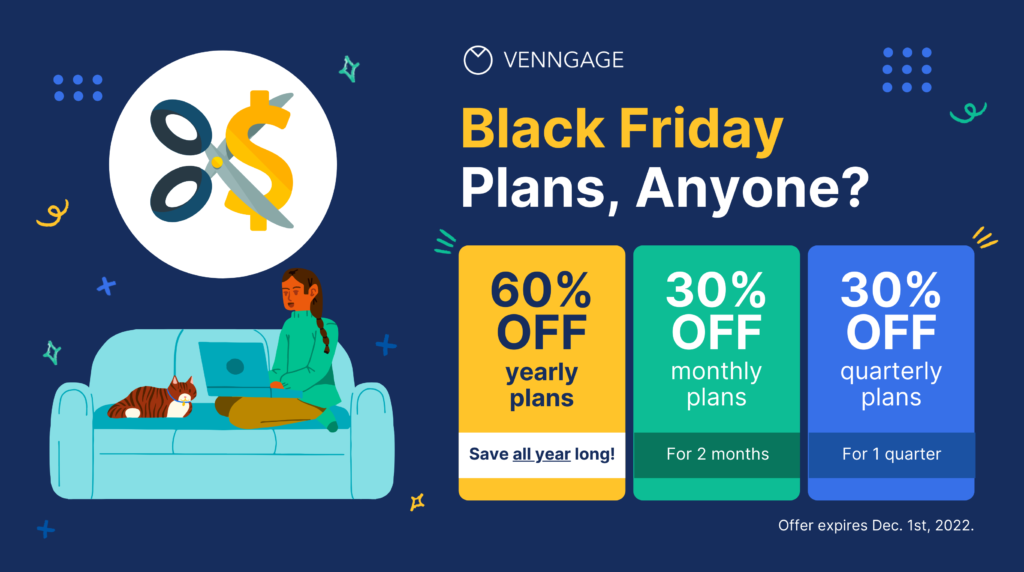 Venngage is an infographics tool that allows you to make professional infographics or any other visuals in just a few steps.
Black Friday deals: 60% off yearly plans 30% off monthly plans (for 2 months)30% off quarterly plans (for 1 quarter)
Timeframe: Nov 18 – Dec 1, 2022
Get the deal
PDFLiner
PDFLiner — a cloud-based no-installation-needed PDF reader, editor, form filler, and form designer. Simply put, you can access PDFLiner from any device and drag-and-drop a PDF into your browser to start editing it. Create, edit, convert PDFs, collaborate, sign, and fax files, as well as store documents.
Black Friday deals: Get 40% OFF any plan of PDFLiner!
Coupon Code: BLACKFRIDAY22
Timeframe: November 10 – November 30, 2022
Get the deal
Mailtrap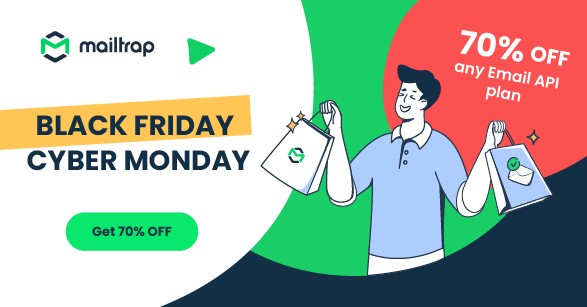 Mailtrap, an email delivery platform, comprised of an Email API and Email Sandbox that allow you to keep your app's email infrastructure in one place.
With Email API/SMTP Service, you can achieve greater control over your domain authority, get timely email deliverability alerts, store up to 60 days of email logs for better troubleshooting and so much more.
Using Email API, you can get all the ins and outs of your deliverability performance via critical in-app stats and weekly reports filled with rich data.
Black Friday deals: 70% off email API for all pricing plans (the discount lasts for 6 months)
Coupon Code: BFCM22
Timeframe: November 25 – December 9, 2022
NiceJob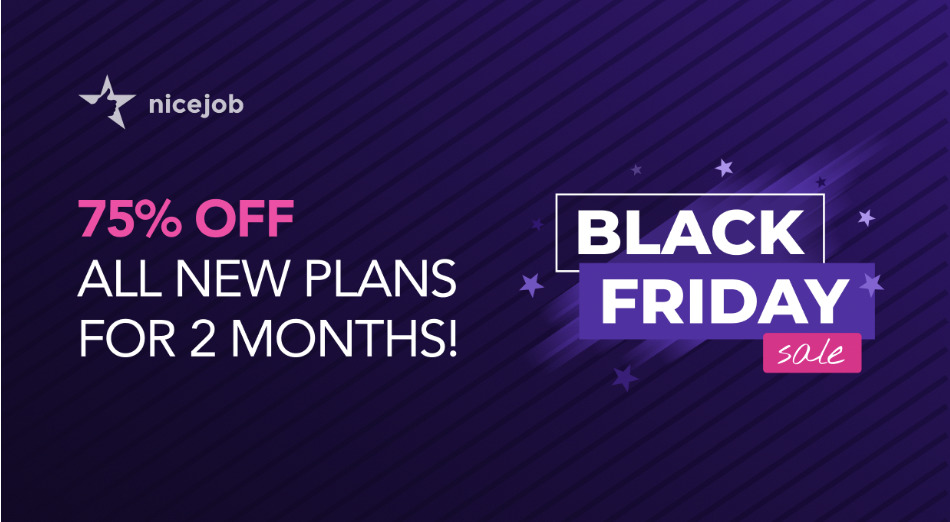 NiceJob is a review management platform that automates the process of collecting reviews and referrals from your customers.
NiceJob can leverage your reviews across all your marketing channels to increase your conversions, reduce your customer concerns, and help your business become top-rated.
Black Friday deal: 75% off all new plans for the first 2 months (over $100 in savings). To redeem, start a free account and speak to our activations team.
Timeframe: November 21 – November 30, 2022
AdGuard VPN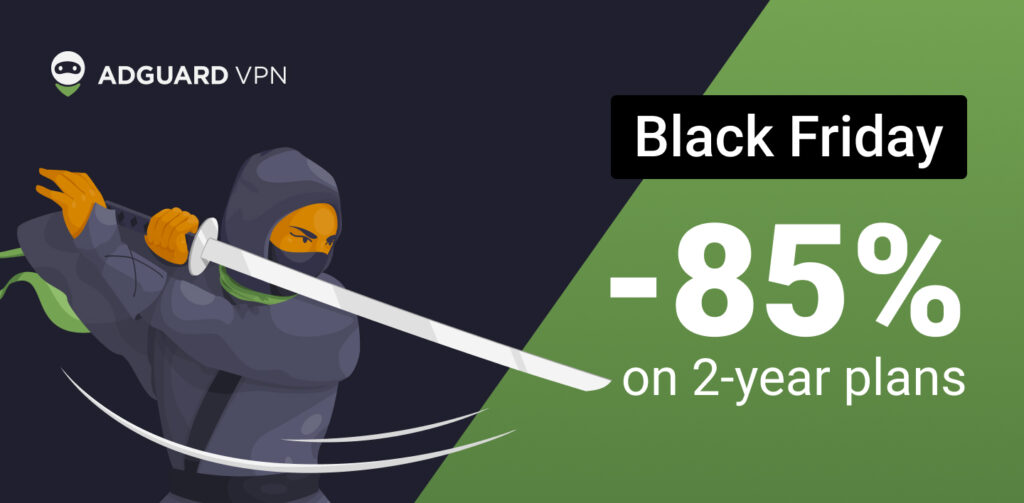 AdGuard VPN is a great cyber security tool made by developers of one of the most advanced ad blockers in the world. It's lightning-fast and illusive because of its unique protocol. It provides a high level of security and privacy, using military-grade encryption and adhering to a no-logging policy.
Make the VPN work only with websites and apps you want, use public Wi-Fi safely, access any content and stay anonymous with AdGuard VPN!
Black Friday deals: 85% off 2-year AdGuard VPN subscription
Timeframe: November 22 – November 29, 2022
Get the deal
Sitechecker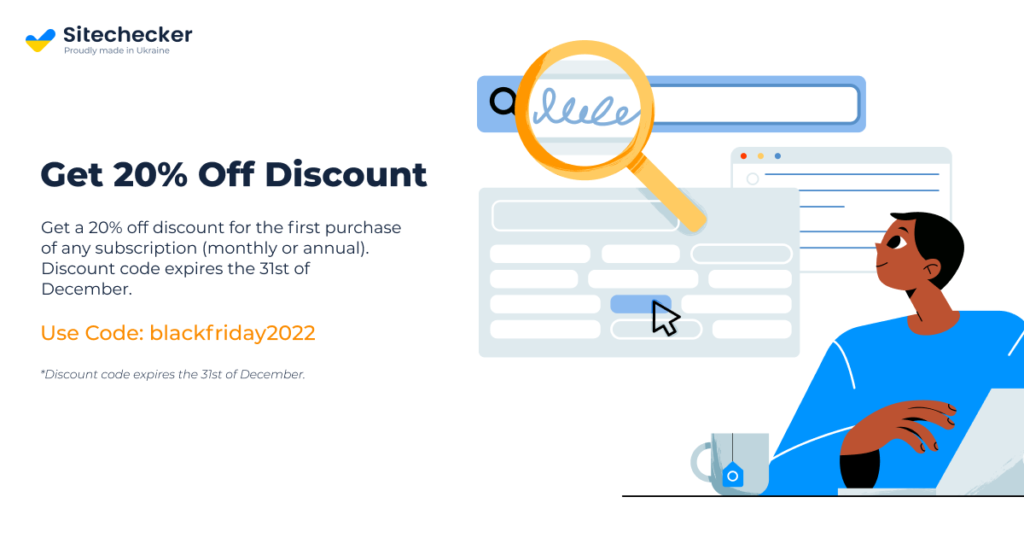 Sitechecker is an easy-to-use platform that allows you to check and improve your search engine ranking. The toolkit has all the essentials that website owners, SEO specialists, marketing agency owners, and marketers need. If you manage multiple websites then it's likely that a majority of your time is spent checking data from different sources such as Google Analytics, Google Search Console, Rank Tracker, or Website Crawler. Sitechecker conveniently displays all important website statistics in one dashboard, which will save you time!
Black Friday deal: 20% off any plan (both monthly and annual plans).
Coupon Code: blackfriday2022
Timeframe: November 19 – December 31, 2022
Get the deal
UserGuiding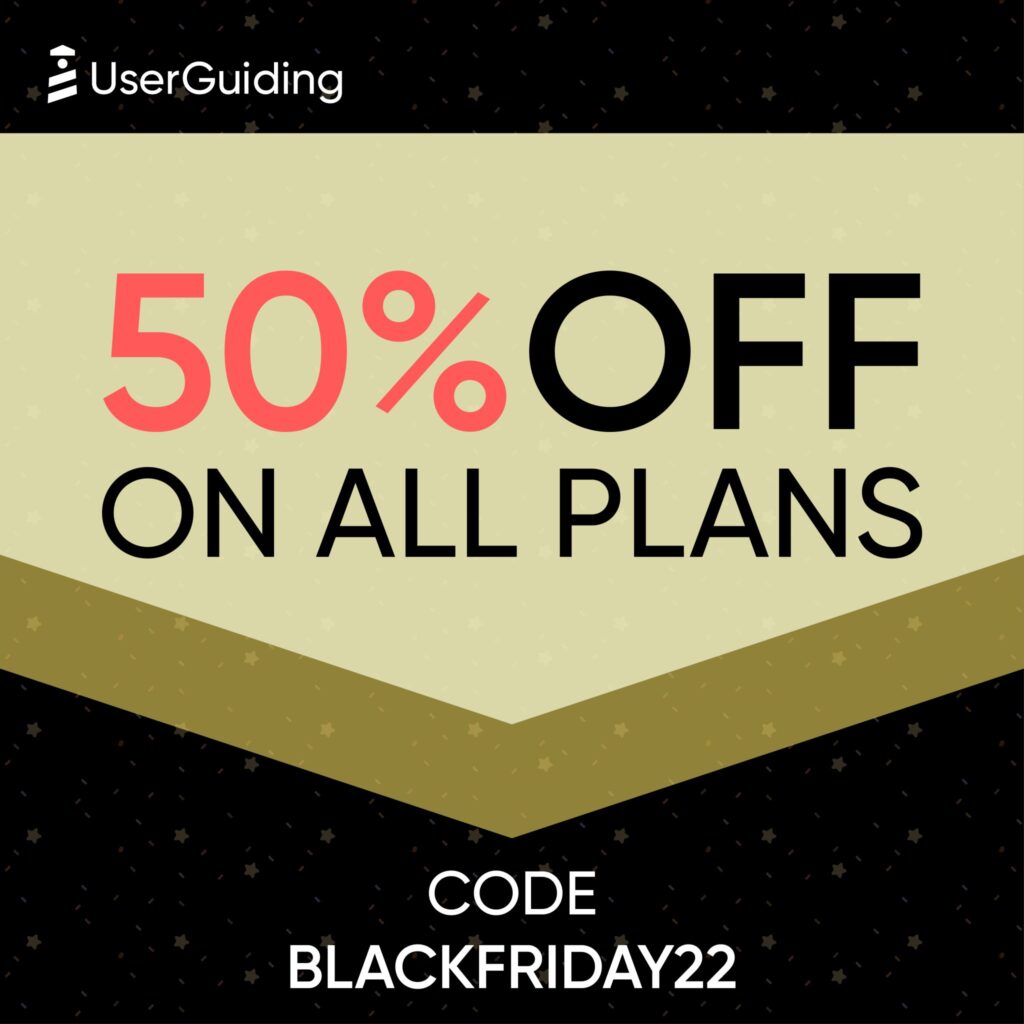 UserGuiding is an all-in-one product adoption platform that helps websites and web products improve their user onboarding and digital adoption. With interactive UX elements such as product tours, tooltips, hotspots, checklists, and resource centers, UserGuiding helps you level up your user training and boost conversions. All without a single line of code!
Black Friday deal: 50% off on all plans
Coupon Code: BLACKFRIDAY22
Timeframe: November 14 – December 16, 2022
Get the deal
Snov.io
Snov.io allows finding emails of potential prospects from any business page including social networks such as LinkedIn, building and sending automated email sequences, tracking their performance and keeping all sales data in one place. Snov.io CRM helps organize information about leads and their position in the pipeline with full transparency to the team, while you can use it for free.
Black Friday deal: get your annual plan at 50% off only till November 30.
Coupon Code: BLACKFRIDAY2022
Timeframe: November 7 – December 4, 2022
Woorise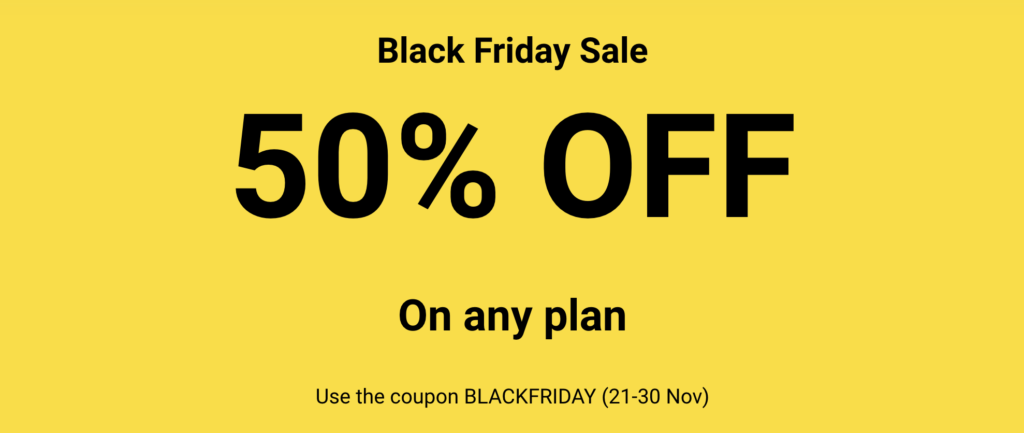 Woorise is an all-in-one lead generation and marketing platform that allows you to create a wide range of interactive campaigns such as landing pages, forms, surveys, quizzes, viral giveaways & contests, accept payments and more to help you reach your goals from a single platform.
Black Friday deal: 50% off on all plans
Coupon Code: BLACKFRIDAY
Timeframe: November 21 – November 30, 2022
Get the deal
ClickUp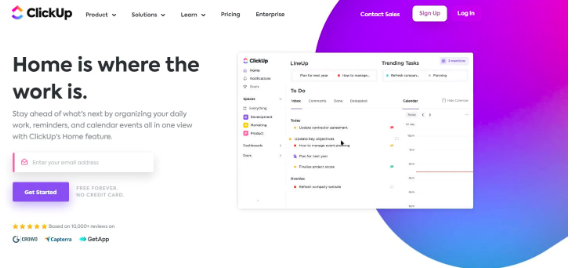 ClickUp is an all-in-one productivity tool designed to tackle any task from your daily to-dos to complex projects, even your business' entire workflow—all in one centralized place.
It has hundreds of flexible tools, real-time updates, drag-and-drop functionality, and over 1,000 integrations to connect all your work together. Use ClickUp to take the heavy lifting off of workflow management by streamlining your processes and optimizing your day-to-day process.
Deal details: 20% off Unlimited and Business plans. The discount is valid for 12 months.
Timeframe: November 22 – December 2, 2022
Coupon code: CYBERUP
Get the deal
Social Champ

Social Champ is a social media management tool that supports all major platforms and provides automation solutions for enterprises of all sizes! You can create, edit, design, schedule, track, and monitor all social media posts with multiple amazing features within the tool.
Deal Description:
Save credits on all plans;
Save $11 on two-months, $69 on bi-annual, & $174 on annual Champ plans!
Save $39 on two-months, $235 on bi-annual, & $594 on annual Business plans!
*The deal is valid for new users only.
Coupon Code: BFCM2022
Timeframe: November 17th, 2022 to December 5th, 2022
Get the deal
Nifty

Nifty is the holiday purchase that will benefit you and your team year-round! Feature-rich project management with a wide array of collaboration tools such as chat, video messaging, integrated Google Docs, and more, Nifty is as easy to use as it is powerful.
Nifty is flexible and scalable, which makes managing both large projects and simple tasks easy for the entire team.
Deal details: 30% discount
Code: BFD30
Offer: 30% OFF on all yearly plans
Get the deal
CrawlBase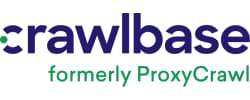 CrawlBase is a data crawling and scraping platform that allows you to scrape large data collectively. You can scrape millions of you can scrape millions of webpages simultaneously in just minutes.
With its smart proxy solution, you can get beyond any limitations, such as blocks and captchas, and scale as necessary.
Black Friday deal: 5% off on all features/products
Coupon Code: CB2022
Timeframe: November 24 – December 31, 2022
Scribe

Scribe is the fastest, easiest, and most effective way to share how to do any process. By capturing your browser or desktop workflow, Scribe automatically creates visual, step-by-step guides with text and screenshots. Hour-long walkthroughs and customer trainings are a thing of the past. Scribes are ready to share, link or embed instantly. It's time to get your time back!
Black Friday deal: One free month of the Pro plan ($29 value)
Coupon Code: BF30DAYS
Timeframe: Till December 2, 2022
Retable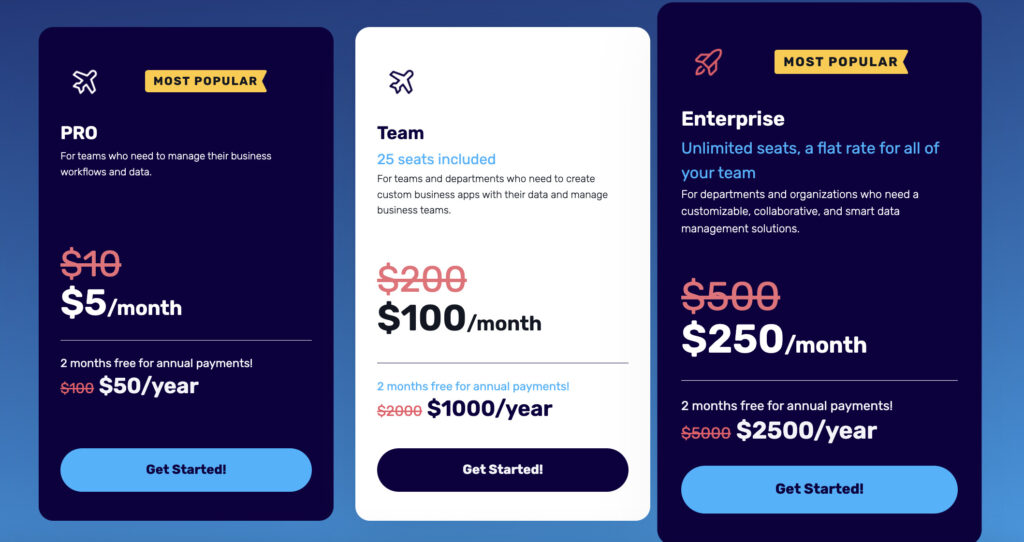 Retable is a smart relational database management solution to help you to organize your workflows, projects, teams and business operations. With a user-friendly spreadsheet-like UI, Retable offers you real-time collaboration and easy-to-use rich features to manage your projects and business workflows.
Black Friday deal: 50% off the first purchase for all plans
Coupon Code: BF2022
Timeframe: Till December 31, 2022
InvoiceOcean
InvoiceOcean is a simple invoicing software helping you create professional invoices in less than 30 seconds and send it straight to your client's inbox.
With this tool, you can get paid two times faster thanks to automatic payment reminders. To make payments even quicker, you can add a "Pay Now" button on your invoice and integrate it with Stripe, PayPal, or Braintree. This way, it's easier and faster to pay your invoices.
Among other core functions, you can use recurring payments, inventory management, use customizable reports, add multiple companies and departments, and manage user and accountant access.
Black Friday Offer: Get 40% off all plans – both monthly and yearly with the coupon BLCK40 (add it at the checkout when buying a selected plan)
After Black Friday ends, what should you do?
What happens once the day, weekend, or 14-day campaign is over?
Examine Your Findings
It's time to evaluate your campaign when it's completed. This can help you figure out what worked, what didn't, and how to improve your campaign for next year if you have adequate tracking and reporting in place, as well as an understanding of which SaaS metrics to employ.
The following are some metrics to use to gauge the performance of your Black Friday campaign:
Churn Rate: The percentage of customers who freely or involuntarily leave after the discount period has finished.
Customer Desire to Pay: Determine your customers' willingness to spend in advance of Black Friday next year.
Monthly Recurring Revenue (MRR): The amount of recurring revenue gained and retained because of Black Friday subscriptions.
Customer Acquisition Costs (CAC): Compare the expense of gaining Black Friday shoppers to the value they provide to your company.
Customer Lifetime Value (CLV): The revenue generated from each of your Black Friday subscribers throughout the course of their subscription.
Customer Renewal Rate: The proportion of customers who renew their membership when their current one expires.
Begin Planning Your Next BFCM Campaign
Prepare for the next Black Friday sales using your insights and analytics. This should help you focus your discount and marketing experiments to generate the most money for your company during the busy SaaS sales season.