Team collaboration is significantly easier due to advances in technology. Maybe you've been using Jira but aren't happy with the features, pricing, or possibly something else.
Fortunately, we've used our experience in the industry to put together a list of the best Jira alternatives for team collaboration.
What is Jira?
If you aren't satisfied with what Jira has to offer then there are some good alternatives. What is Jira?
Jira is a project management suite developed by the Australian company Atlassian — the same team behind Trello.
The premium plan costs $47/month, but if you have 10 or fewer people on your team, you can have a free plan for a year. Or if you have 3 people on your team, you can enjoy the free plan forever with 2 GB file storage.
If you don't need countless features or advanced settings (that you'll find in Jira) then you could sign up for Chanty — a team chat that features simple and clear task management capabilities. While it isn't perfect for complex projects, it's an easy-to-use tool that won't needlessly confuse you.
Top 9 Jira alternatives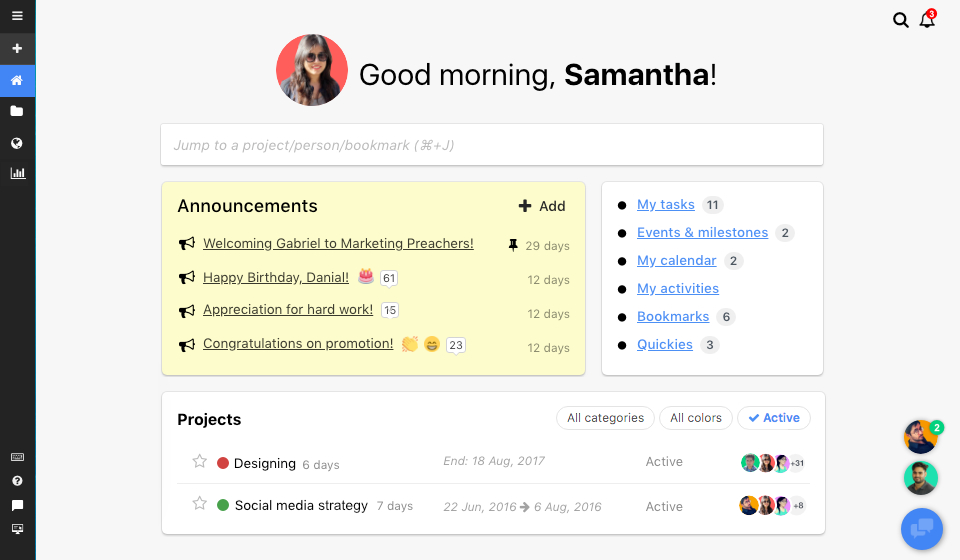 ProofHub is yet another Project management solution that is versatile in terms of features. ProofHub offers collaboration and communication through its elaborate Kanban boards, Discussion and Announcement features.
Team members can collaborate on files without falling into email chaos as you can upload files on ProofHub only. Team members get notified in real-time when a task is moved to the next stage so that the next concerned person can take action.
ProofHub is a JIRA alternative that is not expensive and yet contains all the right features. JIRA's premium plan begins at $14/month for every single user, if you are a team of mere 15 people, you will pay $210/month while in ProofHub all you need to pay is $89/month for an endless number of users with ultimate control over all the features.
Wrike, another JIRA alternative is also very expensive. Leave alone its premium plan, even its basic plan is times more expensive than ProofHub and offers a bare minimum of features. It costs you $9/month/user and you get no calendar, no reports, and no time tracking, which are essential for sound project management.
If we discuss the Basecamp pricing, it costs $99/month flat for unlimited users which is a higher price as compared to ProofHub. Basecamp lacks in terms of features as it has no Gantt charts, no time tracking facility, no resource management, etc.
What makes ProofHub stand out among project management solutions is that it is a complete package. It facilitates planning, scheduling, time tracking, status reporting, collaboration, Proofing at one centralized place with easy access.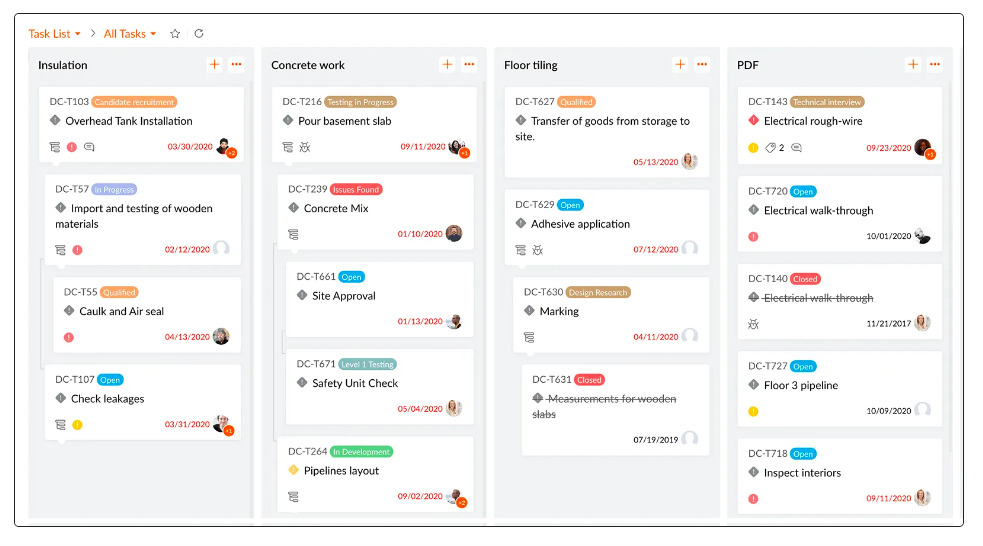 You've likely come across various Zoho products over the years — and they certainly aren't going to shy away from the project management industry.
The Zoho Corporation was first founded in 1996. Since then, the Indian company has developed software that is used all over the world.
Zoho Projects comes with its popular Premium plan for $5/user per month which offers unlimited projects and 100GB of storage and such features as Gantt charts, Task Management, Project Feeds, Calendar & Forums, etc.
The Interprise plan costs $10/ user per month and offers 30 Project Templates, 120GB of storage space as well as premium features: Portfolio Dashboard, Global Gantt chart, Critical Path & Baseline, Global Resource Utilization, Task Workflow Rules andTask Layout Rules.
Zoho Projects has a free plan of its own but it's rather limited. Those using the free plan can only add up to 3 users as well limited file storage.
The interface is both gorgeous and easy to navigate. You'll never fall short on integrations either as Zoho Projects can work with various apps like Slack and Google Drive.
If you're after a beautiful interface and limitless integration capabilities then you might find value in the pricier option that is Zoho Projects.
Asana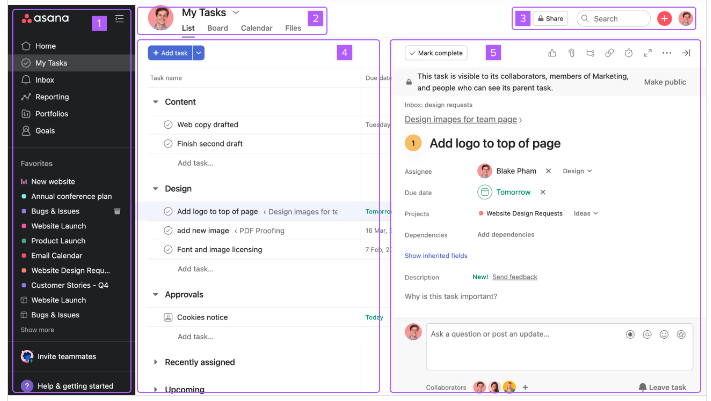 If Jira's pricing was the main turn-off that led you to seek out alternatives, you'll be glad to hear that Asana's free tier is generous with regard to the features available.
The setup is also ridiculously easy. After entering your email address, Asana will guide you through each following step.
The interface of Asana isn't as aesthetic as some of the project management tools out there, but its simple design keeps the dashboard neat — ensuring that your team doesn't get overwhelmed by a bunch of buttons.
The process to add new users is virtually identical to that of other project management suites so you shouldn't have too much trouble with it.
Unlike Jira — but similar to Trello — Asana has a color-blind mode that you can toggle. Taking its accessibility further, Asana comes in five languages: English, Spanish, Portuguese, French, and German. Japanese will also be added soon and is currently in beta.
If you want a Jira alternative with a more expansive free plan, accommodations for color-blind users, and a cleaner dashboard then Asana might be the project management suite for you.
While Jira is primarily used by software development teams, ClickUp is an all-in-one productivity app designed for all users—from solo entrepreneurs to large enterprises. Whether you use a traditional or agile project approach, it provides an intuitive experience that lets you manage your workload, track project updates, and collaborate with your team.
Unlike Jira, ClickUp offers hundreds of customizable and advanced features to improve team collaboration, along with a user-friendly interface and a drag and drop functionality to make work management a breeze.
Collaborate with your team within the in-app Chat feature, assign comments to specific team members, edit work simultaneously with overlapping team members, and create unlimited docs, wikis, knowledge bases, and more with ClickUp Docs.
Additionally, Teams can choose from 15+ customizable views and access Custom Fields and Custom Task Statuses to satisfy their unique workflow and sprint planning requirements. Utilize custom Dashboards to provide real-time information to everyone at any time to reduce the number of update meetings, and connect ClickUp to over 1,000 work tools to streamline your team's workflow even further.
Best of all, ClickUp is affordable and offers a feature-rich Free Forever Plan; add unlimited members and tasks and get 1,000 MB of storage with ClickUp's Free Forever Plan, and gain access to more advanced features with paid plans starting at $5. It only takes a few steps to import all your work from Jira to ClickUp, and if you need help, their customer support is available 24/7.
Zoho Projects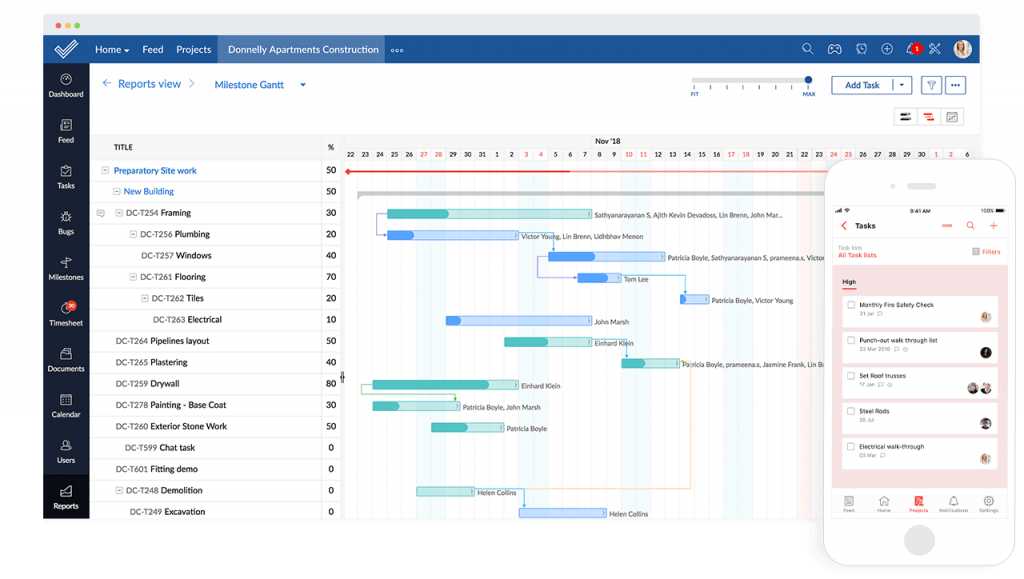 You've likely come across various Zoho products over the years — and they certainly aren't going to shy away from the project management industry.
The Zoho Corporation was first founded in 1996. Since then, the Indian company has developed software that is used all over the world.
Zoho Projects is a bit more expensive than Asana with its standard plan costing $25/month. The standard plan can accommodate 15 users — the same capacity that you'd get with the free plan of Asana.
Zoho Projects has a free plan of its own but it's rather limited. Those using the free plan can only add up to five users. As if that wasn't limiting enough, you have a 10MB limit on the files you can store.
While the pricing on Zoho Projects isn't as competitive as some other project management tools, it does have some unique qualities.
The interface is both gorgeous and easy to navigate. You'll never fall short on integrations either as Zoho Projects can work with various apps like Slack and Google Drive.
If you're after a beautiful interface and limitless integration capabilities then you might find value in the pricier option that is Zoho Projects.
Monday.com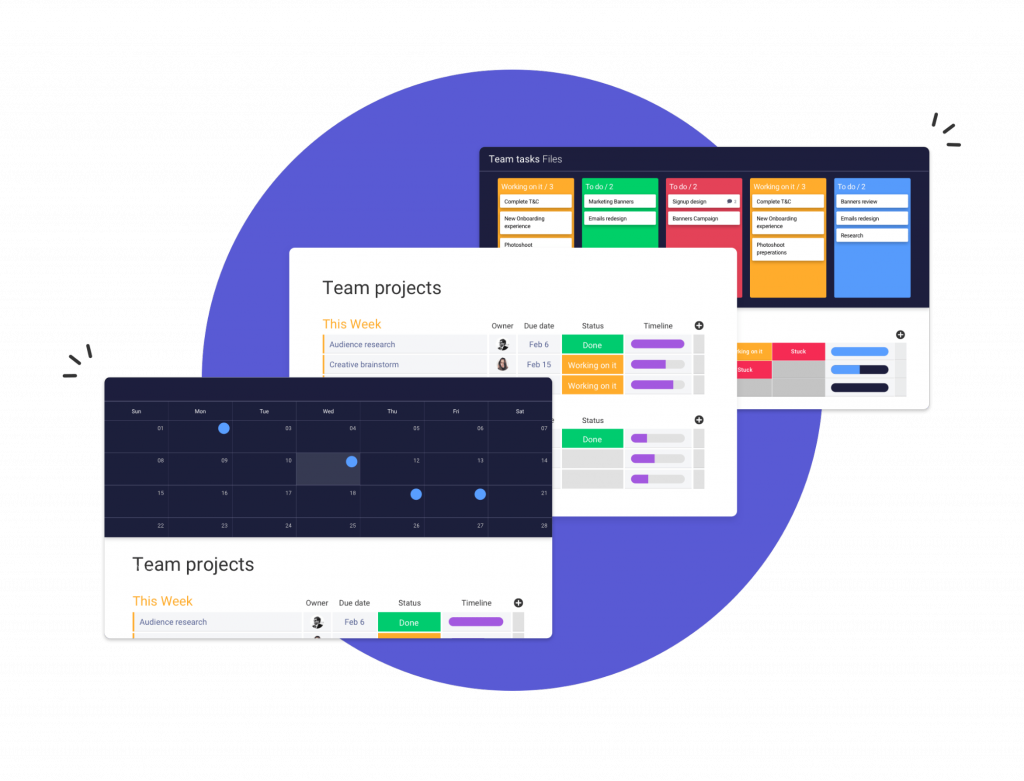 Unlike the other options on this list, Monday.com is an independent startup. When it comes to intuitive interfaces and customizable features, Monday.com ranks at the very top.
However, quality comes at a cost — which is why this project manager is the most expensive one covered in the article.
The standard plan costs $39/month and can only accommodate five users — which is the type of capacity you'd normally expect from a free tier.
The pro plan costs a hefty $79/month for five users but does come with its perks. You'll get unlimited storage, time tracking capabilities, and a total of 10 boards.
There are also bulk plans available for large teams which are actually quite well-priced. For instance, the standard plan for 100 users costs $799/month bringing the per-user price down to around eight dollars.
This collaboration tool isn't the right pick for a smaller team on a budget, but if you need a suite for a large agency then the bulk pricing and unlimited storage might make Monday.com the ideal candidate.
If you only need a simple task manager then you could consider using Chanty as its business plan is far more affordable at only $3/month for each user.
Podio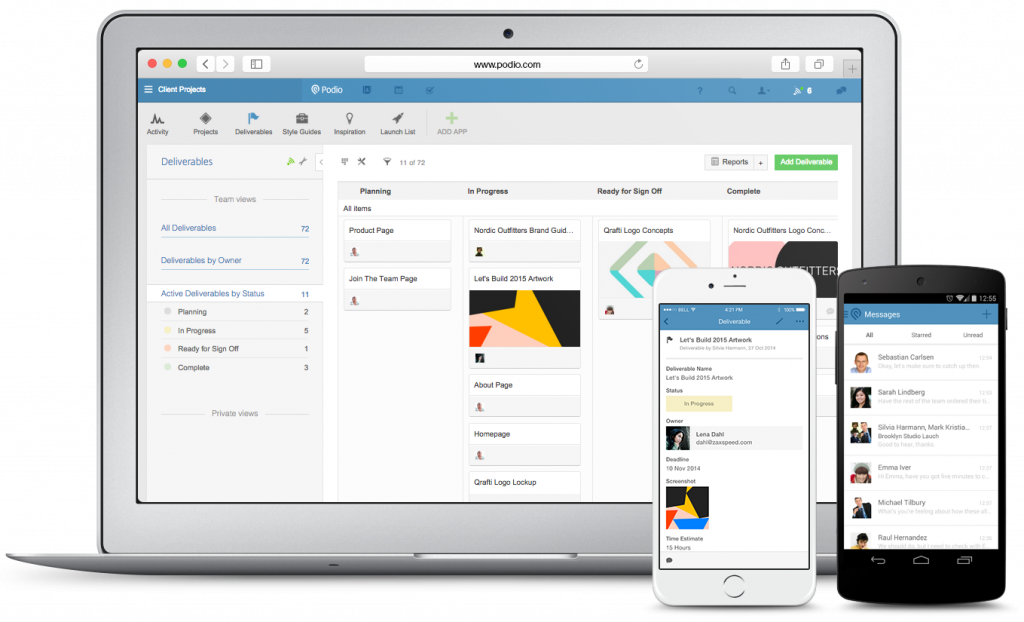 Podio is a collaboration platform that was founded a decade ago in 2009 and has since become a popular project management tool. It makes it very easy for businesses to craft custom applications even if they aren't familiar with the technical side of things.
One of the unique qualities of Podio is the fact that it comes with an integrated chat. You won't find this feature on many other project managers like, for instance, Wrike.
It also has Android and iOS apps that let you manage tasks on the go. Sadly, the automated workflow feature is limited to users with plus or premium plans.
Podio features a free plan that lets you add up to five employees. Even its paid plans are pretty reasonable in price. If you choose to bill annually rather than monthly then you'll get even better rates.
Podio offers a free plan, a Plus plan at $11.20 per month, and a Premium plan at $19.20 per month.
While it's highly customizable, Podio may not be the best pick for companies that have complex project management needs. However, if your needs aren't too demanding and you want a platform that you can tailor to your preferences then Podio is a strong candidate.
Basecamp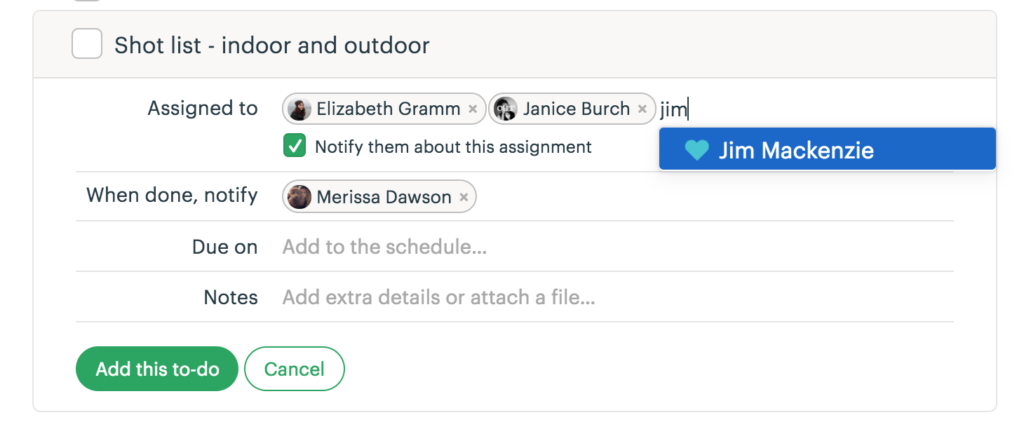 Basecamp is optimized for real-time collaboration. There is a myriad of features covering pretty much anything that you'd need. You can also integrate various apps to add more features.
First of all, you can set up simple to-do lists (pictured above) to keep track of the tasks that your team is yet to complete. You can also schedule events for a specific project so that all users who are working on it are notified — making it easy to compartmentalize your team.
Another handy feature is the ability to store documents, images, and other files on your Basecamp workspace. You can even link Google Docs making it easy to keep track of all finished pieces.
As we mentioned earlier, Basecamp puts an emphasis on real-time collaboration. That being the case, there's a group chat feature that you can use to communicate with your team members.
Each project will have its own dedicated chat room to ensure that discussions don't get cluttered and confusing. You can even send direct messages to specific users for private conversations.
There's also a Basecamp app available for both iOS and Android making mobile task management a hassle-free endeavor.
The paid plan is $15/user per month which includes 500 GB of storage, unlimited projects, guest users, and 24/7 support.
The Pro Unlimited Basecamp plan is a $299/month price paid annually for the entire team. It offers 5 TB of storage, and 24/7 priority support, in addition to all the features offered by the other plan.
There are free trials for both plans giving you a chance to try them out before committing. If you pay annually then you'll even get two months free.
Speaking of free, Basecamp no longer provides a free plan.
MeisterTask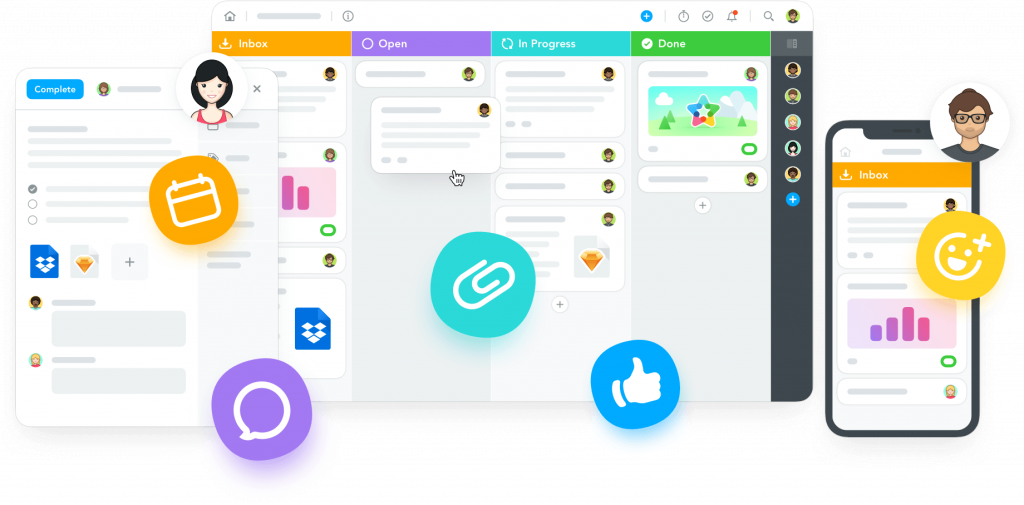 If you're running a large team but don't want to pay a small fortune for your project management suite then MeisterTask could be a great option.
Its free plan lets you add unlimited projects, tasks, and users. You can even attach files provided that they don't exceed 20 MB in size. Free users also get access to MeisterTask's mobile apps and email support.
It's very easy to customize project boards on MeisterTask and you can integrate tons of apps. Slack is a common app that MeisterTask users integrate because it allows you to add tasks right from your channel.
You can also integrate Timely which is an automatic time tracking app. Doing so helps you see how much time each user is spending on their projects.
Google Workplace integration is another major benefit that you'll enjoy when using MeisterTask. Over five million companies use Google Workplace, so if you're one of them, you'll be glad that you picked this project management platform.
File management isn't an issue either as MeisterTask integrates with both Dropbox and Google Drive meaning that you don't really have to worry about the 20 MB cap on attachments since most submissions will come in the form of permalinks.
Check out some of the other integrations that MeisterTask supports on this page. To use some of the premium features — like file attachments up to 200 MB or the task archive — you'll need the pro plan which is still very affordable at $8.25/month for each user.
MeisterTask also has a business plan that's more costly at $20.25/month for each user. The business plan lets you set user permissions like what they can see to prevent corporate espionage and even comes with priority email support.
The Enterprise plan offers even more premium features.
Overall, MeisterTask is a great free option for those who have many employees working for them but don't have the budget to go for a premium plan.
Conclusion
As you can see, there's no one-size-fits-all solution when searching for Jira alternatives. It depends on the size of the team along with the monthly budget and your personal preferences.
The good news is that most of the options on this list have free trials — meaning that you can test each one out before committing to a paid plan.
Once you find the project manager that best suits your needs, you can cancel the other trials — ideally before you get charged.
Rather than signing up for all the trials at once and testing these project managers in a rush, we advise that you devote a full week to each option so that you can get a thorough idea of which one works for you.
If you are looking for a simple task manager and want to cut down on operating costs, you can try Chanty — a simple team collaboration tool that combines team communication and task management capabilities. It's completely free for up to 5 members.
If you end up using one of the project managers in this article, please consider sharing the piece with a friend or two. Who knows, they might find their ideal choice here as well.