The concept of online teaching isn't new.
However, teachers, especially the non-tech-savvy professionals who've spent years practicing chalkboard teaching methods, didn't see it coming until the COVID-19 pandemic left institutions with no other option.
That's when the power of online teaching and learning became more evident, and it continues to flourish with no end in sight.
No wonder, the e-learning market size, which was $200 billion in 2019, will cross $400 billion by 2026 according to Statista. What is the most astonishing thing about teaching online? It provides endless benefits long after teaching sessions end.
This post is about the top benefits of online teaching and the challenges involved in the process.
You'll also learn about state-of-the-art online collaboration tools like Chanty that can ease your online teaching journey.
So, let's get started!
Top benefits of online teaching
1. Provides a personalized classroom experience
Personalized teaching sessions involve understanding students' unique needs and learning patterns to impart in-depth knowledge via lectures. Its goal is to reduce friction and boost students' interest in a specific topic or subject. However, creating a personalized experience in a traditional four-wall classroom is challenging because connecting with each student within a timeframe requires massive effort.
However, with online teaching, you can successfully take on this endeavor using online collaboration and communication tools! In fact, research by Bera reveals that technology-supported personalized learning can accelerate positive learning outcomes.
So, leverage tools with functionalities like personalized chat/ video/ audio options, virtual boards, and more. This allows your students to share their questions in real-time chats so that you can resolve them there and then.
Moreover, you can maintain a record of queries and share personalized responses at any instant.
2. Offers access to the library of digital resources
Do you dream of a day when your students make it big in their lives? Online teaching can lay a strong foundation for achieving this dream! With powerful online teaching-learning sessions, you can encourage the students to develop a "learner" attitude and skills like problem-solving, reasoning, critical thinking, and more.
Valuable resources offering in-depth insights (beyond a particular topic or subject) can imbibe curiosity to learn more.
You can also overcome common content management challenges like creating, segmenting, uploading, and distributing learning resources by integrating the right tools with your online teaching software.
So, provide the best resources to support your students all along.
3. Extends learning flexibility to students
Unlike the rigid traditional classrooms, the online teaching setup allows you to provide learning flexibility to the students. Here's how:
Rather than having to show up to a physical classroom, students can attend classes from any geographic location in real time.
With easy access to teaching session recordings, they can replay the lectures (multiple times) and learn according to their pace.
Students can decide, allocate time, and access learning resources to understand a specific topic.
Flexible learning thus allows students to customize where, when, what, and how they learn.
4. Helps assign and manage projects
Besides conducting teaching sessions, educators have a few more crucial responsibilities, such as creating, assigning, and managing projects. Here's how project assignment and management look in a conventional classroom:
Educators research and collect the latest information to prepare for an upcoming lecture.
Based on the topic, they create a questionnaire in advance.
After the lecture, they dictate the assignment to the students.
The entire process consumes valuable time and effort. As an educator, you would agree that it is a big headache!
Leveraging online teaching platforms inbuilt with project management capabilities can ease your journey. They offer features to help teachers create, upload, assign, and manage projects with a few clicks. This saves their precious time and effort.
What's more?
With the right tools, you can:
Track students' project progress
Build collaborative spaces (for project discussions)
This way, you can optimize your teaching process and boost classroom productivity for the best outcomes.
5. Assists with monitoring student's attendance and overall performance
Research reveals that students' attendance directly impacts their overall performance. No wonder, all educators track students' attendance without fail.
However, manual attendance tracking is draining, and there's a high chance of inaccuracy because of fake attendance instances and human errors.
On the other hand, online teaching platforms can empower educators to monitor each student's attendance accurately with a few clicks in real-time.
With online collaboration tools, you can track and generate reports on:
The exact number of days when students miss out on classes (Chronic absenteeism)
Classes that students skip and attend — daily/weekly/monthly/yearly
Attendance pattern (how often they are absent)
What's more? In the case of high absenteeism, you can take corrective measures before the term ends. With a strategic approach, you can encourage them to attend classes, thus boosting their overall performance.
Bonus: It can help future-proof your educational organization
This is one of the most undiscussed and underrated benefits of online teaching.
We've witnessed how the COVID-19 pandemic turned our lives upside down when educational institutions shut down. During such a crisis, online education immediately took over and empowered teachers and students.
The pandemic is past us but educational institutions and students experienced the power of online learning and the world of benefits it offers.
No wonder, industry leaders are embracing strategies to build future-proof online education. (and you should too!)
Key challenges that can impact your online teaching journey
Let's get straight to the point — setting up an online teaching system is not child's play!
Here are the three key challenges that can impact online teaching and restrict you from reaping its maximum benefits:
Lack of feature-equipped tools
Educators need the right online collaboration tools with advanced features. For instance, it should have real-time communication and chat provision, content sharing, and more, in the absence of which you'd have trouble teaching your online audience.
Solution: Invest in a feature-equipped team collaboration tool that can empower both faculty and students to coordinate in an easy and efficient way.
Budget and deployment issues
Often, online collaboration tools with high-end features like personalized chats, attendance monitoring systems, assignment management, and more come at a hefty price and take time to implement. This can be a dampener for institutions running on a tight budget.
Solution: Research well and opt for a user-friendly, easy-to-implement, and affordable tool that doesn't break the bank yet helps you achieve your teaching goals.
Poor internet connectivity
Online education doesn't require physical infrastructure. It just needs a connected device with a stable internet connection. This can be a challenge for a few locations, leading to weak Wi-Fi signals, slow networks, and physical connectivity issues. This causes undue frustration for the tutor and students.
Solution: Invest in a WiFi plan with a minimum speed of 50 Mbps to ensure steady internet connectivity. At times, the modem and the router are the culprits. Give them a quick reset before starting.
Bolster your online teaching efforts with a collaboration platform
Chanty is an online collaboration software to help educators connect and communicate with students in real time via unlimited group messaging, integrated video technology, and other powerful features.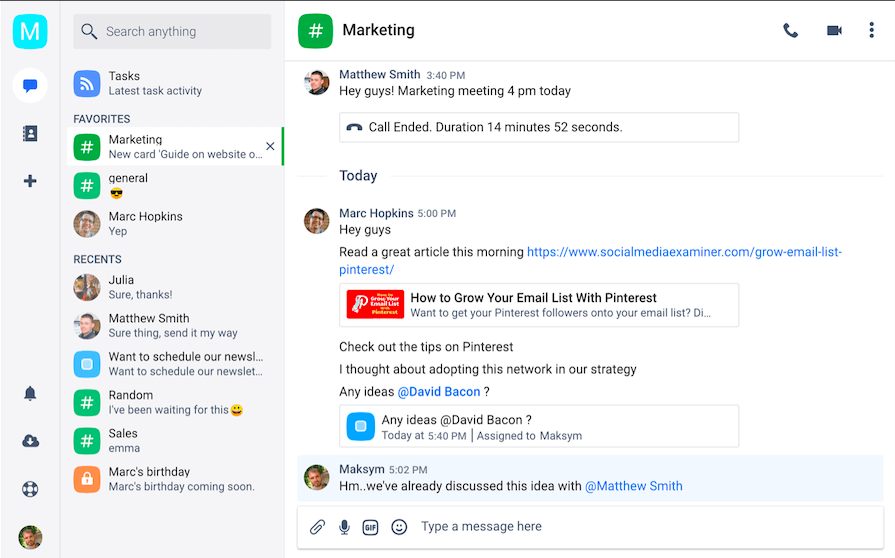 Let's discover its prime features and functionalities that can ease your hassles.
Perform audio/video calls: Collaborate with up to 1000 students in one click using the audio/video conferencing provision. 
Besides, the tool offers a 1:1 call provision to help you provide a personalized experience to students.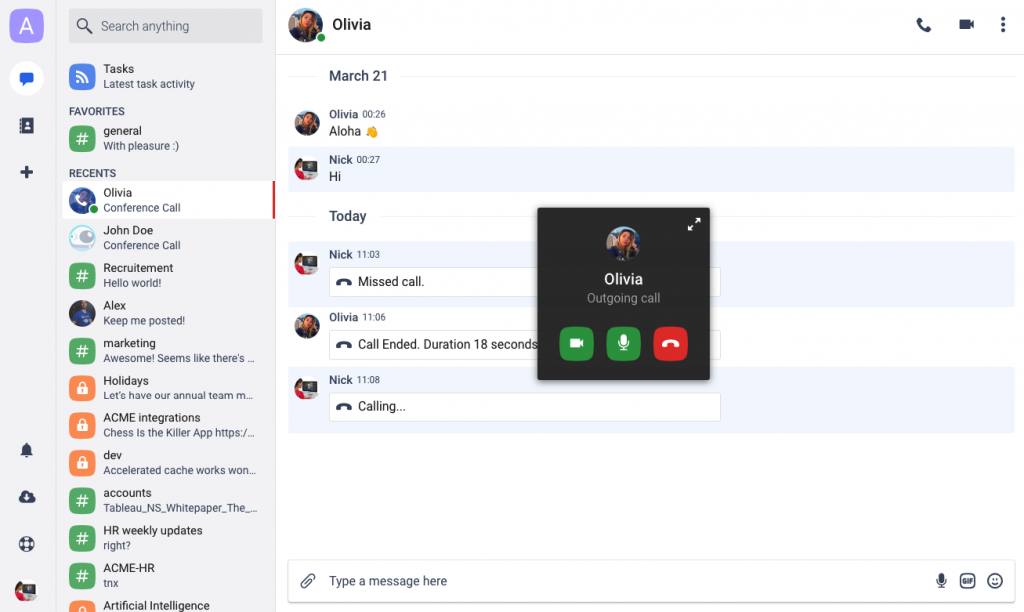 Send GIFs: Make your communication compelling with GIFs on team chat. The tool allows you to search and share many animated GIFs without leaving the conversation.
Search for a GIF by clicking on the "GIF" option within the chat and get started!
Record and Share Voice Messages: Share classroom updates, announcements, and other crucial information with Chanty's voice recording provision.
Tap the voice recording icon, record the message, and hit the send button. It's that simple!

Assign projects and tasks and monitor student progress: Chanty allows you to assign projects and tasks, set due dates, and track student progress with a few clicks. Moreover, you can set priority for tasks or subtasks for more clarity.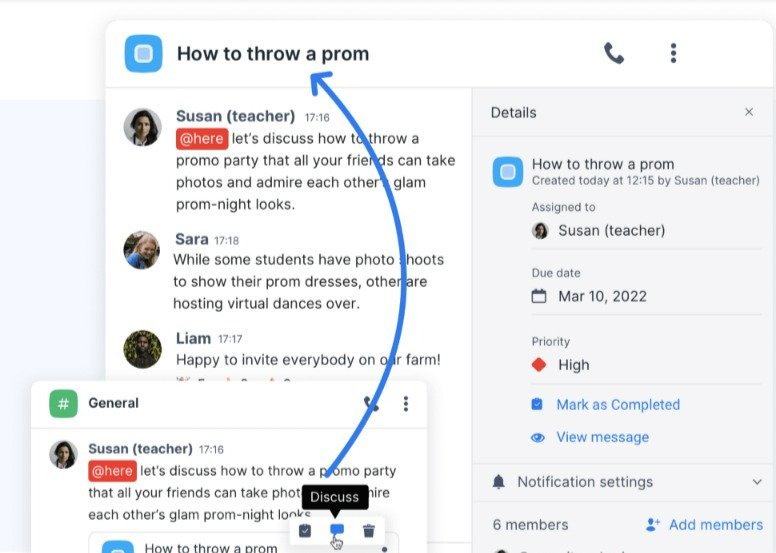 Share helpful resources: Chanty offers a provision where teachers can share lectures and vital resources. On the other hand, students can access them with just one click.
This can help strengthen the student-teacher bond while allowing students to gain in-depth insights on specific topics.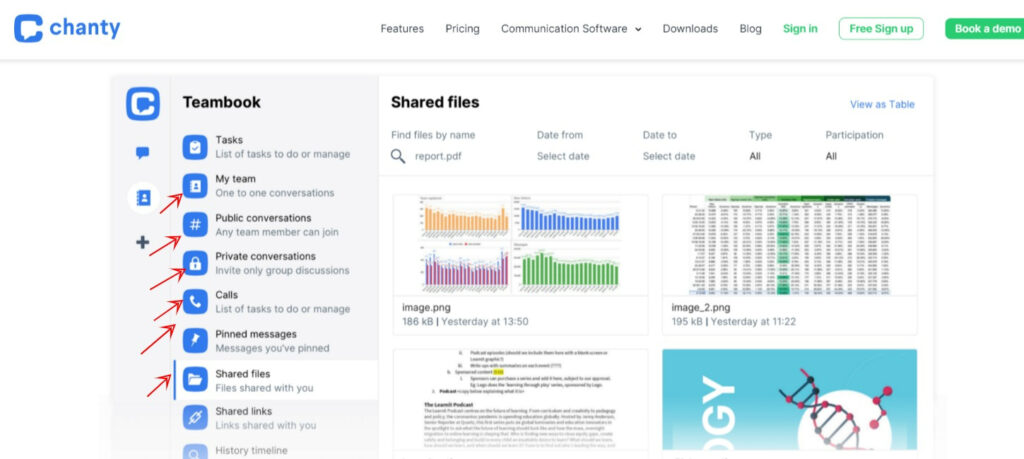 Leverage file sharing and forwarding: Besides sharing files, Chanty allows educators to forward them in personal and public chats. This can help save your precious time and effort by eradicating the need for copy-pasting.
What's more? Chanty allows you to delete unnecessary files and links. Delete anything that you no longer need with the "delete" icon.
In addition to these features, Chanty offers capabilities like message history (unlimited), a Kanban board (to view tasks), integration with 1000+ third-party applications like Zapier, and an in-app content player.
The best part? You can safely transfer, store, and secure all your messages from compliance export. Its data privacy and protection policy abides by the General Data Protection Regulation Act.
All-in-all, Chanty is a power-packed platform to help you conduct online teaching sessions efficiently and effectively.
Rating and Reviews: Rated well on top platforms like Google app store (4.4/5), Capterra (4.9/5), and more, Chanty is the favorite online collaboration app for leading educational institutions.
Here's what Simon Withers, Senior Lecturer at the University of Greenwich, Technology coordinator, says:
"The more my teaching partner and I talked, the more compelling the case for Chanty became for several reasons; the main one is our students really like Chanty."
Pricing: Chanty offers a free plan with limited (basic) features for a team of 5 people. The premium paid plan starts at $3 per user (per month) and delivers the best features and unlimited members.
It's cost-efficient and offers the best-in-class features compared to other online teaching platforms. For more information, contact the support team or book a demo.
Benefits of using collaboration tools for online teaching
Online teaching offers personalized classroom experiences and learning flexibility to students. It eases the everyday teaching hassles for educators while refining the teaching-learning process.
For educators embracing digital, deploying the right collaboration tool is crucial to maximizing positive outcomes.
Power-packed with advanced real-time collaboration features, Chanty can be your reliable partner in the online teaching-learning journey.
Its powerful features and functionalities can help you engage and establish strong relationships with students, deliver on all the promises, achieve online teaching goals, and improve your institution's credibility in a competitive marketplace.
In fact, some of the most prominent educational organizations, including the Massachusetts Institute of Technology and the University of Greenwich, are leveraging Chanty for their online education endeavors.
So, join the community of industry leaders by unlocking the power of Chanty today!