When working on a team to complete projects, communication is critical. Collaboration tools are far more productive than using email.
Much like the physical organization of your desk or office, they provide clarity, efficiency and keep everyone apprised of goals and progress in a more organized way.
In this article, we will discuss some of the top-rated tools to improve communications and support your team's needs.
Chanty
ProofHub
Slack
Teamweek
Fleep
Flowdock
Jostle
Basecamp
Chanty
Chanty is a slick, professional and AI driven team chat and collaboration tool that enables secure communication between internal and remote team members and employees.
Chat excels at delivering a range of internal team collaboration tools that enable work teams to share files, create and manage internal team tasks and monitor team activity.
Chanty integrates seamlessly with a range of additional Apps such as Zapier, Giphy, Google Drive, OneDrive and more.
Employees and team members can collaborate in real-time and communicate easily via video or messaging.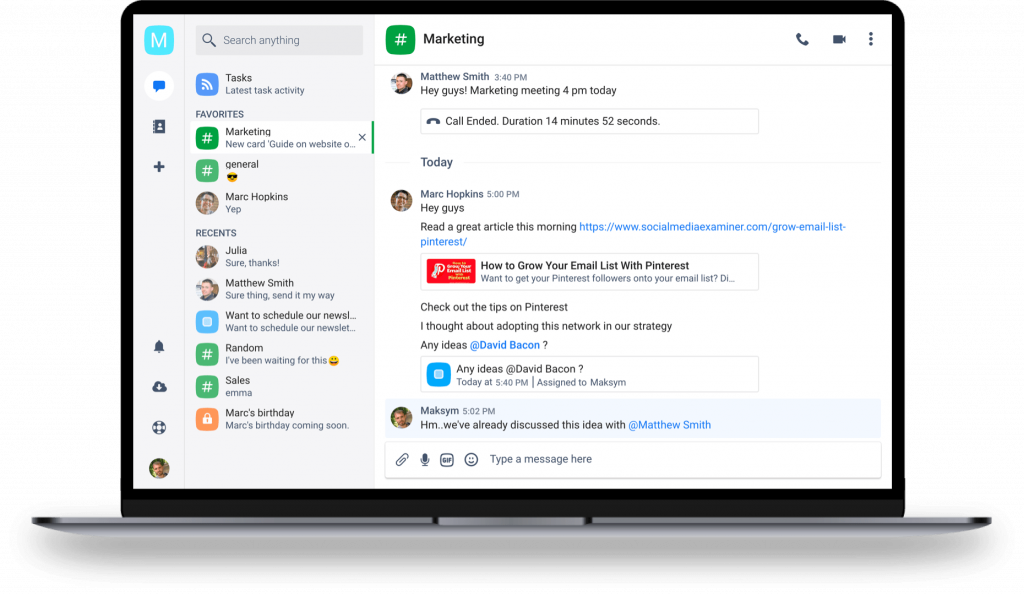 With Chanty you can:
Share and edit code with other team members without leaving the App
Connect with, and notify team members through simple @mentions
Import and Export data from other tools
Enjoy a comprehensive mobile experience that doesn't diminish functionality
Stay on track with deadlines, team communications and updates
Using Teambook, users can organize all of their tasks, maintain a clear record for communication share content in multiple formats including Youtube, Social Media, Images, Coub and more.
Chanty grows with your organization and can be adapted to suit almost any workforce that requires clean and efficient communication that is also secure. Use it to manage your multi-tasking efforts within teams and employee project coordinators, monitor project processes and minimize distractions.
ProofHub
ProofHub is an all-in-one project management software that works great for internal communication. It simplifies the way teams plan their projects, collaborate, communicate, keep files and schedules organized, and deliver projects on time.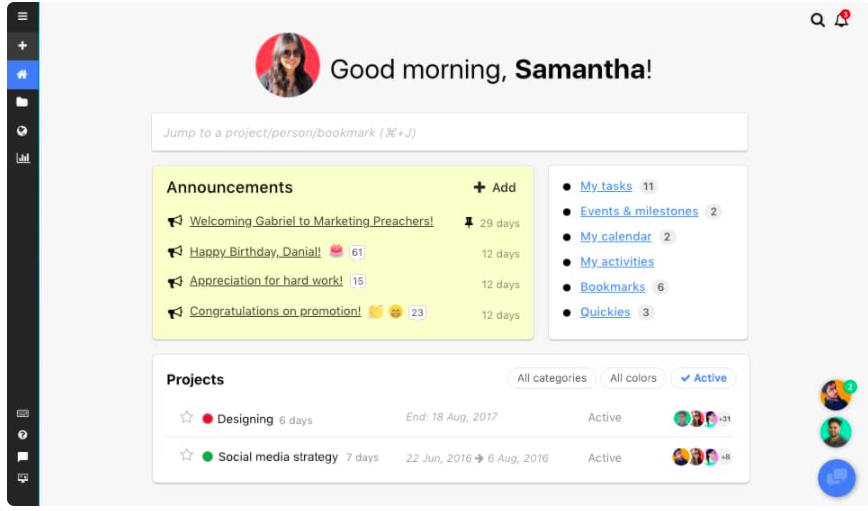 Robust team collaboration features like in-built chat aids in quick communication, while a dedicated space for real-time discussions and a proofing tool to help you share, review and proof files makes collaborating with your team members easy as pie. 
It also offers a flexible approach to task management with its option to switch between to-do lists and Kanban boards. ProofHub's Gantt charts bring in more transparency by helping you figure out task dependencies and stay on top of your schedule. 
ProofHub's top internal team communication and collaboration features are: 
In-built chat app to bring all your team communications together at a centralized platform

Real-time discussions to brainstorm ideas with your team members

Custom roles to better define tasks and preserve process transparency

Simple to-do lists, agile workflows, and kanban boards for flexible task management

Gantt chart for effective task planning with drag-and-drop functionality

Online proofing tool to streamline review and approval process

Easy file sharing and management 

Custom reports for better progress overview and resource management

Automatic timer and timesheets to keep track of your team's time and productivity

Integrations with third-party apps like Dropbox, Box, Google Drive, OneDrive, iCal, and Google Calendar  
The factor that helps ProofHub stand out from the crowd is its flat price policy. It does not charge you differently for every new user. You just have to pay a fixed price and work with as many people as you want. 
ProofHub has two pricing plans. The first plan is called the 'Essential' plan which is priced at $45 per month (billed annually) where teams can work upto 40 projects with 15GB storage and unlimited users. The second plan is called the 'Ultimate Control' plan priced at $89 per month (billed annually) where the team can work on unlimited projects, users with 100 GB of storage space along with all the core features of ProofHub. 
Slack
Slack allows various teams within your organization to have their own chat channel and can create opportunity for various levels of collaboration..
It integrates with other tools your team uses such as Google Calendar, email solutions, and 1000+ other apps.
It brings all your conversations, files, announcements, and updates together under one hub.
Slack ensures your entire team can see all your collaboration tools in one place.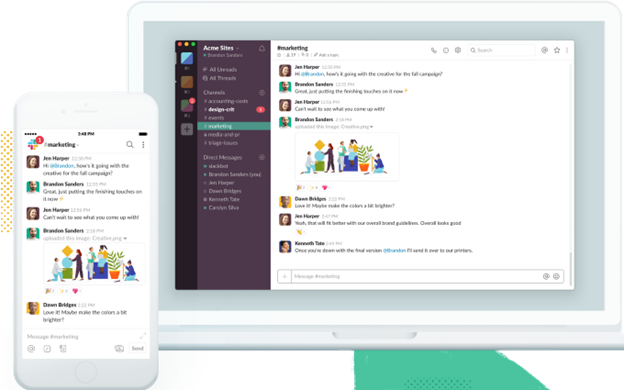 Assignments and projects are performed in public channels that can be organized by project, team, or any desired metric.
Some of the many time-saving and organizational benefits include:
Send private messages
Add and share documents, images, PDFs, and other files right in the channel
Pin critical files to make them more visible
Star any channel to add it as a favorite to highlight it as important
Helps users keep track of everything
Keep conversations organized
Integrates with other work tools such as Qwilr event templates, Trello, and Google Drive
Find a new app or a service you already use in the app database
Search for anything that has been posted in messages or channels
Slack is free for small teams. However, free plans only have access to the last 10,000 messages.
For larger organizations and premium features, you can upgrade to one of the pro plans.
Teamweek
Teamweek is an easy-to-use visual planning tool. Its intuitive interface makes planning tasks and projects simpler.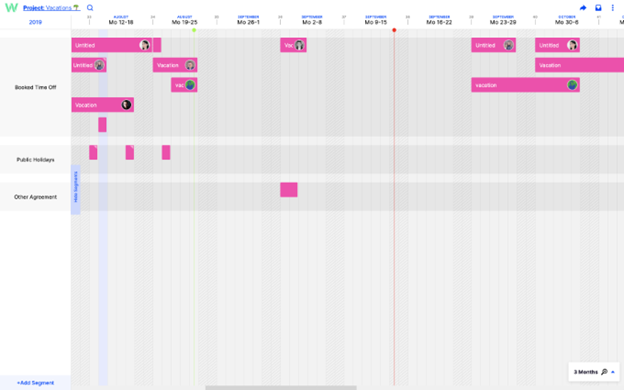 Help teams and clients get more done by:
Using checklists to boost productivity
Keeping everyone on the same page with instant updates
Collaborating and planning in real-time
Breaking tasks down into steps and checking them off when complete
Updating timelines with one click
Sharing timelines and project roadmaps with clients
Importing tasks from anywhere using Mozilla and Chrome extensions
Using the mobile app to get a daily overview of every team member's workload
Useful for any type of project, TeamWeek Event Management Software is specifically designed for event management.
Be more efficient, improve workflows, and keep everyone on the same page.
Teamweek is free for small teams up to five people. There are also several tiered pro plans with premium features for larger organizations.
Fleep
Fleep is a service that brings together tasks, messaging and file sharing, all under one roof.
It allows teams to organise and collaborate projects from concept to completion.
The heart of Fleep is its three-strand dashboard which includes tasks, a pinboard for messaging and a file-sharing platform.
Through the tasks interface, users can create actionable tasks and assign them to team members. It's quick and it's searchable with a minimalist dashboard.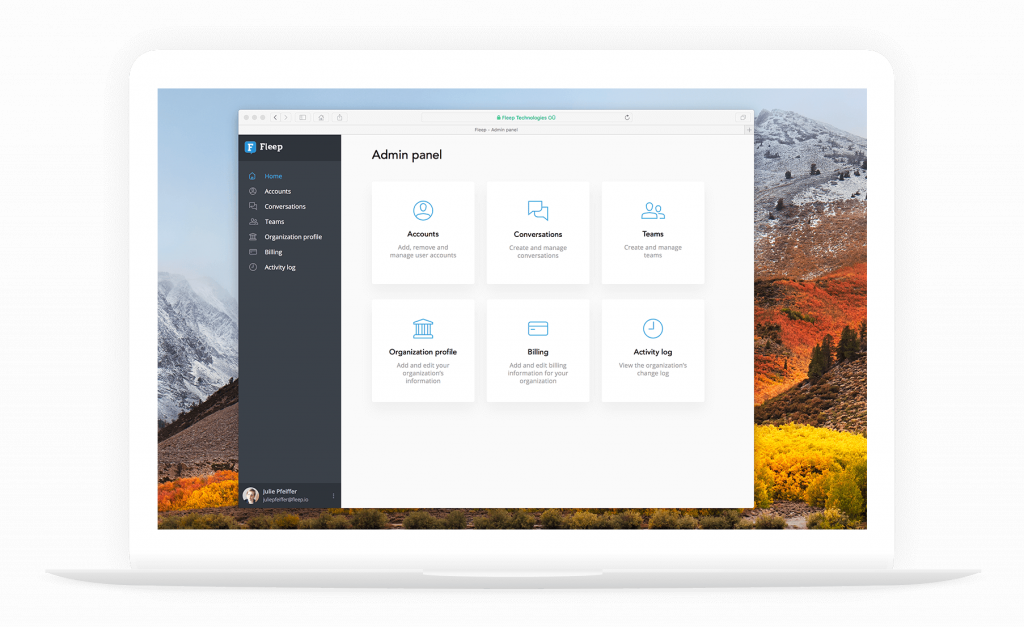 The Pinboard creates a home for all your messaging between team members. Things like meeting agenda's, links to critical information and contact details can be shared remotely so that all team members are on the same page and working synergistically.
The file drawer enables people to collaborate and share images, video, documents, and other rich media and resides next to the conversation flow of any task or project.
if you are supervising teams, you will have access to additional tools that reveal user time on projects within Fleep, check who has read or acted on group messages and more.
Fleep provides simple, internal process solutions to busy teams and is easy to use. It has an uncomplicated dashboard and intuitive workflows making a good tool for those just beginning to use collaborative and internal communication tools with their digital workforce.
Flowdock
With Flowdock you can bring multiple conversations, tools, and work items together in one place with Flowdock. As a private and group chat platform, it improves communications by allowing for conversation threads and multiple flows.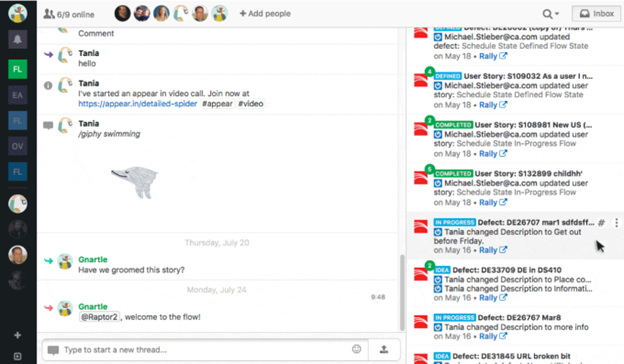 Development groups and business teams collaborate via a variety of chatting features. Users get notifications on their desktop or mobile device.
Flowdock is unique in that it combines into a single package:
A version control and monitoring system
Project management
Customer feedback
The advanced team inbox saves times and reduces delayed delivery and miscommunication.
Instead of using a multi-chat panel, real-time chat improves team communications with multiple flows and conversation threads.
Flowdock offers a free 30-day trial so you can get a good feel for the service before you make any commitment.
Jostle
Jostle is an employee intranet known as a People Engagement® platform was built to encourage and streamline team engagement. The goal is to provide a means for seamless communication when working with remote teams and encourage an emotionally and mentally healthy work environment.
It has a strong mobile app and a detailed dashboard that includes story sharing, surveys, collaboration, event planning and more.
Despite its comprehensive set of tools, Jostle is light and quick and an enjoyable alternative to clunky emails and resource-heavy applications.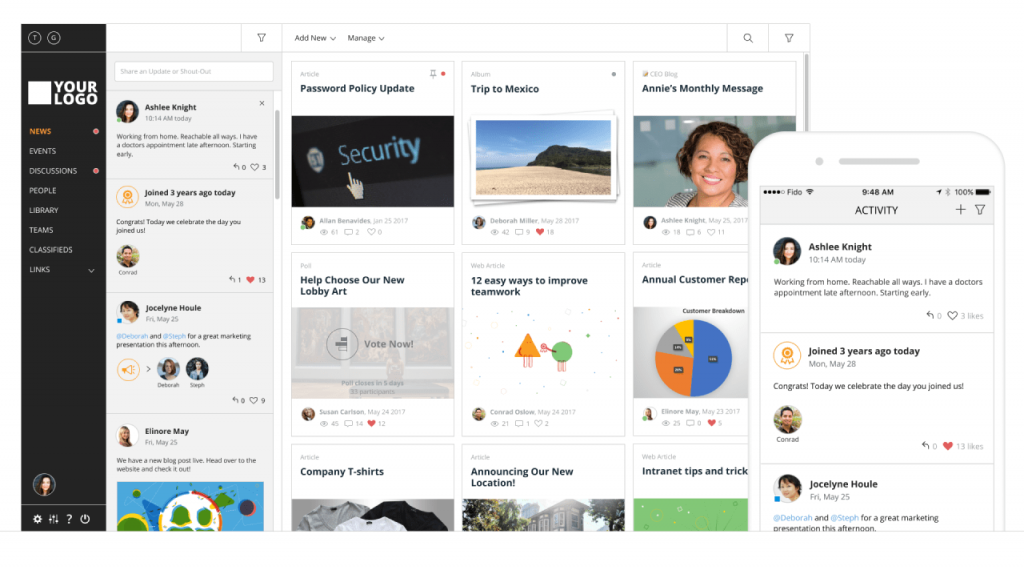 Content can be shared within groups or individuals and bring specific teams together to work on projects in whole or in part.
Jostle provides:
An intuitive intranet
A Group Activity platform which delivers real-time communication
Simplified event planning
Management of your RSVP's and calendars
Collaborative workspaces
Private chat services
A searchable library for shared data and media
High participation rates amongst freelancers or employees
As an internal integration tool, team managers and employees will find it is a great way to encourage participation in project goals and a way to motivate team members to be more productive.
In short, it's a good way for remote teams to build relationships and group cohesion.
If you are hoping to find a tool that is easy to use and that brings team members closer together then Jostle is worth a look.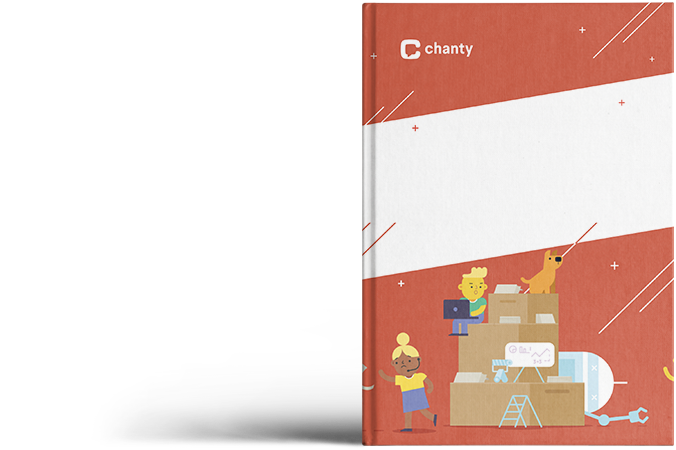 Communication issues at work?
"50 Surefire Ways to Improve Your
Team Communication"
Get eBook
Basecamp
Organize everything in one place with Basecamp's all-in-one communications and real-time collaboration platforms.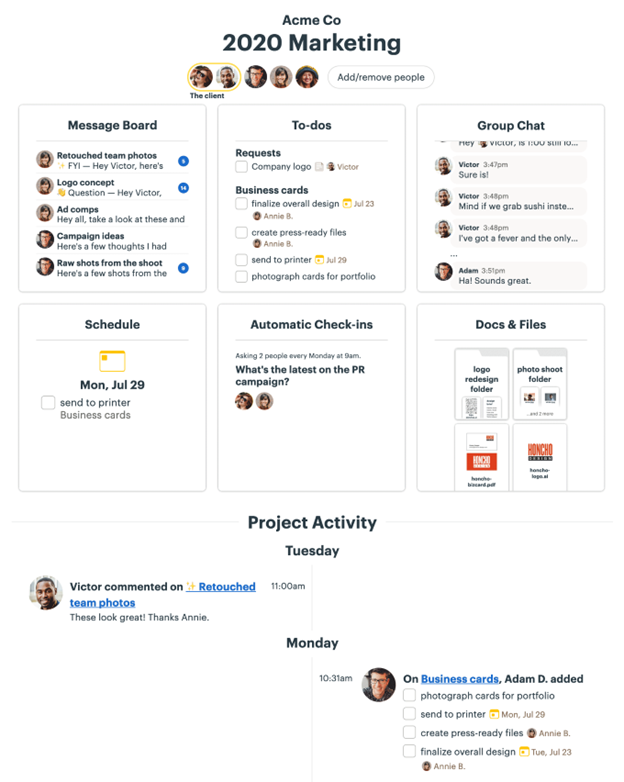 Improve communication, increase productivity, and be better organized by:
Creating to-do lists
Assigning tasks
Adding notes
Attaching files
Embedding files or images into messages
Displaying a schedule with due dates
Sharing images, documents, and files
Asking and answering questions in real-time group chat
Forwarding emails and messages to clients privately
Basecamp offers a personal free version with limited use for three projects, 20 users, and 1GB storage space.
It also offers a free 30-day trial with no credit card required for the paid version. While other platforms charge per user, Basecamp doesn't.
It has a single price of $99 per month for unlimited users. One drawback is that it can be difficult to know where someone else may have put something.
Whichever communication and productivity tool you decide to use, make sure it offers the features and benefits you need.
Consider taking advantage of free trials so you can assess if a tool is a right fit for your organization or team.
Conclusion
With the growth in SaaS and collaborative tools over the past few years, choosing the service that suits you may not be as simple as it once was.
When choosing a collaborative or internal communication tool, it's important to define your communication and team project goals.
What do you want the tool to achieve?
How will you measure its success in your organization
What are your budgetary constraints and
What are the non-negotiables vs the luxuries when it comes to functionality
In a time-poor workplace, efficiency is everything. Some of these tools are designed to provide efficiency in one area while providing less efficiency in others. Ask yourself what processes do you want to speed up? Is it file sharing, reporting, team dialogue, or something else?
Some tools excel in communication and information transfer but are not as useful when it comes to collaboration. Take time to try those that look the most promising for your unique situation and be sure to speak directly to each tools support team to have your questions answered.