When I first read about Basecamp I got carried away. The company behind the famous project management tool offers impressive perks to its employees – from flexible work to $5,000 for a vacation.
It looks like Basecamp team is living la dolce vita. So I wondered what kind of product do happy (I hope!) Basecamp employees design and promote. With that question, my journey of exploring the tools started.
If you read Chanty blog before, you know that we love to dive into different apps. It helps us in designing a better tool for our customers – a simple, fast and smart team chat. We do our best and work hard so you can enjoy seamless and productive communication on any platform (Mac, PC iOS, Android, and web). You should totally give Chanty a try.
Usually, we explore communications apps to learn more about our colleagues-slash-competitors. But while working on Tasks feature in Chanty (successfully released), we also studied tons of project management apps. Recently, we wrote the in-depth comparison of Slack vs Asana. Now, it's time to look at Basecamp.
Slack vs Basecamp: general overview
At Chanty, we are well-aware of Slack, as this tool has generated quite a buzz. As of May 2018, Slack had eight million daily active users. Apparently, this number might grow, since Slack acquired Stride, offering Atlassian's team chat users to migrate to its platform.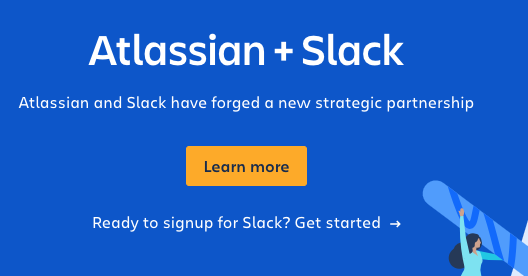 Stride's users are encouraged to switch to Slack

Slack is often praised for having multiple integrations and friendly UX. Although some consider it cumbersome, slow and overcomplicated. At Chanty, we receive many game-changing complaints about Slack.

But still, Slack is a popular tool claiming to be "the hub for your team and your work." This is exactly what unites it with Basecamp that positions as a tool that "combines all the tools teams need in a single, straightforward package."
Through the years, Basecamp has made quite a journey. When it started in 2004, it was simply an internal tool used by 37signals team. Now it has already 2,838,046 accounts signed up in 2018.
Of course, the tools have different basic functions. Slack, is first and foremost a communication app, while Basecamp is a project management software. However, the apps do have some similar features.
In some ways, they might even substitute each other. Slack has some ways of handling tasks, while Basecamp is able to tackle communication issues. How? Let's find out.
Slack vs. Basecamp: a quick preview
For those of you in a hurry, have a look at a quick comparison of both tools.
Basecamp
Slack
Pricing
Basecamp $15/ user per month
Basecamp Pro Unlimited $299/ month per team
FreemiumPro $7.25 user/month

Business+ $12.50 user/month

Top features
To-do Lists

Message boards

Schedules

Direct Messages (Pings)

Channels

Integrations

Search

Voice and video calls

Integrations
53 integrations (as of October 2018) including Zapier (so you can connect to 750+ apps)
10 integrations limit in the Freemium plan, 1000+ integrations in paid plans
File upload limit
Up to 2GB

If you use your own FTP server to store the files the limit is 10MB

Up to 1GB
File storage limit
500GB for a team
Free plan: 5GB file storage for a team

Pro plan: 10GB per user

Business+ plan: 20GB per user

Message history limit
Not specified
90 days messaging in the Freemium plan, unlimited in paid plans
Audio/video calls
Not available
Unlimited 1:1 voice and video calls in Free plan

Conference calls for up to 15 participants in Paid plans

Interface color options
You can choose a Basecamp theme between six colors
Custom sidebar themes – choose any color
Search options
Search is available within messages, files but not within documents.
Search is available within messages, filenames and documents
Often praised for
Multiple ways of communication: commenting, message boards, direct messaging and real-time chat
Extensive integrations

Friendly UX

Often blamed for
Not supporting subtasks or dependencies,

task-completion estimates and time-tracking

Becoming slow and cumbersome; burying users with tons of notifications
Now, let's dive into a detailed comparison of the two.
Slack vs Basecamp: pricing
When I write comparison articles, I usually study the Freemium plans of tools. That's not the case with Basecamp pricing. It offers a plan that will be better for smaller teams or freelancers with monthly payment per users and a plan for large-sized teams paid annually.
Slack, on the other hand, has the Freemium and 2 paid tiers. The Pro plan is $7.25 user/month, while Business+ is $12.50 user/month (billed annually).
Since Slack charges per user and Basecamp bills for a team, it's a tricky question which tool is more cost-efficient. It depends on your particular needs and the size of your team. Basecamp can be your choice if your team is more than 50 users. If it's smaller, Slack can be your choice in terms of pricing.
Slack vs. Basecamp: signing up
Getting started is simple within both tools. You sign in by entering your email on a landing page. The registration is 5-6 steps. You enter your name, company name, job title. No credit card info is required if you are interested in the Freemium version of Slack or in the free trial of Basecamp.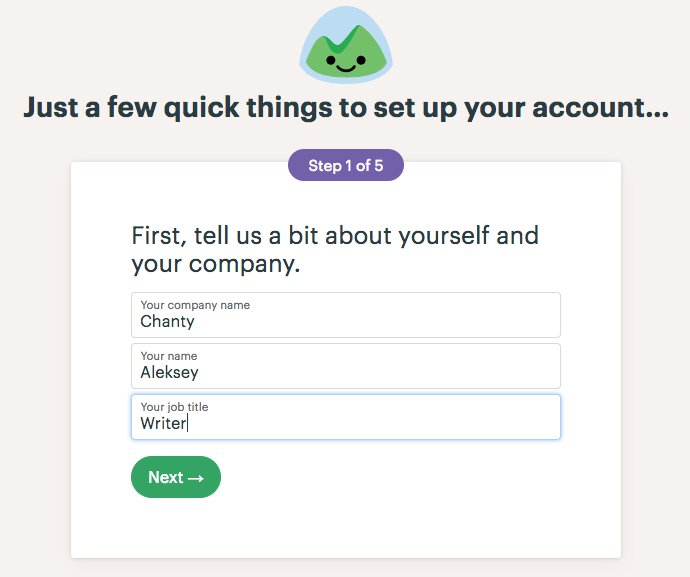 Signing up in Basecamp
However, when signing up to Slack, you'll be required to check your email for the confirmation code. Also, in Slack you'll need to create your Workplace name, which is not the case with Basecamp. In both tools, you'll be able to invite your colleagues to join you right during the sign-up.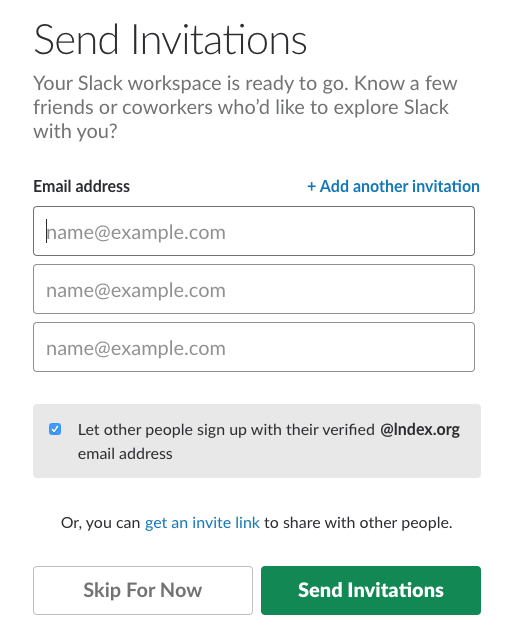 Sending invitations in Slack
Now, let's jump to what you see within the Workspace (Slack) or Home screen (Basecamp) – the dedicated places for everything that's happening in your company.
Slack vs. Basecamp: layout and design
Slack's and Basecamp's layouts are quite different. In Slack, the two main Workspace panels are arranged horizontally. The left (smaller) one is for contacts and apps. The right one is primarily for conversations.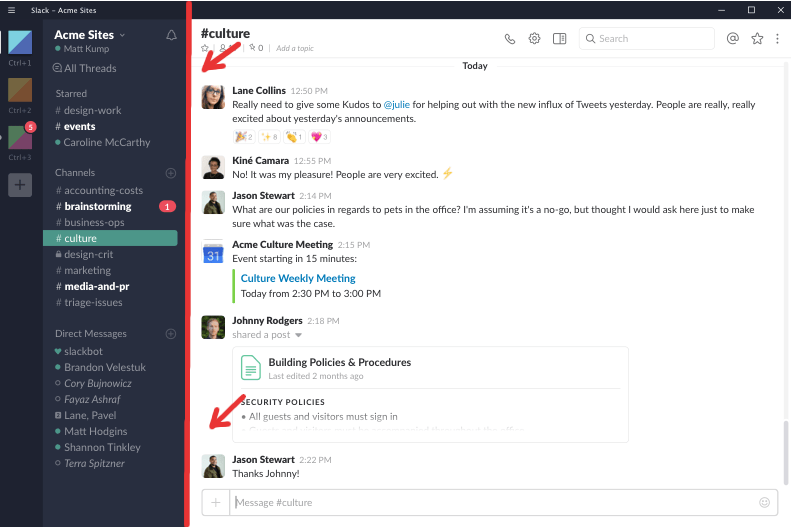 Slack has a horizontal layout
Image credit
Basecamp, on the other hand, has a vertical layout. By default, users see 3 panels on the Home Screen – HQ, Teams, Projects. Within these menus, communication and tasks are organized.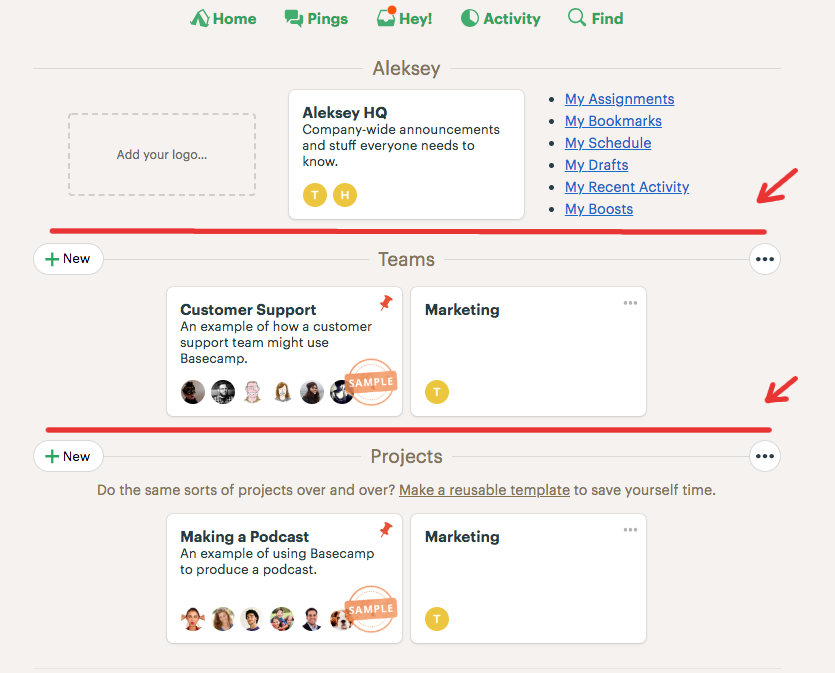 Basecamp has a vertical layout
In some reviews, Basecamp's design is criticized for being "haphazard" comparing to other "modern-looking tools." I wouldn't agree with this, as Home Screen seems pretty well-crafted to me. However, the whole concept of dividing the workspace into these 3 particular menus needs some getting accustomed to. But so does Slack's layout, especially if you've never used a team chat tool. The variety of different features is hidden behind the buttons in Slack.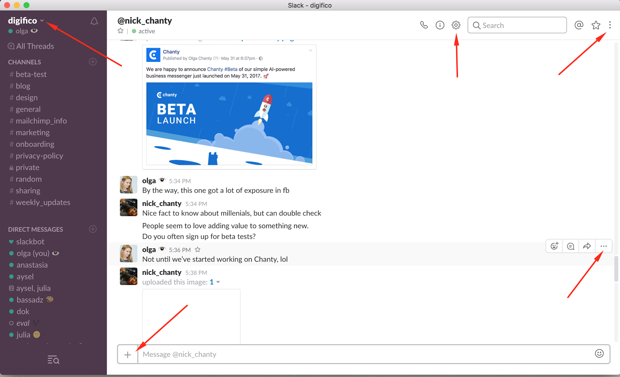 Slack interface
In both tools, there are some adjustments you can make in design and layout. Basecamp allows you to show items (projects or teams) as cards or as a list. You can also add or remove sections (HQ, Projects and Teams) and choose a theme.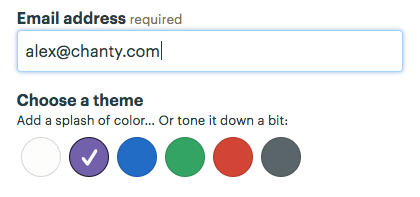 Options for customizing your HQ in Basecamp
In Slack you can customize the left bar in any color you choose.

Options for customizing your workplace in Slack
Basecamp vs Slack: onboarding
Once you enter Basecamp's Home Screen, you'll stumble upon a short onboarding video – a modal box with a transparent background will pop up. The video seems quite comprehensive and worth watching if you don't know much about the tool.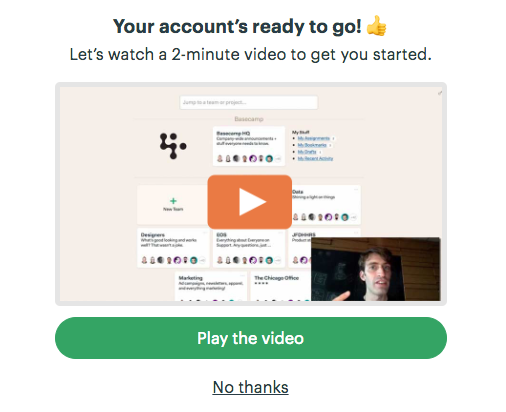 Slack will also greet you with a modal box, suggesting to explore the tool. You'll be welcomed to the tutorial via green Explore Slack button.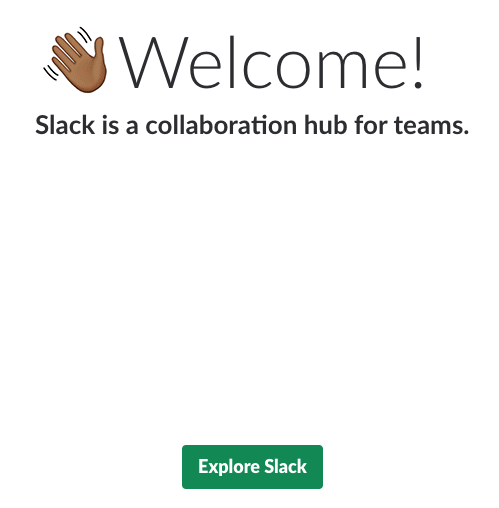 Slack offers a tutorial when signing up
Unlike Basecamp, Slack won't offer you an introduction video. Hitting on the button "Explore Slack", you'll get to chat to a Slack bot. You can ask it a question or type in a keyword or two, to get the answer to your questions.

Slackbot in Slack
Unless you "Skip the tutorial", Slack will also offer you a product tour consisting of 3 steps. It comes in the form of tooltips – the boxes with pointers. There will be just a few pieces of advice about messaging and adding your teammates.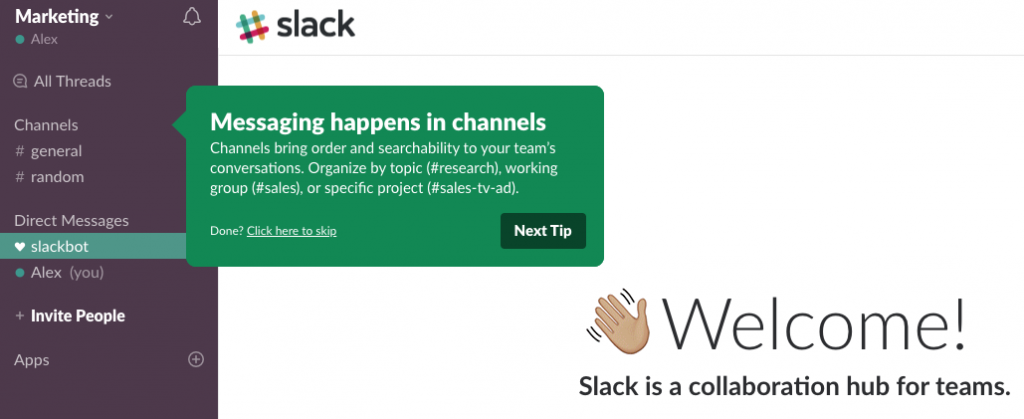 The product tour in Slack
Now, let's move on to the key features of tools.
Basecamp vs. Slack: task management
Setting tasks in Basecamp
When it comes to handling tasks, Basecamp shines. (This is a project management tool, after all). If Slack's basic feature is Сhannels, Basecamp's wouldn't exist without To-do lists. Within them, you create tasks, notify assignees, set due dates, etc. You can create a To-do list within HQ, a specific team or project.

Creating a To-do list in Basecamp
However, there is one thing I found inconvenient in Basecamp. If I want to create a To-do, I need to generate a To-do list first. No cutsies. Not a single task apart from a To-do list exists.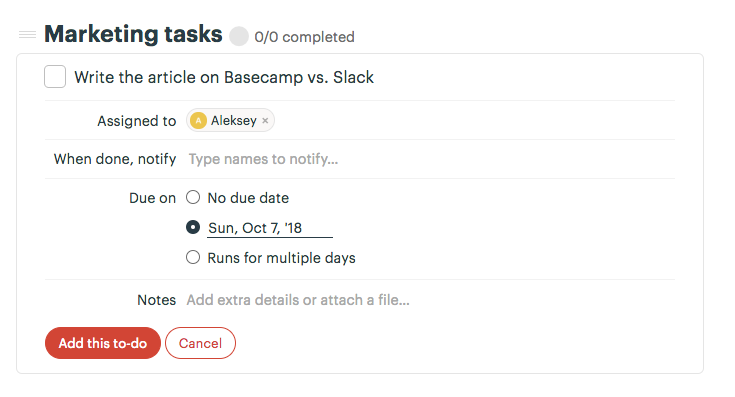 Creating a To-do in Basecamp
Another important Basecamp's feature that complements To-dos is Schedule. Every project includes a calendar plan that displays any dated tasks and events for that project.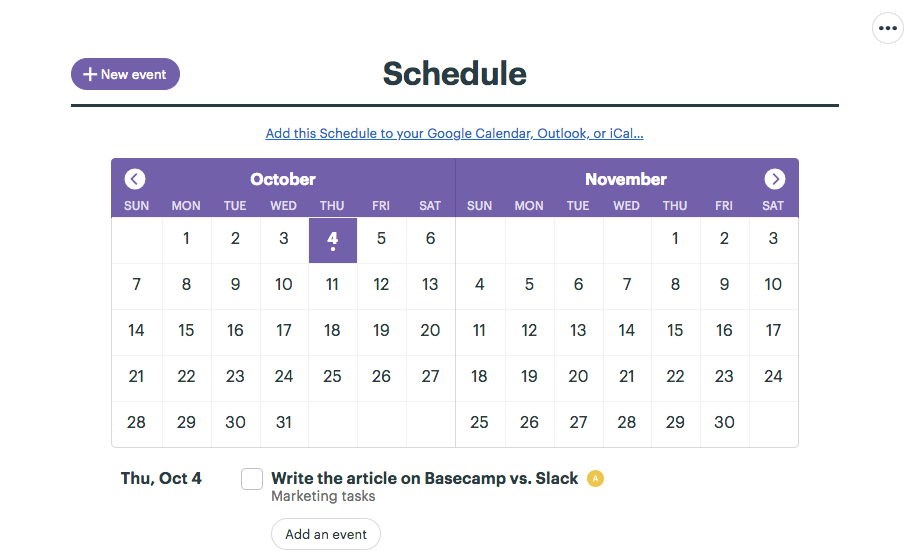 Schedule feature in Basecamp
Of course, you can add notes and file attachments to Tasks and Projects. (We'll discuss Documents and Files feature later). However, being a popular project management tool, Basecamp is blamed for not supporting hierarchal to-do lists, subtasks, or dependencies.
Setting tasks in Slack
The most common way of managing tasks in Slack is via integrations. As Slack introduced Actions, users don't have to leave the app to create and finish tasks. Let's have a brief look at how it works on the example of Asana. After adding the app to Slack, it appears as a separate channel. Then, you type in any of the suggested commands depending on what you want to do. E.g. for creating a task you would type "/asana create@.
Typing in a command to set a task in Slack
After this, Asana's modal box will pop up so you can set up a task.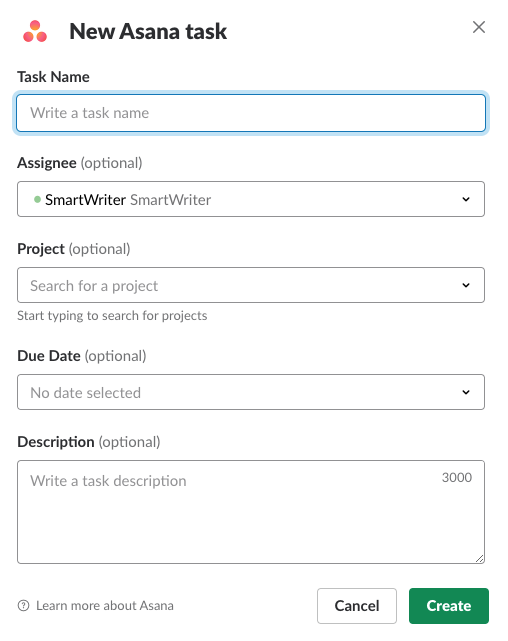 Creating a task in Asana via Slack
After that, the task appears in your Asana workspace.
There are some additional ways you can manage To-dos in Slack without integrations. I covered them in the Asana vs. Slack article.
However, it might be more convenient for you to use Chanty, as our team chat already has built-in Tasks. We've recently released the task manager that is a breeze to use. It's totally built-in with no extra effort or integrations required from your side! Try it out!
Basecamp vs. Slack: communication
Communication in Slack
Slack centers around communication. The tool's basic feature is Channels – public and private. They are a single place for messaging, tools and files. Channels can be divided up by team, project, client, or whatever else is relevant to your organization. Team members can join and leave channels as needed — unlike lengthy email chains.

Messaging in Slack
Threads is another famous feature in Slack – loved by ones, hated by others. They let you respond directly to a message in a channel, keeping the replies organized neatly in a single conversation.

Threads in Slack
In Slack, not only can we text a message, but also make audio and video calls.
Audio and video calls are not supported in Basecamp. However, being a PM tool, it has quite a few means of communication.
Communication in Basecamp
Basecamp allows you to communicate quite efficiently. It has many more ways to have conversations than, for example, Asana. Basecamp even claims it's able to replace Slack due to its Campfire chat. Can it?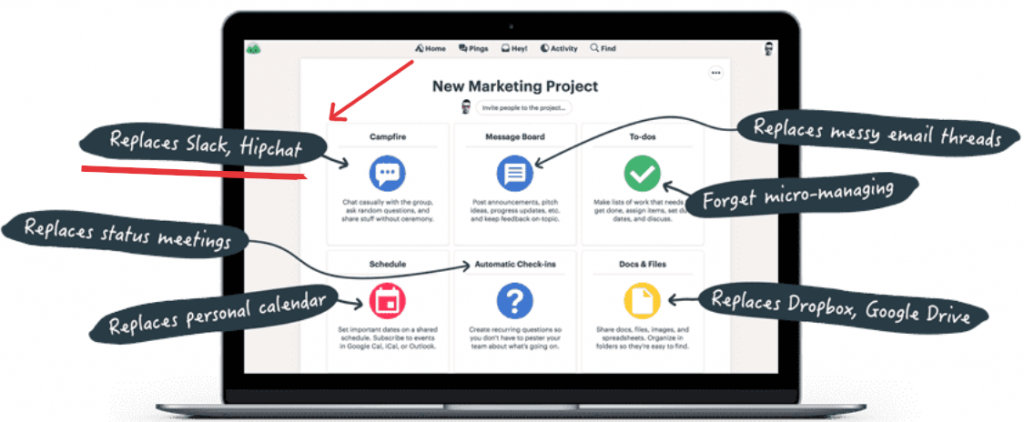 Basecamp claims to replace Slack due to its Campfire feature
Basically, Basecamp suggests you use discussion threads instead of conversation channels and chat emails. Overall, I have counted 4 ways of communicating within the tool.
Campfire (a Real-time Group Chat)
Message Boards
Direct Messages (Pings)
To-Dos – comment directly on tasks and lists
Let's briefly review all of them.
1. Campfire (Real-time Group Chat)
Basically, Campfire is a chatroom. Suppose, I have a question to the team and not quite sure who to ask. So I go to Campfire.

Campfire feature in Basecamp
Every HQ, team or project include their own Campfire. The feature is stacked with tools for conversations: you can attach files, quotes, code samples, insert sounds, video, and emoji, use @mentions. Simply put, Campfire is the analog of a separate group channel in Slack. You can follow and unfollow particular Campfires, delete a Campfire Post or just delete the Campfire tool.
2. Message Boards
Message Board is a place where you post updates and gather feedback on what we are doing.
When your colleagues post messages, you can answer them by "applauding" (which is the analog of Reactions in Slack). You can also insert images or files into your message.
3. Comments in To-Do section
You can also comment directly on tasks and lists, discussing projects in the To-do section.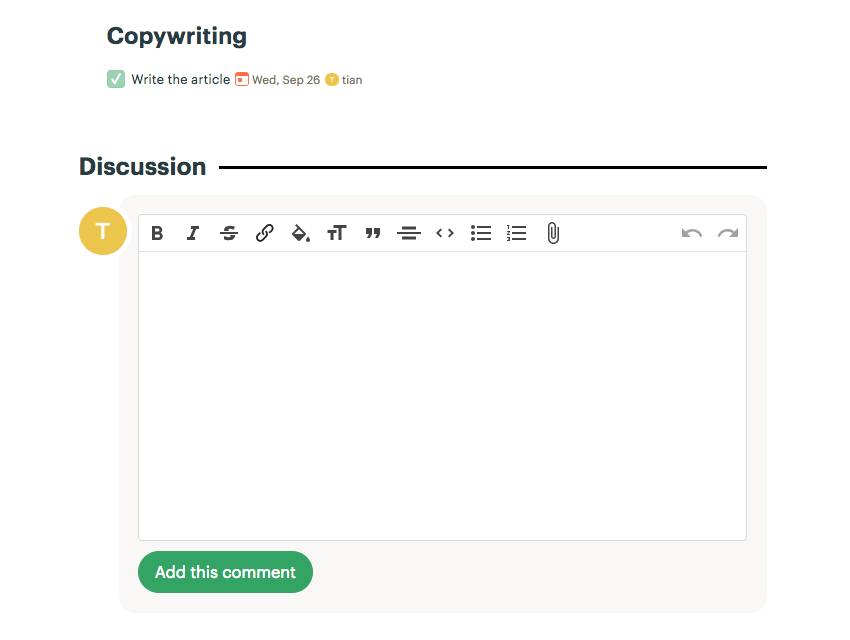 Commenting in To-Do Section in Basecamp
4. Direct Messages (Pings)
This is a feature which is quite rare in project management tools. In Basecamp, you can private message people in separate channels. Basically, this is the analog of direct messaging in Slack.

Pings feature in Basecamp
Within Pings, not only can you have private 1-1 conversations, but also group chats.
Your conversation history is searchable (there's no info about message history limits though). You can also attach files, insert sounds, video, and emojis.

Using Pings in Basecamp
In a nutshell, the conversations in Basecamp are organized via multiple features. I just hope the users of the tool don't get confused having so many different ways of communication.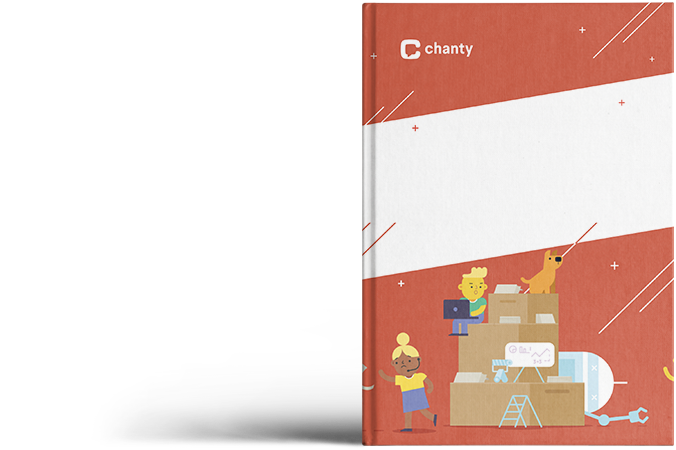 Communication issues at work?
"50 Surefire Ways to Improve Your
Team Communication"
Get eBook
Basecamp vs Slack: integrations
When it comes to integrations, Slack is ahead of the curve, having over 2000 of them. The way it works is you set up a channel for any piece of software you use. We explored Slack integrations in our team chat wars series so feel free to learn more about other in-depth tool reviews made by Chanty team. For now, let's mention that in Slack's Freemium version, you can use only 10 integrations.

Choosing integrations in Slack
Image source
Being a paid tool, Basecamp doesn't limit users with the number of integrations. It has way fewer of them – 650 (as of 2022). But there are some tools including Zapier that allow connecting to hundreds of business apps.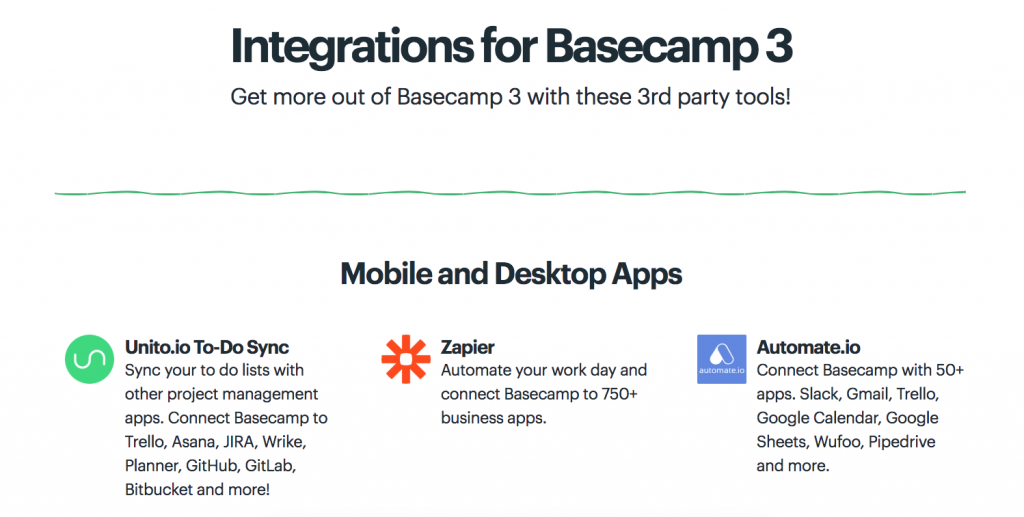 Integrations on a Basecamp page
Image source
I briefly tested Basecamp's integrations, connecting the tool with Slack via Zapier.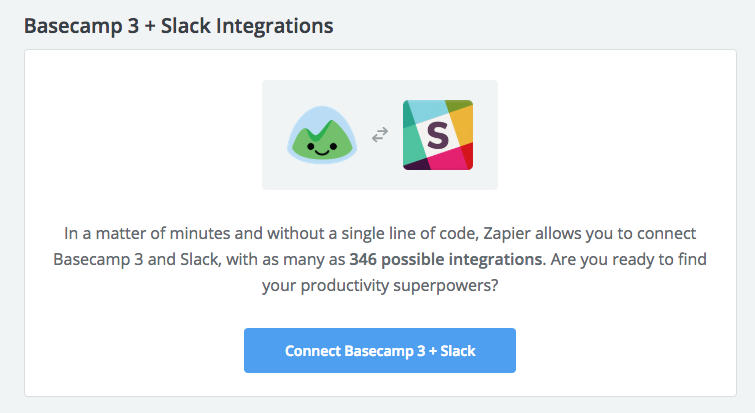 Let's suppose I want to be notified in Slack about new To-dos in Basecamp. There is a trigger for that in Zapier.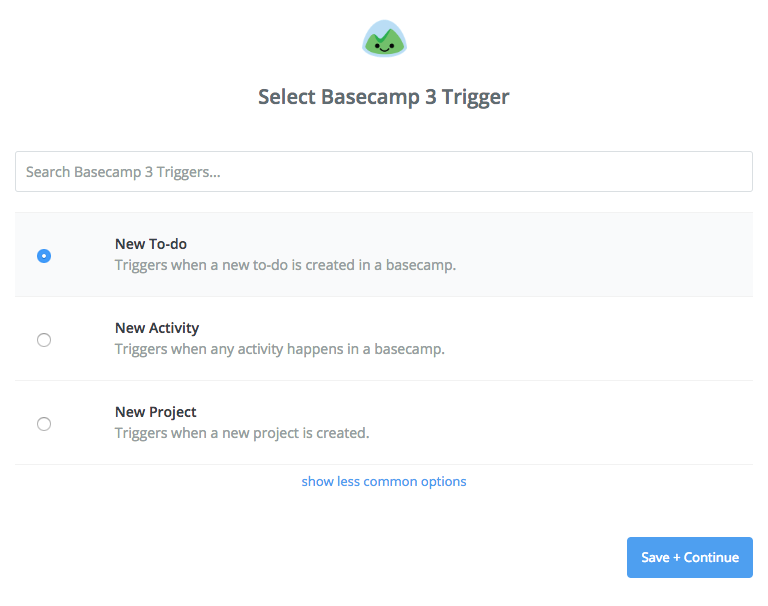 Then I choose the way of how to be notified about a To-do. For example, I want to receive a message in a particular Slack channel – this is my "Action".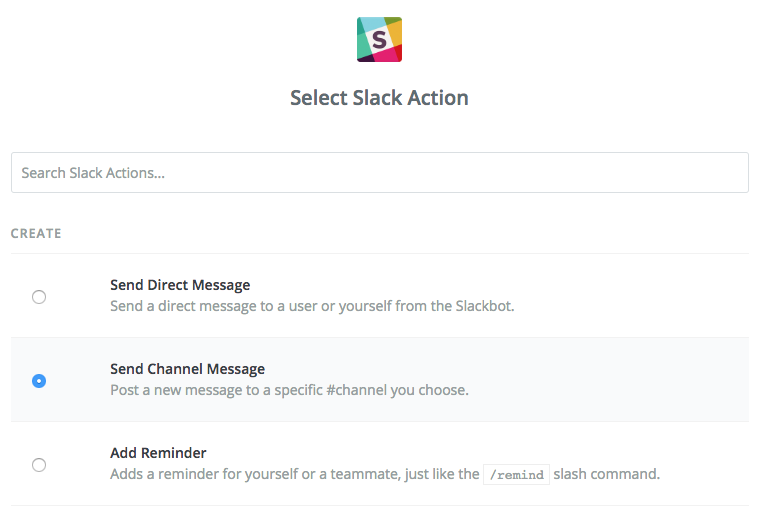 After a couple of steps coordinating "Trigger" and "Action", everything went smoothly and I started to receive notifications about To-dos in my Slack channel. In a nutshell, integrations are definitely worth using in both tools.
Basecamp vs. Slack: documents and file storage
Sharing files is fairly easy within both tools. In Basecamp, you can upload your documents within any HQ, Team or Project in Docs & Files section.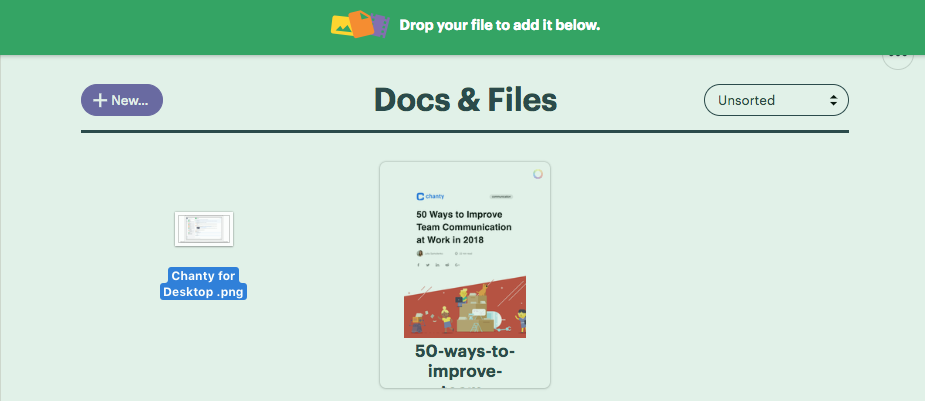 Dragging and dropping a file in Basecamp
In Slack, you share files when chatting – in a public, private channel or via a direct message.
The modal box in Slack that enables file sharing
As you could notice, Slack supports sharing Google docs file (and integrates with different file storage services). This might be handy, especially if you use the Freemium version of the tool. In case you don't pay for using Slack, you'll have only 5GB for a team. (In paid plans the file storage limit up to 20 GB per user). At the same time, the size limit for uploading a file in Slack is 1GB. If you try to upload a larger file, you'll get a timely notification.

Slack's notification on uploading file limit
In Basecamp, the file limit upload is bigger. You can transfer files up to 2GB. The file storage limit in Basecamp is 500GB for a team. You can also link to files from different file storage services.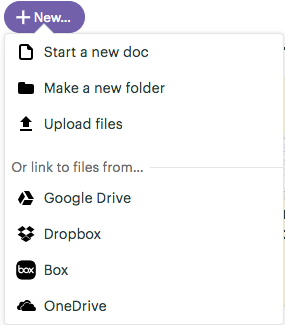 Basecamp's options of linking to files
Overall, I would say that file sharing in Basecamp seems more elaborated. Experts say Basecamp can act as a repository for creative files when using freelancers, outside vendors and remote-based teams.
There's also a cool option in Basecamp – you can reorder and color code files to keep things tidy. You can also sort them by date modified and time created. Don't know about you, but to me, it seems like quite a nice feature.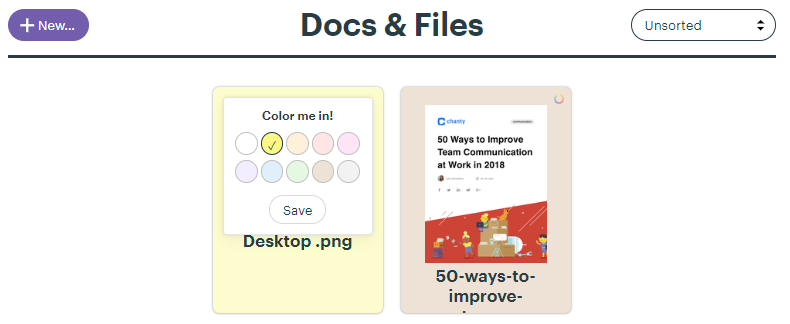 Color coding files in Basecamp
Basecamp vs Slack: search
Both tools present a detailed search that allows you to specify the query to find what you need. So there's no need to scroll tons of messages or files.
In Slack, you can specify results with a particular person, channel or time period.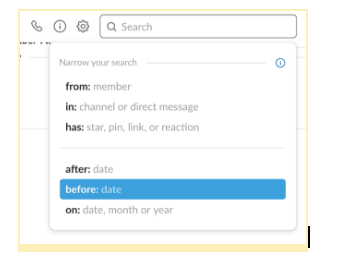 Search options in Slack
In Basecamp, you make a query more precise choosing (among other things) your Project or Team. However, search within a particular time period is not available.
Search options in Basecamp
Overall, Slack's search is more detailed, as you can look for a particular snippet within documents. Say you need to get a doc and don't remember its title, but you can recall some of the words in the text. Then you can type them in and Slack will find that document.
Just to be safe, recently, we tested Slack's search by files. I sent to my colleague our '50 ways to improve team communication' e-book in .pdf format. I typed the name of the last chapter 'Thinking outside the box' to find out whether I can find it via search. And – voila – Slack found it!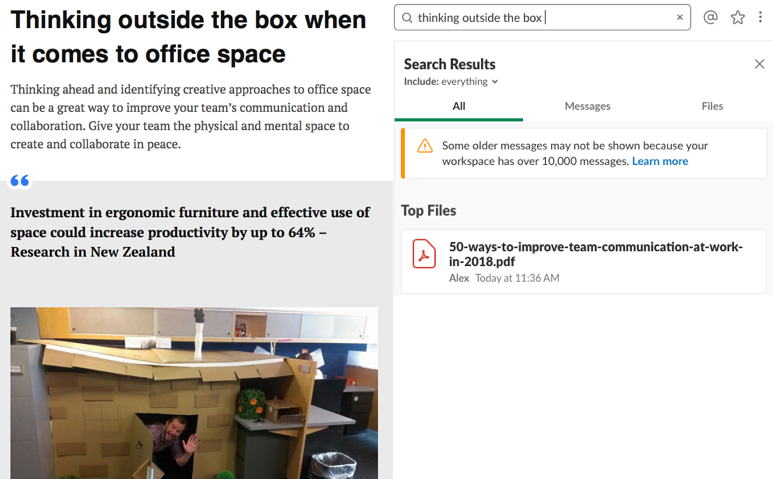 A snippet of the book                         Slack found it!
I didn't manage to do the same thing in Basecamp. After I uploaded the book to Doc & Files section, I found it by the name of the file. But when I searched it by the name of a chapter in the text – it was no use.

I didn't find the text file in Basecamp by entering the words form its snippet.
Basecamp vs. Slack: help and support
Basecamp's and Slack's Help pages look quite similar. Both have a search box for queries with a drop-down list of popular questions, which I successfully tested by entering the word "integrations". Basecamp came up with 2 suggestions to me.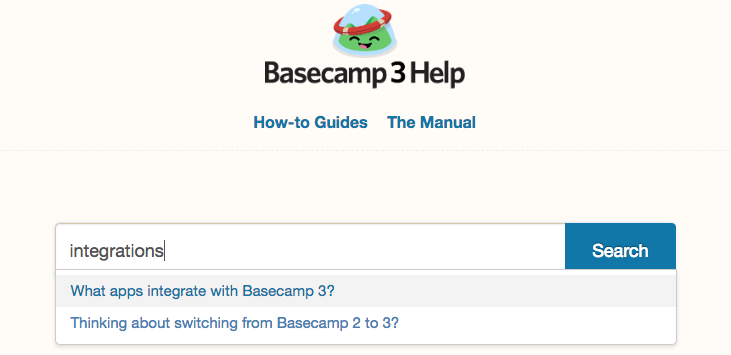 Slack had 4 suggestions upon my request.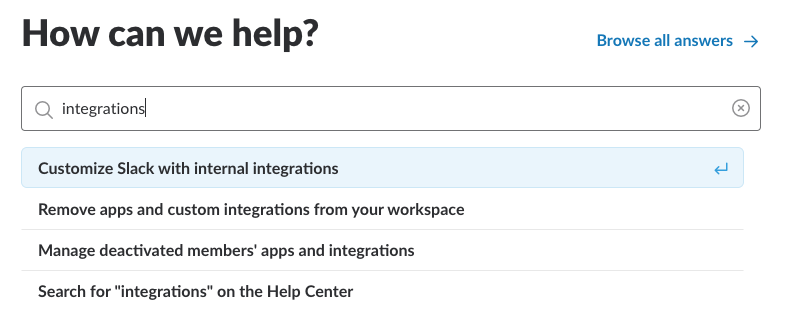 Basecamp also supports users with How-to Guides and The Manual which I explored and found quite comprehensive.

A snippet from Basecamp's Help page
Slack also offers some pieces of advice to users, including featured articles and tips.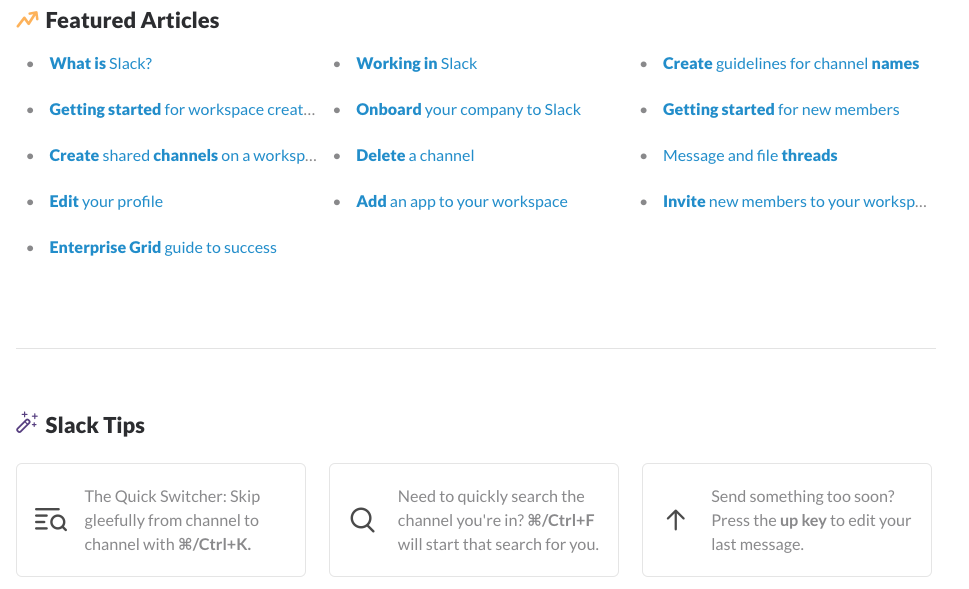 A snippet from Slack's Help page
As for the Support feature, I tried to get in touch with Basecamp Help service. When I just started to write this article, I couldn't find the info file storage limit in Basecamp. (Though it was right on the landing page!) Happens. But back then, I had to write to guys from Basecamp and they replied literally within minutes.

I didn't really have any questions to Slack support team so I haven't requested their help. If you have an experience of turning to Support in Slack, feel free to drop in the comments.
Conclusions
Though both tools – Slack and Basecamp – position as collaboration hubs for your workplace, they have different set of features. Slack is primarily a communication tool, while Basecamp is a project management app. At the same time, the tools have similar features and can substitute each other in some ways. Here's a brief review of the comparison.
Pricing. In case you have zero budget, Basecamp is not a choice for you, cause it's cheapest plan is $15 per user/month. Slack, on the other hand, has a Freemium version and two paid ones with price starting from $7.25 user/month.
Signing up and onboarding. Signing up is simple in both tools. No credit card is required if you are to use Slack's Freemium version or try Basecamp for free. Slack will greet you with a Slackbot and a short product tour. Basecamp will suggest you watch a short introduction video.
Layout and design. Slack has a vertical layout, while Basecamp has a horizontal one. In both tools, you can correct the color scheme of the Workspace (Slack) or Home Screen (Basecamp).
Task management. Being a project management tool, Basecamp has multiple features for setting tasks, including To-do lists and Schedule. Slack handles tasks mainly via integrations to third-party services.
Communication features. Slack specializes in communication with Channels as a key feature. Basecamp offers quite a few ways for staying in touch with each other including features like Campfire (Real-time Group Chat), Message Board, Comments, and Direct Messages (Pings).
Integrations. Basecamp has way fewer integrations than Slack (650 vs 2000+ as of 2022). However, Basecamp can actually connect to hundreds of tools e.g. via Zapier.
Documents and files. You can share your files freely, but be aware of the file storage limit, which is 500GB for a team in Basecamp and up to 20GB per user in Slack.
Search. Both tools search through messages and file names. Unlike Slack, Basecamp doesn't search within uploaded documents.
Support and Help. Both tools have well-designed Help sections with a search by topic or category, drop down list boxes and articles covering the most important topics on how to use the product.
Have I missed anything? Feel free to share your thoughts in the comments.