Hybrid and remote working are increasingly becoming prevalent in today's world. People can stay productive, connected, and engaged from anywhere with video collaboration solutions, thus they have proved themselves to be very efficient.
But for most businesses, the dilemma isn't if they need a video collaboration, but rather what type of video collaboration suits them the best.
To answer this, we have selected two famous types of video collaboration forms to discuss in this feature: Zoom Meetings and Zoom Webinars. Did you know that Zoom Meeting and Webinar can aid in helping you deliver a world-class event virtually?
Although both Zoom Meetings and Webinars can enable a range of collaborative and interacting virtual events, there are a few fundamental differences, similarities and limitations of the two.
Here we offer a detailed comparison of Zoom Webinars vs Zoom Meetings. Although we vouch for Chanty for team collaboration which offers audio and video meetings, task manager with the Kanban board along with unlimited messaging history. Having said that, you are welcome to try Chanty out and give us your valuable feedback on it.
So without further ado, let's get started.
What's a Zoom Meeting?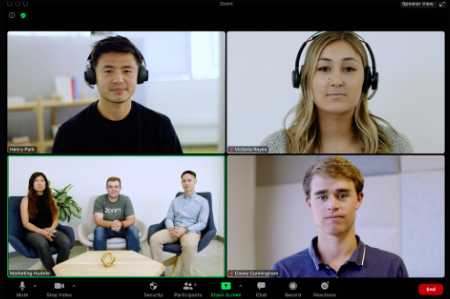 Let's start from the beginning. Zoom meeting is a type of video conferencing tool with a goal to communicate amongst each other using video, audio, screen sharing, and to see who is attending the Zoom session.
Zoom meetings can be used for interactive sessions with the audience engaging in the discussions, or they can be broken up into smaller groups and subgroups.
Zoom meeting is the most popular Zoom product. Employees, coworkers, and even friends and family participate in such gatherings. Zoom Meeting is mostly used for collaborative learning, team discussions, sales demos, virtual classrooms, and workplace meetings.
Everyone can join in a virtual discussion, share their screens, and communicate with audio and video using Meetings. You can also interact with a video and communicate, answer survey questions, and use virtual backgrounds with the application.
What's a Zoom Webinar?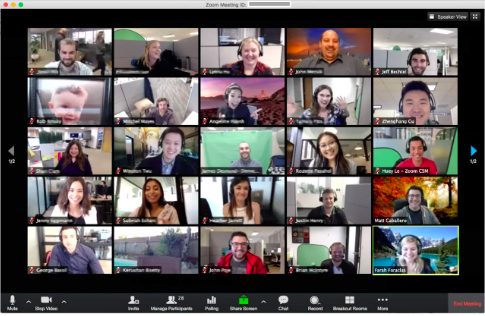 Zoom webinar is a type of auditorium or online conference hall. Webinars are suitable for bigger audiences or public accessible conferences. In most cases, webinar participants do not communicate with each other.
Despite the fact that Zoom allows you to be more communicative with your participants, the typical webinar includes one or a few persons presenting to a group of people.
The hosts have full control over what members of the audience are permitted to do, particularly whether or not they are permitted to share audio and video. Participants can engage and transfer content during webinars, or they can sit quietly and watch the session.
As a result, the host and any other attendees may be able to share their audio, video, and screens. They can also interact with one another through discussion, chats, and polls. However, it also depends on the attendee to just watch the webinar as well. Although, they can be unmuted by the host in some cases as well.
On the other hand, webinars can be contrasted to virtual conference rooms as well. They are great for gatherings with a mass audience or those that are open to the general public. However, webinar participants rarely engage with one another.
Even with Zoom's options for making your audience more sociable, your average webinar will only have one or two speakers. Another reality is that webinar participants cannot change their names.
Zoom Webinar vs Meeting: What are the similarities?
As remote events, Zoom Meetings and Zoom Webinars are more identical than they are distinct. For starters, they both are designed for online meetings and conferences.
Apart from this, some main features such as screen sharing, audio and video chats, transferring of files, whiteboards (i.e. you can literally write and use annotations on this whiteboard to clearly define your message – just like a traditional classroom), polls and surveys, registrations for attendees to join the seminar on either meetings or webinar, closed captioning, meeting recordings to watch later, and require passwords to join as an additional layer of security for people to join.
It's worth noting, though, that there are differences in how these functions work differently in Zoom Webinars and Meetings. In webinars, they are often intended to be utilized just by the host, however, in meetings, they are more participatory and can be made accessible to anybody.
Zoom Webinar vs Meeting: What's the difference?
Zoom meeting is primarily used to host interactive sessions in small teams rather than webinars, so this option is best suited for teams of up to ten people. It's ideal for client meetings, sales meetings, and corporate sessions, as well as general employees, educational groups, and management.
Audio sharing is readily accessible in Zoom meetings, and each attendee can manage their own audio. The host has the ability to unmute or mute members. Upon entering, they can make everyone mute. Video sharing has its own set of rules: any attendee can share their video, and this is unimportant in webinars. A waiting room and a breakout room are also included in the meetings.
However, the situation with webinars is a little different.
The main goal, as you may know, is to interact with a big audience and deliver remote events or online classes where the entire class may participate.
Unfortunately, Zoom meetings are not well-suited to such activities. Webinars, on the other hand, can be utilized for small business conferences or meetings between the CEO and individual employees. As a result, it works well for both big events and informal conferences.
As a result, webinars are best used for large-scale events and open broadcasting with more than 50 participants, such as town meetings, monthly reports, and academic lectures. They are commonly used in the education industry, politics, and as event hosts, among other places.
It allows you to employ audio sharing – the presenter and panelist can manage their own audio-only, guests join in listen-only mode for most of the session, and only the host has the ability to unmute participants. Video sharing provides a lot of advantages.
For instance, presenters and panelists can only share their videos through webinars, allowing them to have more control over the entire conference.
The Paypal integration is the final fantastic feature. After registering for your webinar, participants will be directed to PayPal to verify payments. They will receive instructions on how to join the webinar once they have completed the payments.
Zoom Webinar vs Meeting: What are the limitations?
Zoom Webinar and Meeting have constraints that are not specific to Zoom. Rather, they are inbuilt to the structure of certain types of live webinars and live meetings — but not all types.
We're talking about the meetings you give over and over again, the ones where you have to deliver the very same content every time, such as mockups and pitches by sales reps, boarding process and tutoring workshops by customer engagement teams, and any other type of demonstration a business must do on a routine basis.
When done as a Zoom Webinar or Meeting, these types of events are impenetrable due to the fact that they must always be delivered live. This one restriction leads to a slew of others:
Presentations eat up a lot of your time and hinder you from concentrating on other critical tasks.
You can only arrange a certain number of sessions before you have to employ more employees.
Teams become burned out and discouraged as a result of having to give the same presentation over and over again, whether to two or a hundred people.
Attendance is low since individuals can't join a meeting whenever they want, particularly when interest is high.
It is impossible to meet all potential guests' timetables, especially those from multiple time zones, therefore many people always fall between the cracks.
Firms usually attempt to fix these constraints by documenting their discussions and making them accessible as simple video content, but this means foregoing the benefits of live webinars and online meetings, such as lead acquisition, group discussions for participants, customer experience and reviews, and, most notably, the capabilities to chat and respond questions on the spot.
What is the best option?
Given the various Zoom alternatives in the market, after reading this article, you should have a good understanding of the differences between Zoom meetings and webinars. Webinars are effective advertising tools for gaining new customers and reaching new milestones.
However, incorporating webinars into your promotional approach can help you and your company stand out. You may use them to make relationships, establish reputation, and grow your customers. They also enable you to concentrate on your specific market and potential clients.
With your webinar approach, it's critical to make sure you're targeting the appropriate people. You must carefully choose between a Zoom meeting and a webinar, in addition to growing your company and developing customer loyalty. Consider all of your alternatives when you prepare your approach and don't overlook the benefits of webinars.