Looks like Slack doesn't meet your needs.
Are you looking for faster, less cumbersome and more affordable communication tool?
We've been there.
Let us share our in-depth feedback after using top Slack alternatives:
✓ Chanty
✓ Flock
✓ Fleep
✓ Microsoft Teams
✓ Ryver
✓ Glip
✓ Stride
✓ HipChat
Update as of July 2018: As Atlassian has recently announced, Slack has acquired Stride and HipChat with plans to migrate their users to its chat service. Both services will be discontinued after February 15th, 2019.
Our team used Slack, but it wasn't a 100% perfect solution for us. We've realized there's a market out there for another team communication tool. In a few words, that's how Chanty has started.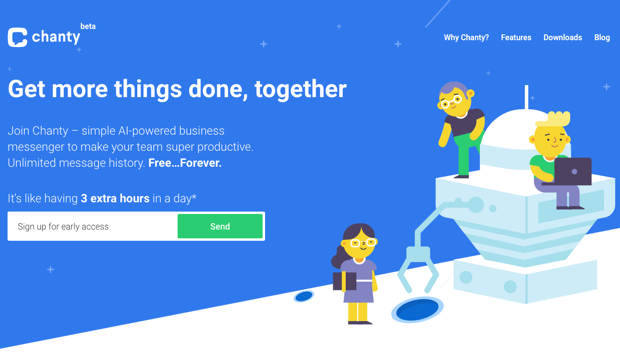 We are building Chanty AI-powered team chat, so when I say we spent several weeks analyzing each and every Slack competitor, I really mean several weeks of in-depth research. Moreover, we've actually tried to use the tools with our team for about a week.
Our list includes the top apps that (in our opinion) are the best alternatives when it comes to communication and productivity tools. In other words, these are the apps we consider worthy competitors to Slack and, with time, to our Chanty team chat.
100+ apps are Slack competitors. Or are they?
A few posts in Google top-10 for "slack alternatives" name various CRM apps that are hardly Slack competitors. This mispositioning may confuse people looking to replace Slack.

Why are they doing it? Probably, for the sake of numbers. If you are after numbers as well, you can visit alternativeto.net and take a look at more than 100 (!) different Slack competitors out there. If you are looking for quality rather than quantity, keep reading.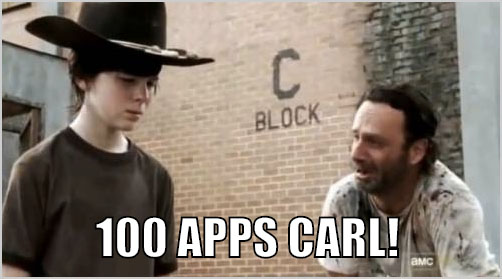 Why people choose Slack?
Slack is a tool that mainly solves three issues –  team communication (instant chat), collaboration (file sharing and integrations) and staying up-to-date (notifications). It lets you transfer all the important communications from email inbox and other software to one place.  
Here's a video telling us more about Slack.
Let's see what are the "pros" of using Slack compared to other team communication alternatives.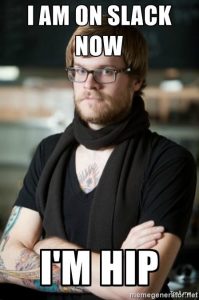 Image source
It's hip. I've talked to many CEOs and founders. No matter their management styles, the size of their businesses or the industry they are in, everyone knows about Slack

. Moreover, they are convinced that everything about this tool is cool – from its sassy bots to charismatic copywriting. You've probably come across those Slack fans desperately hunting after Slack socks or stickers.

When I ask my friends "What's cool about this app?" it usually gets hard to explain. "Well, it's popular and everyone is using it". When I mention integrations, everyone knows about them, but very few I've talked to actually integrated Slack with the other software they use at work. Therefore, let's continue the list with:
Integrations.

Slack has over 800 integrations with different software. If you are far from technology, the word itself may confuse you. The best way of understanding how integrations work is to explain it with the actual benefits you get using them at work. What software do you usually use?

MailChimp? Zendesk? Salesforce? Imagine all of the notifications from these software tools coming to one place – your team chat. There is no need to log in every time to Intercom to reply yo

ur customer or go to Mailchimp to check on the new subscribers. You set up a channel for every software you use and from that moment receive all notifications in one place.
Powerful search.

You can search through messages and files. The content within the files you share as well Google docs and Dropbox is also searchable. Advanced search options allow you to apply search operators such as quotation marks to search for a specific phrase or asterisk (*) after a particular word to see all instances of it in Slack.
Ok, enough about Slack, it's now time to take a look at the top Slack alternatives:
It wouldn't be our blog if we didn't put Chanty team chat as a #1 on the list. We work hard on our product and believe it's going to be a strong AI-powered Slack alternative. This is a product made with love and passion for technology, communication and collaboration. Having currently our product in beta, we admit Chanty isn't yet perfect. However, this 2018 newcomer is definitely worth your attention.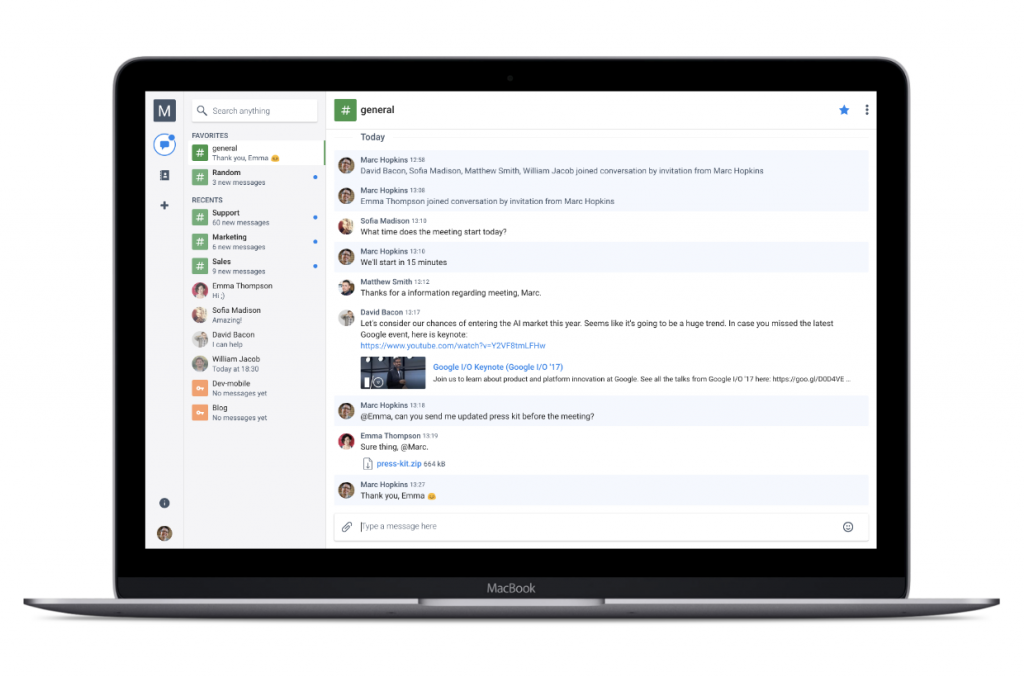 Chanty vs Slack. How is it different?
Our goal is to create an intuitive and seamless experience for our users. This is why our onboarding flow and user interface are simple and clean. Supporting the AI trend, Chanty is designed to save time and increase team productivity by focusing your attention on what's important. The deluge of information generated by your team is no longer causing stress. From now on there's no need to waste time scrolling through endless discussions you've missed. Staying up to date with crucial information is a matter of seconds with Chanty key takeaways.
While Slack is getting more complicated with hundreds of little-used capabilities that get in the way of the handful that are really important, Chanty keeps the balance between features and usability. We have opted to stay simple yet to have just enough powerful features a team needs for effective work. Chanty is a faster and more affordable solution offering twice as much storage space compared to Slack. A built-in task manager allows you to turn any message into a task and get notified when it's done. What's also attractive about Chanty is its unlimited searchable message history even in a freemium plan while the limit in Slack is just 10K.
You can feel free to sign up and join our beta test community. We are looking forward to your feedback.😊
Flock is a messaging app founded in 2014 in India (Slack was founded in 2013). This communication tool features group chat, video and audio calls, screen sharing and more. The polls and to-do lists are already in the app so you don't need to set up an integration for it. Flock is the only app among the listed competitors supporting multiple languages interface. It supports Portuguese, Russian and Spanish languages.
We asked the guys from Flock how are they better than Slack. Here are some points they've outlined:
Flock claims to have a better and more user-friendly interface than Slack. However, this is an arguable statement. We have spent a whole week testing Flock out and our team considered 5-column interface a bit too complicated.
Flock is more affordable compared to Slack with a pricing plan starting at $3 per user per month.
Flock offers an unlimited message history as well as unlimited integrations in its free package.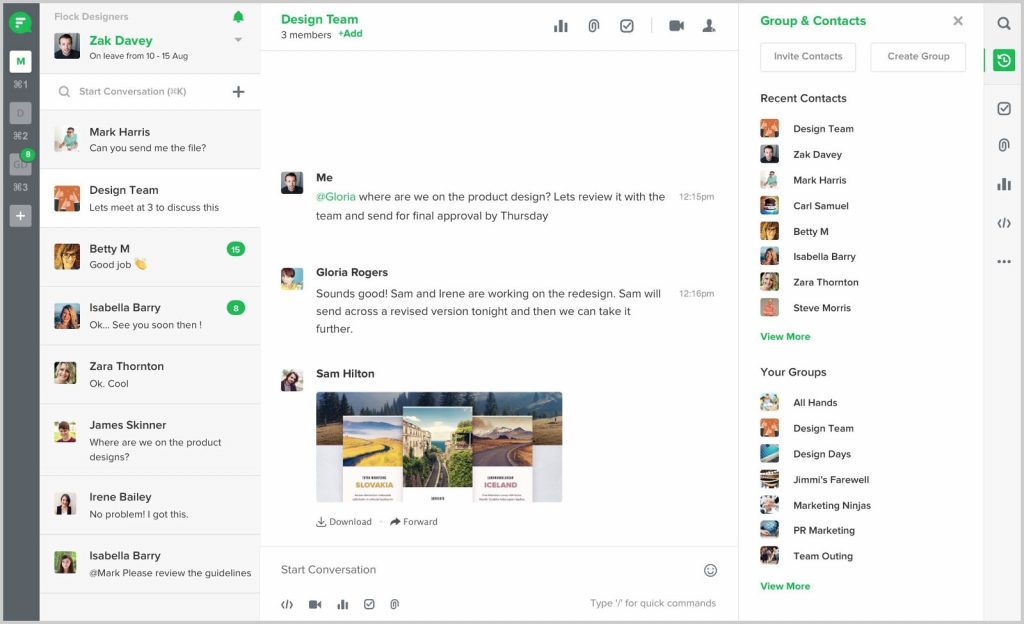 Image source
Our experience using Flock
I think we should give some credit to Flock by admitting that our team tested out this messenger for the longest period of time compared to other Slack alternatives. Interface as well as design look and feel pretty good – I personally felt a strong appeal for the parakeet green color used in Flock. Although, the 5-column desktop interface was a bit too much for our team as I mentioned earlier. Nevertheless, it turned out to be a pretty easy-to-use solution.
The one big issue we've experienced with Flock was a message history loss for over than 8 hours. It happened on the third day of our test period – our entire message history both in channels and private rooms was unavailable during a whole working day which really dazed us out.
Our team rated Flock and other messengers we used according to these five parameters:
Is it easy-to-start for you, on a scale of 1–5? (5 – very easy, 1 – isn't easy at all)

Is it easy-to-use for you? (5 – very easy, 1 – isn't easy at all)

On a scale of 1–5, rate how its features meet your business needs at work. (5 – meet perfectly, 1 – don't meet)

How many technical issues have you experienced (eg. chat not working, problems with file sharing, privacy settings, UI bugs, etc.) while using it? (5 – no issues, 1 – lots of issues)

How likely are you to recommend it to your friends? (5 -very likely, 1- very unlikely)
50 is the maximum number of points that a chat could receive for each of the questions. Here's how our small team of 10 people rated Flock.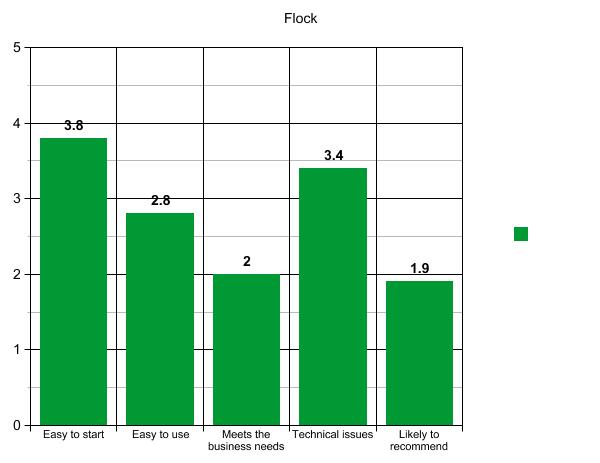 Flock summary
You should use Flock if:
You are using Slack and disappearing message history makes you mad

You and your team are patient and tolerant people who don't mind the message history being gone for 8 hours

You think pricing plans in Slack are ripping you off

You speak Russian, Spanish or Portuguese and English interface is an issue 
What's interesting about this app is that you can send a message to any person in Fleep. All you have to know is the person's email. Therefore, this app is supposed to feel in the gap between email and a team messenger. Instead of creating a closed team ecosystem (or a walled garden if you like), you can communicate openly with everyone who is and isn't using Fleep.
With that said it's hard to consider Fleep a "team" messenger. In fact, Fleep doesn't have a concept of "teams". A team in Fleep is equivalent to a private channel in Slack.
Fleep vs Slack. How is it different?
We have personally discussed the difference between Fleep and Slack with the Fleep staff. This is how they explained their positioning:

Fleep is an open network so you can chat with anyone else who is on Fleep. If you need to be a member of several projects or teams, you only need one account, whereas in Slack belonging to several teams would mean several accounts.

Fleep is free to use if you don't require admin controls over your company's accounts & conversations. In the "Fleep for Business" package which is €5 per user, you receive full control over your accounts, teams and conversations.

Fleep also features an unlimited message history as well as unlimited integrations in its free package.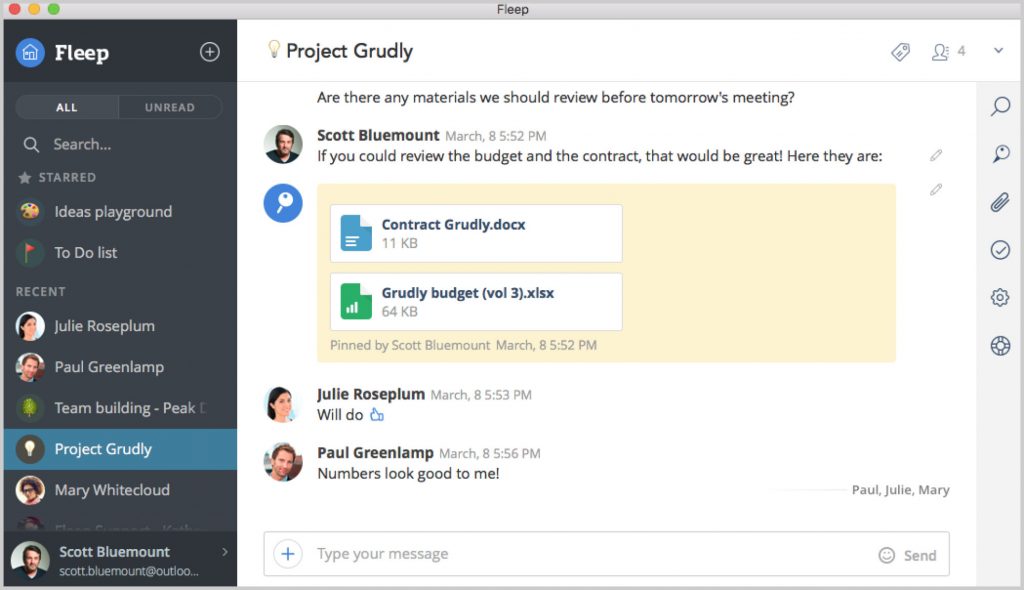 Image source
Our experience using Fleep
A user-centered concept that Fleep supports with its app makes it more complicated to use for teams. I thought of it as a Skype, but with an option to send and receive emails. Which is innovative and not bad at all, but Skype isn't that great for team communication, is it?
One of the things I like in Slack is having this "My name" personal channel where I can keep track of my monologue with myself. Before I came across this feature, every time I needed to send something from my phone to my laptop, I'd send it to my friend on Viber with a note "Sorry, that's for me". My personal channel made things easy. Fleep has that same option, only you can create unlimited monologues with yourself. As a result, you can easily lose track of them.
Here are the points Fleep has received from our team.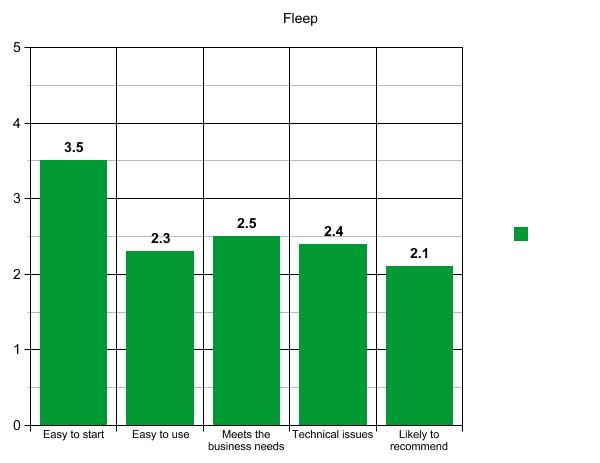 Fleep summary
You should use Fleep if:
You communicate outside of your team more than inside

You hate emails and like free stuff

You don't speak to yourself too often (Monologues with yourself feature)

10K messages limit in Slack makes it hard for you to breathe
Microsoft Teams doesn't come as a separate product like all the previous Slack competitors. You'll have to start a Microsoft Office 365 free trial if you don't have an account yet. Even though its main target audience is the enterprise sector, the app was obviously inspired by Slack considering the way it looks and feels. We decided to give it a try.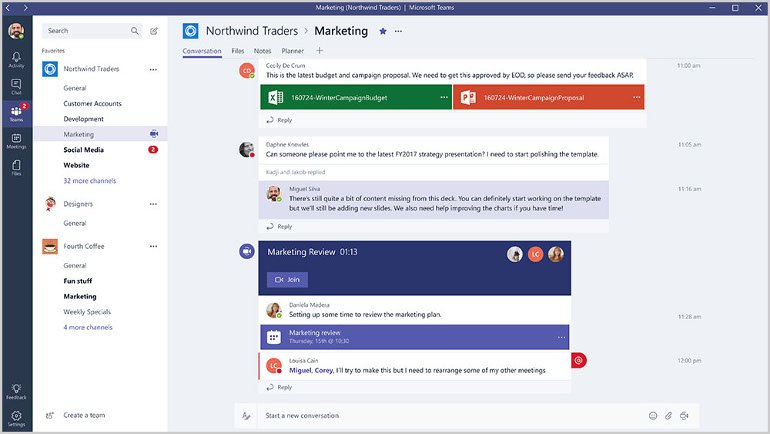 Image source
Microsoft Teams vs Slack. How is it different?
Powerful features of Microsoft Teams include full integration across Office 365 apps making it a particularly useful app for those already using various Office 365 products. Unlike Slack, MT doesn't target the small and medium business sector. You can buy Microsoft Office 365 package that includes MT for $5 per user per month.
Besides giving you the access to MT, the $5 fee will also open up another 5 Microsoft apps for you. If you want the full Office 365 package (that includes MT as well), you'd have to pay $12.5 per user per month. 
For those who are interested, we wrote an in-depth comparison of Microsoft Teams vs Slack.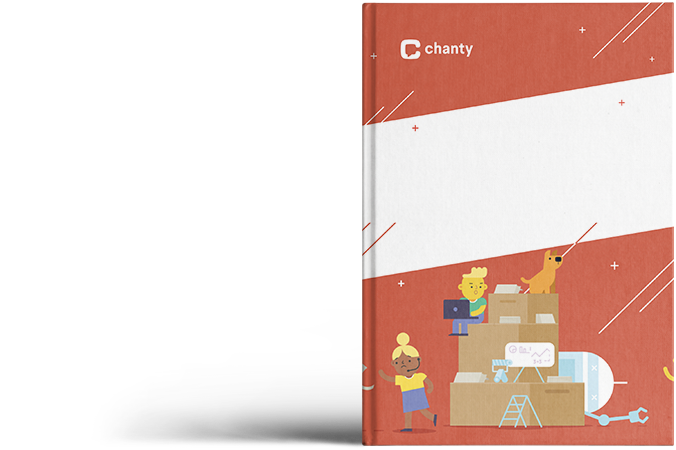 Communication issues at work?
"50 Surefire Ways to Improve Your
Team Communication in 2018"
Get eBook
Our experience using Microsoft Teams
To begin with, we have spent an entire day at work setting up Microsoft Teams. The most tolerant and patient guy in our team – our highly skilled backend developer with over 15 years of experience, fell short of patience when installing Microsoft Teams.
I've submitted the form twice as the site wouldn't work. Then I waited for 10 minutes to receive an email and get into the system. Next 30 minutes I've been waiting for all the Microsoft Office 365 apps to launch. Microsoft Teams app was the last to load. Then I had to dig into settings trying to figure out how to invite users and break them into groups.
What I find particularly piquant about the app is that every user of the team has to set up a unique email user@teamname.onmicrosoft.com and every time you log in you must use this email. In case you forget or lose the password (which happened to me twice – I'm blonde, you know) you enter the world of pain for another half an hour.
Make sure you have a skilled admin as it's unlikely you'll be able to install Microsoft Teams by yourself. If you are a fan of drag and drop, you'll be surprised to find MT doesn't support this feature.
I believe Microsoft Teams is a great product, the problem is – the user experience leaves you with low chances to fully enjoy it.
According to the survey our team had completed, the lack of technical issues seems the strongest point in Microsoft Teams.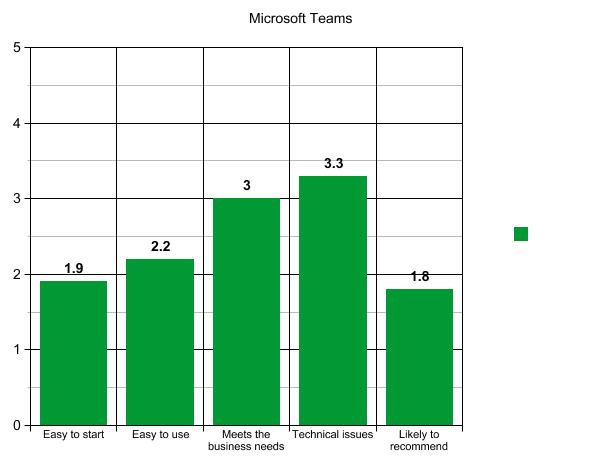 I feel like I have to say something nice to wind up the MT review. Here it is – I really like their video: 
Microsoft Teams summary
You should use Microsoft Teams if:
Your enterprise has already signed a contract with Microsoft and you don't have a choice, but to use it

You are not afraid of the obstacles on your way

You use other Microsoft Office 365 products daily

You and your team are the people with an endless supply of patience
It was 2015 when Pat Sullivan has founded Ryver. Slack was already flourishing by that time. The marketing strategy, Ryver has chosen to get the maximum buzz around the young brand, was to attack Slack with Twitter ads. You've probably seen their ad where 'free' Ryver is confronting 'so-last-year' Slack.
Ryver makes a power move combining team communication and task management features in one app. It's like putting Slack and Trello into a single tool. This idea sounded exciting when our team first read about it on Ryver's website. However, once we dived into the app, the end product implementation didn't get us nearly as excited.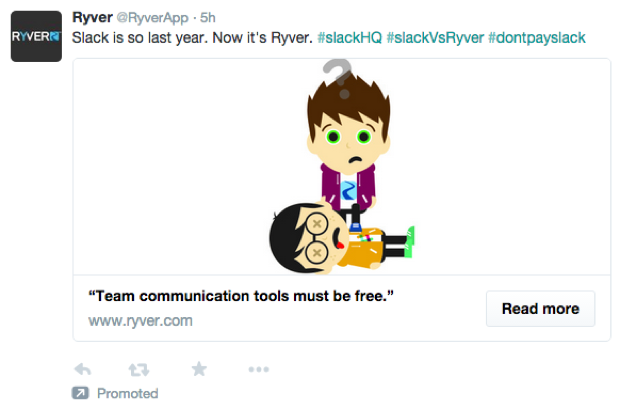 Ryver Twitter ad
Ryver vs Slack. How is it different?
Ryver stresses that having both communication and task manager tools in a single app is highly beneficial. Apart from native task manager, they also have built-in integrations with Google Drive, DropBox and Box, so you can choose files to share directly from your file storage. Ryver claims to integrate with 500+ apps via Zapier.
We were able to successfully connect several apps to Ryver. Here's the thing though – Zapier lets you receive up to 100 tasks in its free plan. This would be only 100 tweets or 100 RSS updates. If your team relies on integrations heavily, you'll have to pay for Zapier plan which is quite pricey (e.g. $250 for 50K tasks). It means your 'free' Ryver plan may end up with a paid Zapier plan.
To compare with Slack, I must say, that their integrations take just a few clicks while connecting apps via Zapier is more complicated. Moreover, Zapier requires to run a test of the integration which, in our case, resulted in some errors for a few times.
We wrote a ridiculously comprehensive comparison of Ryver vs Slack that you can check out in case you are looking for a more in-depth feedback. In a nutshell, Slack search options, notification management as well as integration options are far more advanced and intuitive.
Price could become a deal breaker when choosing between Slack and Ryver. The freemium plan in Slack is very limited, motivating you to switch to Standard (from $6.67 per user, per month) or Plus (from $12.50 per user, per month) plans. Ryver has been experimenting with its pricing a lot. As of September 2018, it's free for teams up to 6 users. $49 for up to 12 users and $99 for unlimited users.  
Ryver audio and video calls are possible via built-in integration with FreeConference allowing you to communicate with up to 400 people. In Slack, if you remember, there's a limit for 15 people in audio/video calls. If that's not enough, connect Slack to any conference tool (FreeConference integration is also available, btw) and enjoy the call with your big team.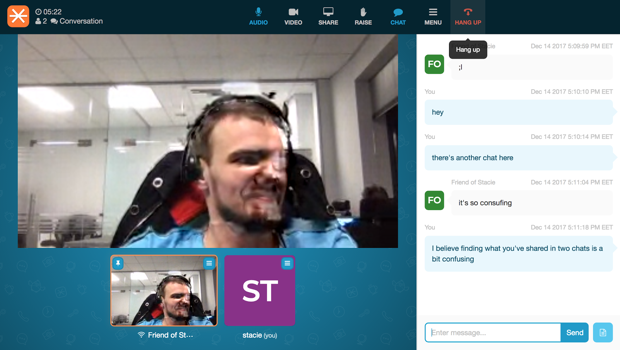 Video calls in Ryver
Our experience using Ryver
When you open Ryver, it feels a bit like a flashback to the '90s. The heavy design, complicated user interface and excessive use of ALL CAPS make you wonder which icon or button to click next. Just like in Slack, with their private/public channels and one-to-ones, conversations in Ryver are organized in Open forums, Private teams and Direct messages. There are also Topics which are equivalent to Threads in Slack. The Notifications menu was quite useful to quickly get up to date with the recent messages in Ryver.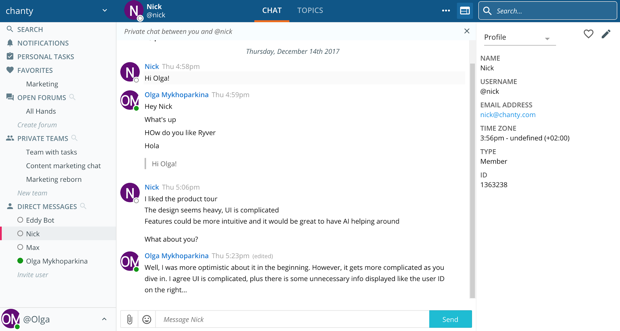 Ryver interface
When you sign up for Ryver, you get 14 days of full access to all features, including assigning tasks. Obviously, we've given this task manager a try. It took us a few attempts before we realized that tasks could be assigned only in Private teams. Intuitively, you'd look for tasks in Personal tasks menu and the Assignee button makes you think it's possible to assign a task here: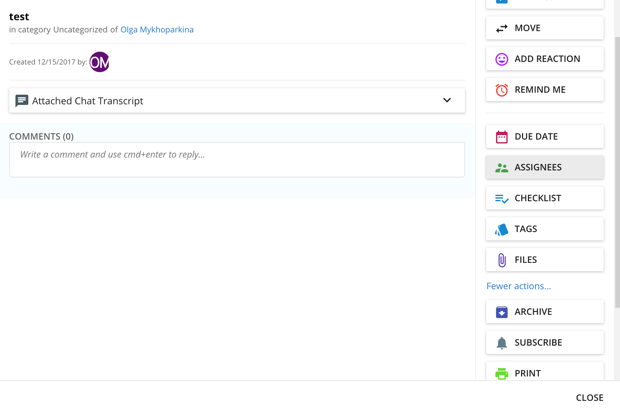 Ryver task edit window
Unfortunately, you won't get where you want after clicking it: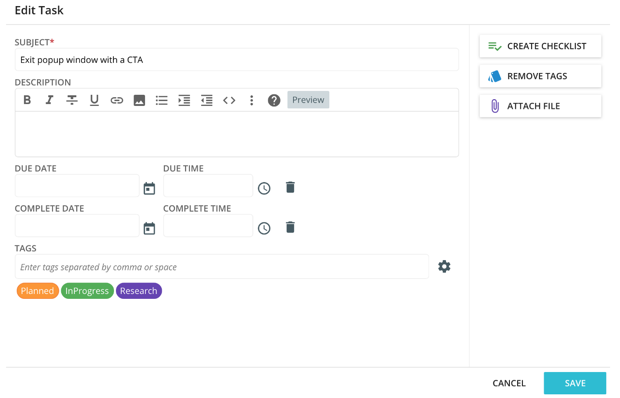 Ryver window after clicking Assignee button
I still haven't solved the mystery of the Assignee button, but in case you'll be using Ryver after reading this article, I hope you won't make my mistakes and save yourself a great deal of time for more important things.
Overall, here's how our team rated Ryver: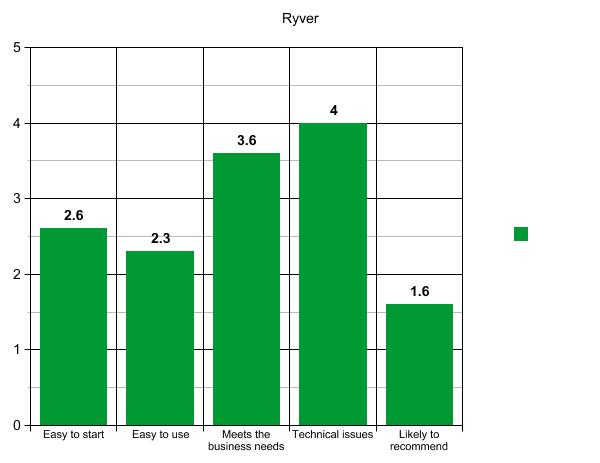 Ryver summary
Choose Ryver if:
You need a free tool to communicate with the team up to six people that doesn't limit message history
You and your team don't use integrations much
Kanban is a good fit for your projects
Clean interface and the ease of use are not among your top priorities
You need integrations and already have a premium Zapier plan
Glip is a conversation platform by RingCentral. It was released to the market in 2013 (as well as Slack). Here's how it's supposed to be different from other team communication apps on the market according to Peter Pezaris, founder and CEO: "With Glip, we are introducing a new wave in team collaboration – one that keeps conversations at the center of teamwork." Glip seeks to improve the way people collaborate by combining instant messaging, video calls, task manager and team calendar in one application.
Glip offers more built-in options while in Slack with its numerous integrations and customizations, you basically design the tool that works best for your team's workflows. Glip lets you create and assign to-do lists in 'Tasks', schedule meetings and set deadlines in Glip's shared calendar, keep track of your notes and thoughts in the Notes app.
Glip video conferences take place in RingCentral Meetings. Unlike Slack, where video conferencing feature is built-in, you need to download this software to make video calls. Moreover, you can integrate Slack with several video conferencing services (e.g. Google Hangouts, appear.in, etc.) while Glip doesn't integrate with other video conferencing apps.
When you are a freemium user in Slack you face strict limits of message history as well as a number of integrations. For a change, Glip doesn't limit you much in its free plan. On top of that, Glip paid plan will cost you less ($5 per user, per month).
Our experience using Glip
Once we've created and entered the team space in Glip for the first time, we were up for a surprise. We found ourselves being members of different teams. Moreover, we didn't see everyone who joined among the list of team members. It took us some time to solve the puzzle and realize that Glip creates separate team spaces for emails within different domains. It happens without any explanation for the user, so you have to discover this on your own.
The takeaway from our experience: the best way to create a team in Glip is to make sure all the emails you've invited are within one domain.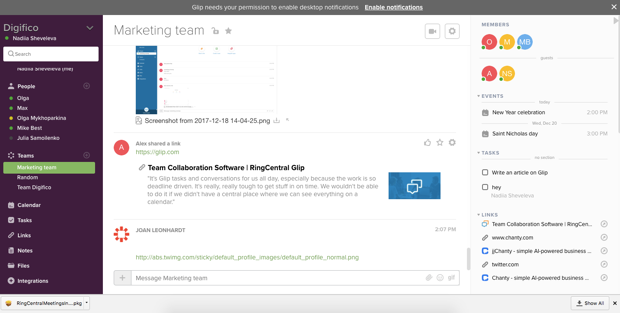 Glip interface
Just like Slack, Glip lets you communicate in public, private or one-to-one conversations. You can also have 'conversation with yourself' which I find extremely useful for work. However, messaging options are less powerful in Glip compared to Slack. E.g. although you are free to like, pin or quote any message, you won't be able to forward messages to another conversation.
With RingCentral Meetings, you'll be able to have high-quality video conferences along with screen sharing during a call. You can enjoy 500 minutes of shared video chat with up to 100 people in its free plan, while Slack offers one-to-one free calls only.
You can manage your tasks in to-do lists in Glip. In case you need more powerful features then Pivotal Tracker, Asana, Jira or Trello integrations are at your disposal.
It turned out, it is not that easy to connect your Glip account to a third-party app. For instance, when we've tried to integrate it with Confluence, we've faced the eight-steps process along with several lines of code we had to insert somewhere. As you see, setting up an integration can become a strain for non-tech savvy teams.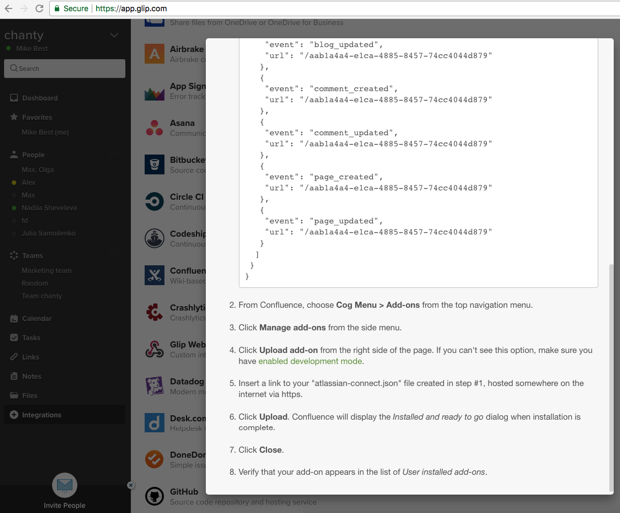 Steps to set up the Confluence integration in Glip
Overall, we've tried Glip for about a week. One day we've opened the app and the entire team message history was gone. I don't know what was the reason for it. Unfortunately, it never came back. We've tried contacting the support center, but it didn't help either.
Overall, here's how our team rated Glip: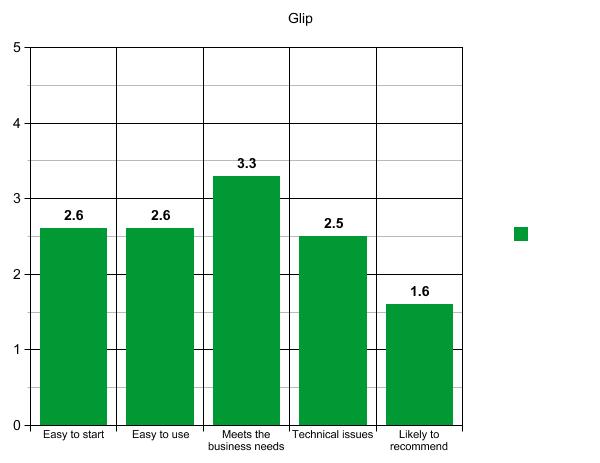 Glip summary
You are more likely to get the most of Glip in case:
All your employees have emails within one domain
You enjoy uploading images and turning them into stickers
Your tech-savvy teammates are ready to deal with integrations and help onboard the rest of the team
You don't mind your message history disappearing one day
Bonus:
We've written an in-depth article on Glip vs Slack so feel free to check it out for more comparison details.
Australian tech giant Atlassian introduced Stride in September 2017. We could call it "the youngest Slack competitor" officially released. However, it's more correct to name it the "new-old tool". As you probably know, Stride is a successor to Hipchat, the veteran messaging service I'll mention later in this article.
In Stride, Atlassian replicated the core of Hipchat, adding some new features, such as task and decision tracking and the Focus mode that collects important notifications. According to Atlassian team, it took an "enormous R&D team" and "at least two years" to build their new product.
For those interested in Stride's main features, here's the in-depth comparison we made of Slack and Atlassian's tool. Below is a very brief review of the topic.
Stride vs Slack. How is it different?
First, Slack is more expensive. Both messengers have Freemium versions. But when it comes to paid plans, Stride's cheapest option is twice less expensive than the Slack's one ($3 vs. $6.67 user/month). Second, Stride doesn't have conversation threads, which is one of the key features of its main competitor. Third, unlike Slack, Stride can't search the content within the files shared in attachments, Google Docs and Dropbox.
If you consider using Freemium version of either of messengers, keep in mind that the conversation history in Stride is limited by 25K messages (comparing to 10K limit in Slack). Also, if you plan to use audio and video calls and don't want to bother with integrations, Stride can be your choice, as it offers meetings for up to 15 people in Freemium plan.
Another significant difference between the tools is that Stride has way fewer integrations than Slack (800+ comparing to 38).
Our experience using Stride
When exploring Stride's messaging, we found out it has all the basic chat features. However, it's not possible to star, share messages or react to them within a tool.
We also successfully tested Stride's Action and Decision features. The latter doesn't have a built-in analog in Slack.
We jumped on a short video meeting in Stride and hung out there for a while.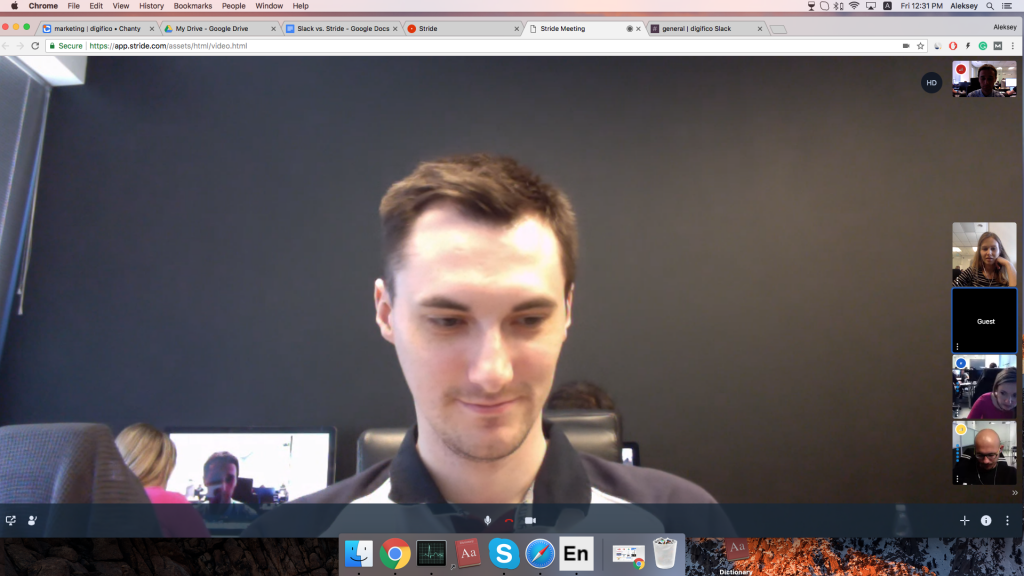 The quality was good. Occasionally the image wasn't so sharp, but it didn't bother us. We were surprised that video calls in Stride have some neat features, such as speaker stats and the possibility to "raise a hand".
Overall, here's how our team rated Stride: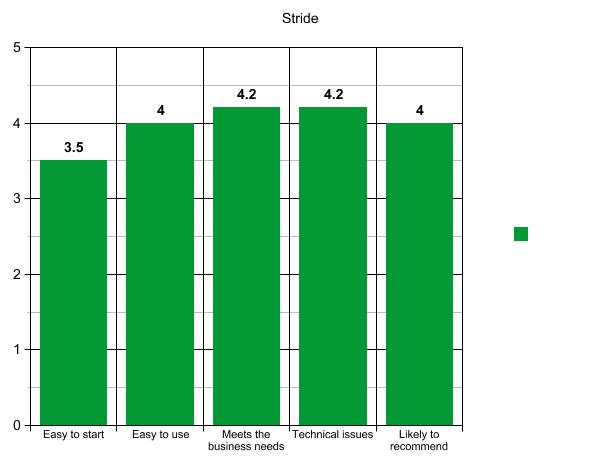 Update as of July 2018: As I mentioned in this article, Slack acquired Stride (along with HipChat). Both tools will be discontinued after February 15th, 2019. You can't sign up to Stride anymore. Once you try to do it, you'll be redirected to Slack's main page. For all existing Stride users, Atlassian provides a migration path to its former competitor.
HipChat used to be of the most popular chat tools in Silicon Valley and beyond, with customers including Tesla, Expedia, and Uber. Since Atlassian replaced it with Stride, you can't sign up to it any more. However, HipChat is still working – it's a Slack alternative for many teams who have used it for years. If you are an existing member you can log in to HipChat using this link. HipChat community is alive, so you can ask and answer any questions there.
HipChat vs Slack. How is it different?
Since HipChat is Stride's predecessor, it has all its basic functions. One of the key differences between the two messengers is the possibility to host HipChat on your own server, which was impossible in Slack.
HipChat is a good choice for all tech-savvy teams. Or at least you should have a system administrator ready to take care of this platform on a regular basis. In HipChat, every time you want to invite a user to a channel you haven't created, you need to ask the person who initiated it for help. This feature often brought negative feedback from users.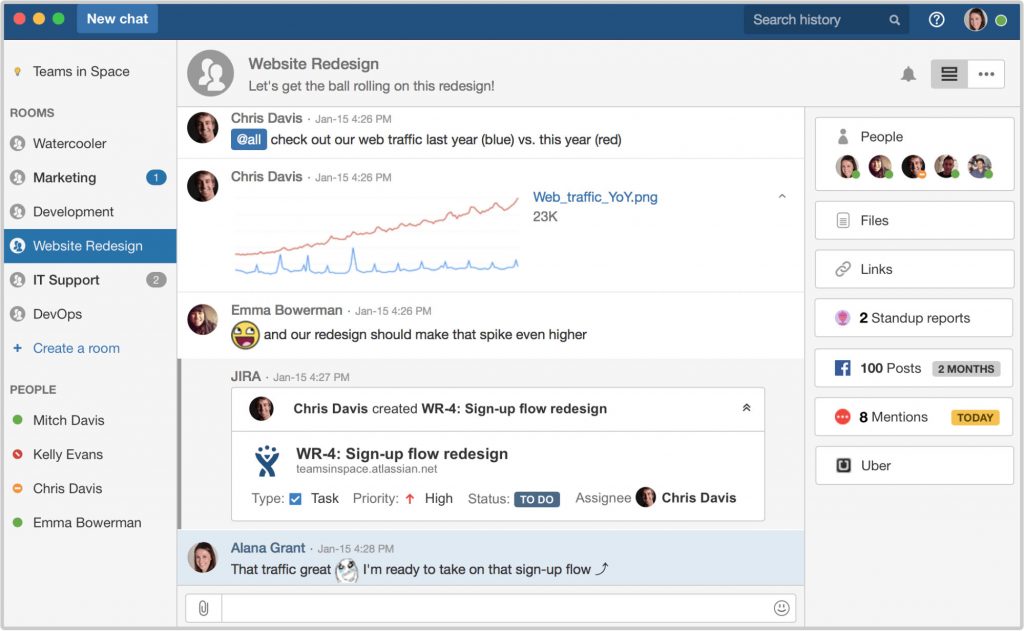 Here's how people who had switched from HipChat to Slack explained their choice:


Our experience using HipChat
After using HipChat for a week, Chanty team provided its own feedback. Here are some of the quotes:
It's not likely I'd be using HipChat unless I'm a system administrator


Might be a good decision for enterprise, but definitely too complicated for SMBs


It adds extra value compared to Slack if you are using other products from the Atlassian package

Here's how our team rated HipChat: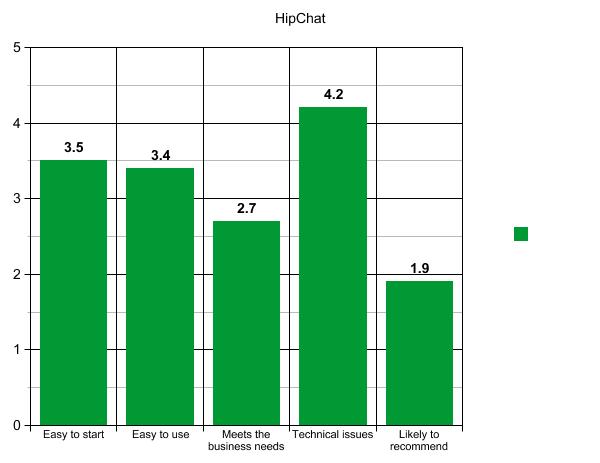 HipChat summary

Choose HipChat if:
You and your team are tech savvy or you have a system administrator on board who can set you up and support the app regularly

You are using other Atlassian products such as Jira, Confluence, Bitbucket, etc

You need a self-hosted solution

You want to save money on a team communication tool
The results of our voting
My teammates and I have been using different team communication tools for several weeks.
In the end, we've completed the survey that consisted of 20 questions.  

We've summarized the results in these charts. The possible maximum # of points that one app could get was 250. As you can see Stride is slightly ahead of the game. HipChat, Flock and Ryver are pretty much at the same level when it comes to our team feedback. Microsoft Teams is slightly falling behind.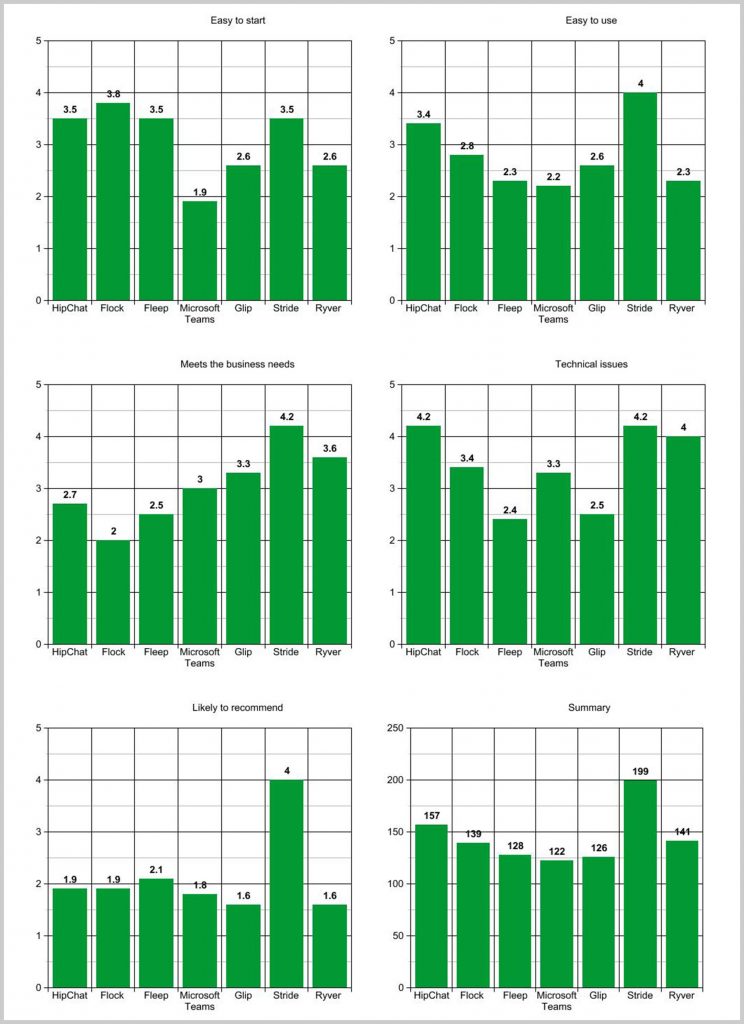 Our goal with Chanty is to create a team communication tool that would score higher than our competitors. We are aiming for an easy-to-use, easy-to-start solution that meets your business needs at work. It's going to become the tool that you can rely on and would be proud to recommend to your friends.
---
Also published on Medium.